Jose Carlos Cueto
BBC News World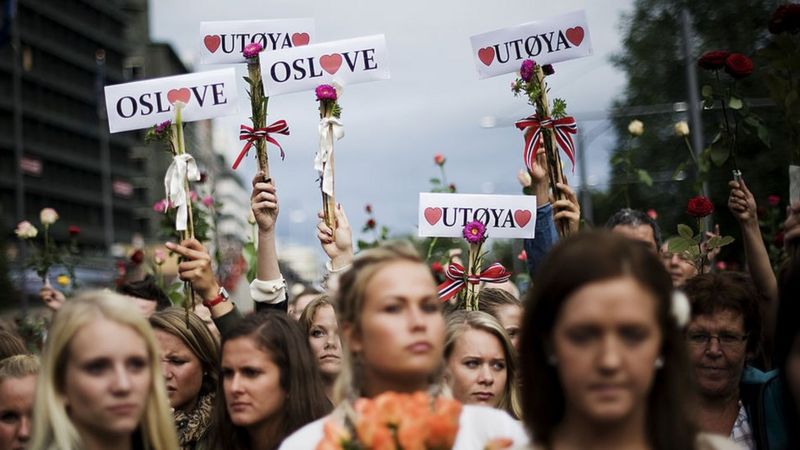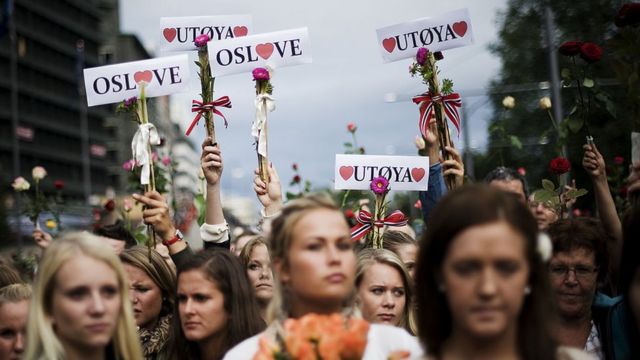 Oslo, Norway, July 22, 2011. A mild summer afternoon is broken when a car bomb explodes in the government district.
Shock, confusion and a death toll of eight. Norway is not used to that.
The perpetrator of the attack, Anders Breivik, moves amid the chaos to the island of Utøya, about 40 kilometers from the capital.
There, 650 young people and teenagers participate in a Labor Party youth summer camp.
Breivik pretends to be a policeman and groups together several young people with the excuse of calming them down after the news that arrived from the capital.
But suddenly he draws his gun and shoots them. In just over an hour it kills 69 people, on a "hunt" across the small islet. When the police arrive, he surrenders.
A decade has passed and the wounds of what happened on July 22, 2011 are still present in the Scandinavian country.
During this time, journalist Asne Seierstad has investigated the life of Breivik and his victims, and the impact of the attacks on Norwegian society. Part of his research is collected in the book One of us ("One of ours"), published in 2015.
On the day of the attack, Breivik published a manifesto on the internet exposing his ideas nationalist, neonsaid, anti-Islam, anti-immigration and anti-Marxists. Today he is serving a 21-year prison sentence for terrorism and premeditated murder, the highest penalty in the country, although he can be imprisoned indefinitely if justice dictates.
He changed his name in 2018 to Fjotolf Hansen. He has never been remorseful of his crimes.
Seierstad and other critics link Breivik's radical ideas to the rhetoric of the Progress Party, the formation of the extreme right Norway.
"Ten years after the attacks, Norway has lost the opportunity to heal its wounds," says Seierstad.
BBC Mundo interviewed Seierstad, recognized for her work on conflict zones such as Afghanistan, Iraq and Chechnya.
Why do you say that Norway has lost the opportunity to heal its wounds?
Because to heal you have to really talk about your problems.
I think the discussions centered too quickly on the view that what happened was an attack on democracy and that we should all unite against the radical far right.
However, what about the extreme right that remains in Parliament?
Of course they have nothing to do with terror, but they do coexist in the same setting as some (hate speech) blogs.
They are not responsible for the attacks, but they are responsible for the rhetoric, the words, the vocabulary and the conspiracies against Islam, or the speech that "Islamists are invading Norway", even when we have very few Muslims here.
The discussion about what happened cannot just be "staying united in the face of terror", but really getting into it to see that there is a relationship between the discourse of the democratic extreme right and the radical extreme right.
Some survivors continue to receive hate messages on social media from people who share Breivik's ideas. Do you think then that the system is partly responsible for the radical ideas of Breivik and others?
I insist that only the terrorist is responsible for the attacks. It is very important to repeat it.
But many are responsible for sharing some ideas or conspiracies. They know exactly that these ideas also sow violence.
The Progress Party (which Breivik himself unsuccessfully tried to join before the attacks), even under the criticism it has faced in recent weeks, continues to attack the Labor Party and does not take any responsibility.
Following the attacks, then-Labor Prime Minister Jens Stoltenberg sent a message of unity. How long has draft that message?
It's hard to tell. Nobody disagrees that at that time he had no alternative, that that was the correct message.
Well, obviously the extremists, few, did disagree.
The fact is that that message of unity was adequate, but at some point it must have changed and transferred it to the political discussion. It is not enough to just talk about trauma and terror. You have to analyze what happened from a political point of view.
Many have an idyllic image of Norway as a peaceful, prosperous and tolerant country. Do these extreme positions break with that image?
In general, that image is still true. You can be sure.
It is an extremely open, idyllic and harmonious society. We have no barriers here.
I have lived in Latin America, in Mexico, and I have traveled through South America, through Chile and Colombia. Then I was a teenager and all the barriers and walls hit me. The rich live in houses behind bars and the police protect one social class from the other.
In Norway we don't have that. We don't even have armed police. What's more, do you know when the first murder of the year was recorded in Norway? In the middle of April! The first murder of the year in Norway happened in April!
Of course, it is still an idyllic, peaceful and fair country. There are very few differences between rich and poor, between those in power and those who are governed.
It is obviously not perfect and many people may feel left out of political discussions.
In Utøya there were teenagers doing politics, representing various communities. Even the terror of what happened there shows us that Norway stands up to democratic values ​​and is an open and tolerant society, although of course we have dark spots.
Especially the biggest dark spot: having created Breivik. We are still dealing with it. How did he appear among us having gone to the same schools as the rest?
Many of those killed in Utøya were budding politicians. Did Norway lose a generation of politicians? Do you think that trauma continues to harm new generations?
Yes, of course. Especially the Labor Party. Among those killed were many of his brilliant young leaders.
But after the massacre, many lost their motivation. When you're that young, being in politics should be fun, feeling like you're cool and part of something.
Suddenly they became part of a grieving movement. Many, traumatized, left politics and began to dedicate themselves to other things.
I think it will take more years to recover.
In your investigations you have been in contact with some of the families of the victims. What do you feel 10 years later?
Parents deal with it very differently.
Many have been angry at the police because they believe they arrived on the island too late.
Parents are the ones who are really grieving. Many of them were not even sympathetic to the Labor Party. They are not interested in the political discussion part.
They are just trying to deal with the pain of their losses.
How long will it take for Norway to recover from this trauma?
I think we'll never get over it. It will always be an open wound. We can't get rid of it. Step.
I believe that we must always remember it and honor the victims because they are martyrs.
They died for their ideas, where and with whom they worked. The people who died in the Oslo explosion worked for the government, for Labor.
It is important to remind them.
Now you can receive notifications from BBC Mundo. Downloadour app and activate them so you don't miss our best content.

www.bbc.com
Eddie is an Australian news reporter with over 9 years in the industry and has published on Forbes and tech crunch.