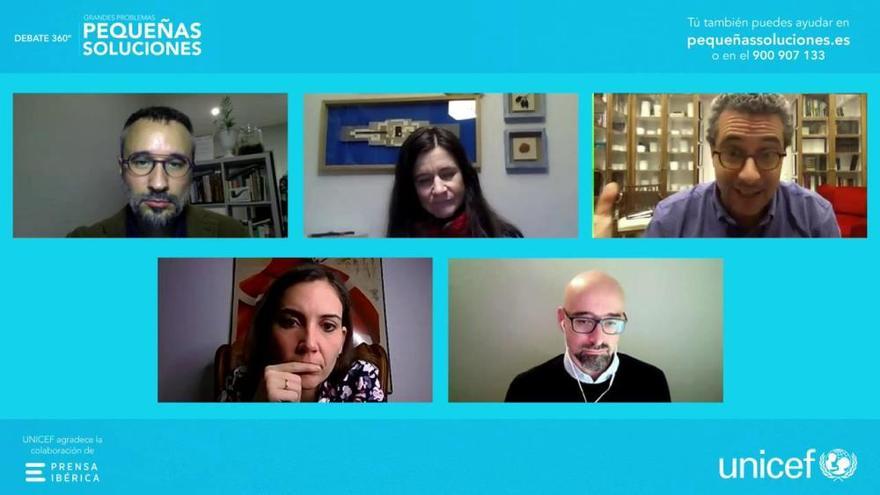 The race to find a cure for the coronavirus has reignited the spotlight on the importance of vaccines to living a normal life. But nevertheless, for 14 million children that life is unattainableas they do not have access to any of the vaccines that already exist.
How to reverse this enormous injustice is the central theme of a debate organized by UNICEF Spain and Prensa Ibérica. Participating in it are Blanca Carazo, program manager for UNICEF Spain, Quique Bassat, epidemiologist at ISGlobal, Marían García (Boticaria García), doctor in pharmacy, and Salvador Macip, scientist and writer.
The debate is part of the Small Solutions campaign, with which UNICEF Spain aims to raise awareness about the importance of childhood vaccination and raising funds for your programs, which have been pushing immunization for decades.
Five children saved every minute
Covid-19 has revealed how quickly a disease spreads without a vaccine. The emergency that developed societies go through is a permanent crisis in those countries where protection against diseases such as pneumonia, polio, measles or diarrhea.
Globally, immunization has been stagnant at 85% for several years. In 2019, about 14 million children did not receive any vaccines. That despite vaccines are considered the most effective public health intervention. In the world, vaccines save 5 children every minute from preventable death. This translates to between 2 and 3 million lives saved each year.
Poverty, marginalization and violent conflict are the worst enemies of immunization programs. In countries such as the Central African Republic, Somalia, Chad, Guinea, Papua New Guinea or South Sudan, more than half of the children are unprotected against diphtheria, tetanus and pertussis. In other words, in the event of preventable diseases, if the vaccine bottles reached them.
The challenge of covid-19
To these problems, covid-19 has been added, which has overloaded health systems and altered their priorities. In fact, vaccinations even decreased in Spain, during the height of the pandemic, in March and April.
The third sector is making efforts to reach where the public and private cannot reach. For example, UNICEF has been applying innovative solutions for years and accompanying health authorities around the world to strengthen vaccination programs. Any citizen can give their contribution to this effort by supporting the Small Solutions campaign.
In the debate on November 20, participating experts addressed the main obstacles to immunization and discussed what strategies could increase vaccine coverage, especially in the unprecedented context of a global pandemic.

www.informacion.es
Digsmak is a news publisher with over 12 years of reporting experiance; and have published in many industry leading publications and news sites.