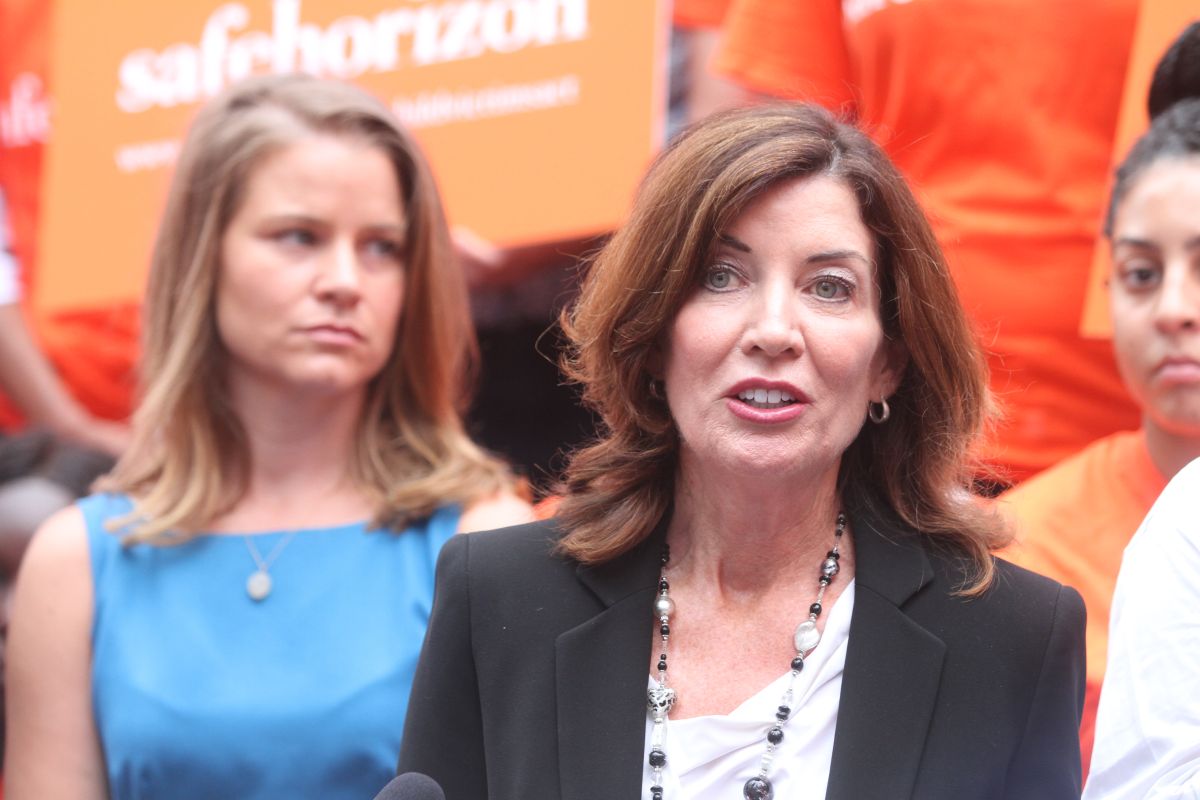 Vicegobernadora Kathy Hochul, 2019
Photo: Mariela Lombard / El Diario NY
Still considering itself "progressive", New York is part of the minority of 20 states in the country that have never had a woman as head of the regional executive branch.
Kathy Hochul could be the first governor in New York history, if recent scandals culminate in the departure of Andrew Cuomo, by resignation or removal, a growing clamor even from his Democratic party, regionally and federally.
The current 62-year-old lieutenant governor would be required by law to assume the position of Cuomo, whose third term would officially end on January 1, 2023. It would be a great irony for a woman to succeed the governor, after being accused of sexual harassment by three New Yorkers, so far.
At the moment Cuomo (63) has denied wrongdoing and has not given any public indication that he is considering resigning or even abandoning his desire to run for the position for the fourth time. His late father, Mario Cuomo, was also governor for three terms (1983/1994), until he was defeated by George Pataki (R) when seeking another reelection.
"Kathy is absolutely ready," affirmed Sunday to New York Post the chairman of the Erie County Democratic Party, Jeremy Zellner. "There is one word that describes our Lieutenant Governor: tenacious," Zellner continued, noting Hochul's ability to appeal to both rural and urban Democrats. "She knows what to do for the people of New York."
Born in Buffalo (NY) into a lower-middle-class family, today Hochul is a wife and mother of two who received her bachelor's degree from Syracuse University and studied Law at the Catholic University of Washington, DC.
At the beginning of the 90s, he stopped practicing law to enter local politics, achieving important positions after the fact. In 2003 she was appointed deputy by Erie County Clerk David Swarts. When he resigned from office in 2007, Hochul won the elections to end his term and was reelected in 2010, but he did not end that term as he headed for Washington.
Hochul, who describes herself as an "independent Democrat", became a Representative in 2011 for New York's 26th Congressional District, which spans parts of Erie and Niagara counties, beating front-runner Jane Corwin (R) in a special election.
She was the first Democratic Representative in that district in more than 40 years. However, his presence in Washington was fleeting, and as early as 2012 he narrowly lost reelection to Chris Collins (R). This time Hochul was endorsed by the National Rifle Association (NRA), which appears to have upset her voters.
When Robert Duffy, who served as lieutenant governor during Cuomo's first term, announced that he would not seek reelection in 2014, the governor gave Hochul the go-ahead.
In her duties as lieutenant governor, Hochul has remained relatively anonymous And she was not even mentioned in the controversial memoir Cuomo published last fall self-praising his stewardship of the pandemic.
As calls for an independent investigation into the sexual harassment allegations against Cuomo have increased, Hochul claimed that "Everyone deserves to have their voice heard and taken seriously."
Her husband, William J. Hochul Jr., is an attorney who was a United States Attorney for the Western District of New York from 2010 to 2016.
Who is Kathy Hochul? New York lieutenant governor would take over if scandals topple Andrew Cuomo https://t.co/bPSepJgGqp

– Newsweek (@Newsweek) March 2, 2021



eldiariony.com
Eddie is an Australian news reporter with over 9 years in the industry and has published on Forbes and tech crunch.