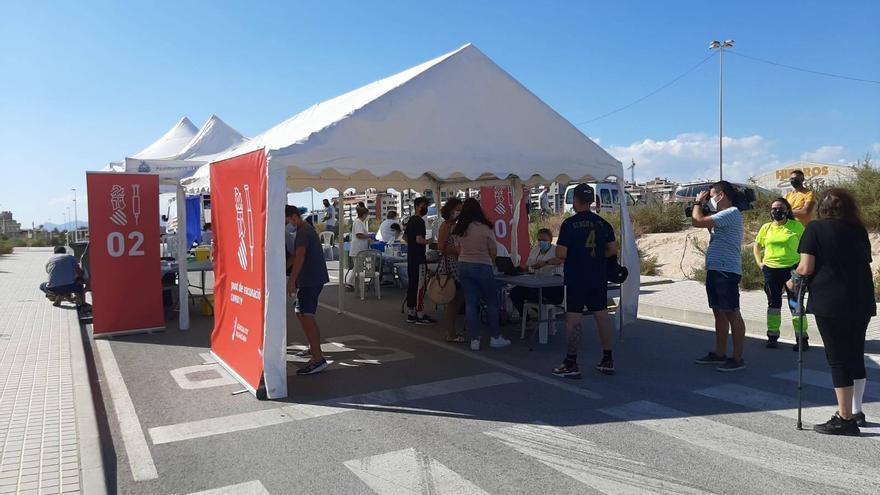 A total of 704,701 people have already received the booster or booster dose against covid-19 in the Valencian Community. By provinces, they are 255,608 people in Alicante, 100,318 in Castellón and 348,775 in Valencia. In addition, since drop-in vaccination points were installed, 9,709 people have been immunized against the coronavirus on these mobile devices: 3,534 in the province of Alicante, 2,558 in Castellón and 3,617 in Valencia. Of them, more than half (5,441 people) have been immunized without appointment this Friday and Saturday.
To date, the Public Health Commission has agreed to incorporate an extra dose with Pfizer or Moderna vaccines to residents of elderly or social health centers, to people at risk, to people aged 70 and over, those who were vaccinated with Janssen, people aged 69-60 years and health and social health personnel.
Likewise, in the Valencian Community additional doses have already been administered to 20,877 residents; 38,938 people with risk pathologies; 527,078 older than 70 years; 89,127 people who were once immunized with Janssen and 28,681 people between 60 and 69 years old.
Inoculating this extra dose against coronavirus it is being done in the residential centers themselves for the people who live in them; in hospitals, for health personnel, and in Primary Care for the rest. The administration of the drug can be requested by calling or going to the health center, and through the GVA + Salut APP and the Health website (http://www.san.gva.es/cita_previa/citaprevia_general_cas.html). In this way, crowding is avoided and a vaccination order can be respected.
Those who have not yet been immunized against covid-19 or have a pending dose as well You can contact your Primary Care center to schedule the day and time in which they will receive the vaccine or go, without an appointment, to any of the mobile vaccination points that Health installs temporarily in spaces with a large influx of public in order to bring the coronavirus vaccine to the public.
Walk-in vaccination
At these mobile points, since this initiative was launched, a total of 9,709 people have been immunized against the coronavirus: 3,534 in the province of Alicante, 2,558 in Castellón and 3,617 in Valencia.
To the 2,908 doses administered last Friday, the 2,533 of yesterday Saturday were added: 565 in ExpoDeporte; 882 at the designated point in Plaza Manises de València; 966 at the Dénia Hospital, and 120 in the Benidorm-Finestrat shopping center. Between Friday and Saturday they add 5,441 doses.
To follow the trend, on Tuesday 7 there will be a walk-in vaccination point in the Zenia Boulevard shopping center, in Orihuela Costa, from 10 am to 8 pm.
While in Alicante, at the Plaza Mar 2 Shopping Center, the Friday, December 10, from 15 hours to 20 hours. Likewise, in Castelló de la Plana, where you will be vaccinated without an appointment on Friday from 4:00 p.m. to 9:00 p.m. in the La Salera shopping center.
Finally, on Saturday December 11, in addition, the vaccination point will open again at the Benidorm Finestrat Shopping Center in 16 to 20.30 hours.

www.informacion.es
Eddie is an Australian news reporter with over 9 years in the industry and has published on Forbes and tech crunch.