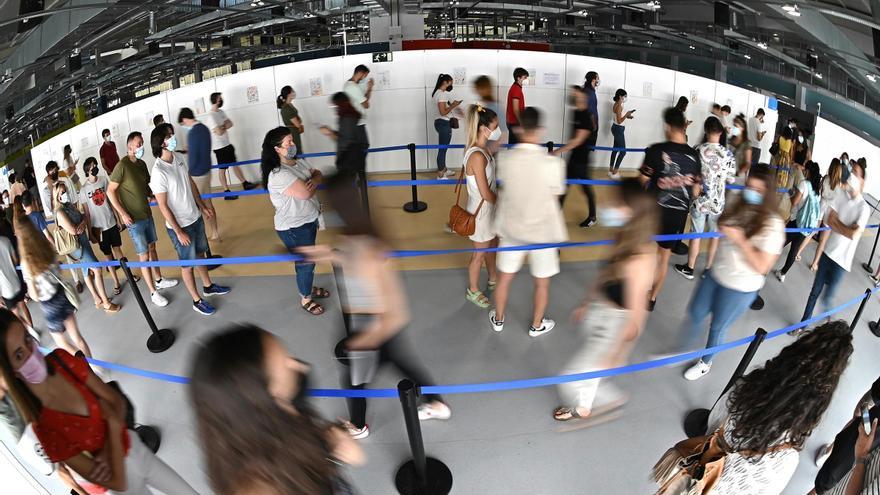 The vaccination campaign in Spain has returned to more than 738,000 citizens since last October 1, so that 3,654,040 citizens remain who do not have any doses inoculated, especially in the age group 20 to 39 years, according to data from the Ministry of Health.
Vaccination began to stagnate after the end of the summer, with a bag of more than 4 million people who by that time had not received any doses, but in the last two months and with a new epidemiological panorama -the sixth wave and the demand in the last weeks of the covid passport– little by little they have been joining the campaign. The number of new vaccinates has increased, mainly in the last two weeks, after accounting for 177,460 inoculated doses – an average of 12,000 daily, with a maximum of 17,000 and a minimum of 9,000-
From the Health data it can be deduced that in the group of 20 to 39 years of age they are the furthest behind, with coverage in this section that barely exceeds 80%, a figure much lower even than in younger groups, such as adolescents from 12 to 19 years (88%). In higher ranges such as those from 50 to 59 years old, there are still 5% of citizens pending vaccination and in those from 40 to 49 the figure doubles to just over 10%.
To date, the target population in Spain – over 12 years old – was made up of 42,119,827 citizens, a figure that will rise after the Health decision to include children between 5 and 11 years of age in the vaccination. The process will begin in mid-December for a group of approximately 3.3 million. Thus, the new target population will be about 45.4 million citizens, approximately, that is to say that the vaccinable census in Spain will increase in the coming days until it represents 90% of the total population of the country, since the other 10% will they make up children aged 4 and under, for whom the feasibility of the covid vaccine is still being debated and studied. Currently, 37,684,831 citizens in Spain (89.5% of those over 12 years of age) have completed the vaccination process with the double dose.
In September the campaign of the extra dose (additional or booster of messenger RNA vaccines) began, first with vulnerable patients and people in nursing homes, and later those over 70 and those vaccinated with Janssen. In this context, 5,898,138 doses have already been inoculated. In recent weeks, Health has also given the green light to apply it to those over 60 years of age -vaccinated a large part of them with AstraZeneca-, although the department headed by Carolina Darias has not yet offered data on the percentage of sexagenarians to whom that they have been punctured with the extra dose. Yes about those over 70, so 71.8% have received additional or reinforcement protection against the coronavirus, while almost 40% of citizens who received Jannsen already have an extra puncture.

www.informacion.es
Eddie is an Australian news reporter with over 9 years in the industry and has published on Forbes and tech crunch.