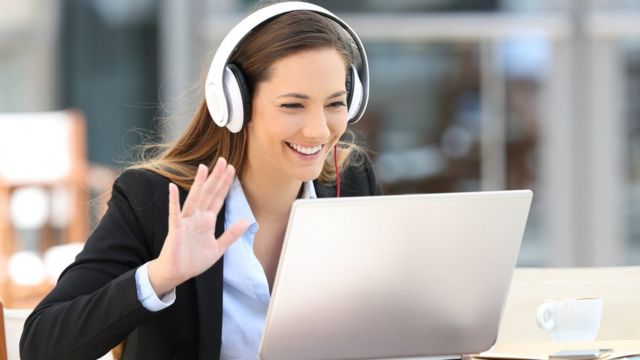 Sometimes it is not your skills or your experience that can lead you to a job when you apply for a job that hundreds of candidates are competing for.
At least not in the first stage of selection.
Firms that have to deal with complex selection processes have delegated that work to artificial intelligence systems that scan your resume and decide if you are eliminated or continue in the process.
They are predictive hiring software that automatically apply certain predetermined criteria, depending on the characteristics of the job.
Are tools known as ATS (Applicant Tracking System) work on the basis of keywords that each company defines according to the profile of the candidate they are looking for and other discarding mechanisms.
Although there are different types of ATS, in general they operate quite similarly.
"They are looking for greater efficiency in data processing," says Hong Qu, director of research and academic at Stanford University, to BBC Mundo.
These systems allow firms to save time and money.
But they can also work against them when the algorithm, due to its limitations, decides to eliminate good candidates or when it develops biases based on the repetition of patterns, adds Qu.
Here are some tips to beat the algorithms.
The algorithms search for keywords related to categories such as skills, experience, results, or education, and weight them according to job requirements.
But, depending on the parameters that the company has given you, you can include other more specific filters.
To use the keywords, the first step is compare your resume with the job offer description.
In fact, you can repeat terms and expressions contained in said offer, adapting them to your profile.
Ultimately, the algorithm is going to scan for those attributes.
"When including keywords on your resume, try to always use the same language mentioned in the job description, "wrote Liz Guarneros, employment advisor on LinkedIn.
It also advises to use these words in the proper context and not to fill in spaces with them just for the machine to identify them.
"While this can help you get past the initial filter and its algorithms, it won't work to your advantage when you get to a recruiter," he says.
2-Include achievements with measurable results
"It is very important to be specific," says Professor Ku.
For example, name the computer programs you use, instead of writing that you have "experience in data analysis", without giving details.
Experts advise focusing on achievements through concrete examples, avoiding a simple list of responsibilities.
Instead of saying: "Responsible for overseeing the sales strategy. Sales increased significantly", it is better to say: "I led a team of 10 people in charge of overseeing the sales strategy. Sales increased 20% in six months ".
For your resume to have a greater impact against algorithms, it is necessary to find out what the company is looking for and how it usually measures the results.
"Find out how that company measures success. Find out what the success metrics"Ku says.
Not all firms evaluate job performance in the same way.
In that sense, prior research is key. You have to tell the algorithm what it "wants to hear".
Another important element, he adds, is that you include something in the curriculum that distinguishes you from the rest.
Imagine what things those applying for the job will have in common and then think about what differentiator you can offer.
Many people fail to recruit because of something very simple: the readability of their resume.
So that the algorithm does not eliminate you, it is essential that the format of your resume is simple and "decipherable" by the system.
Resumes in PDF format do not work in some ATS systems.
Avoid using any complicated format. How much the simpler the better. In other words, it is usually advisable to use the Word format.
Avoid writing your resume in two columns. Use the standard format so that the machine reads everything in one go.
Do not include photos, graphs or tables. Leave out any creative or highly sophisticated styles. Even if it seems boring, opt for a minimalist format, without distractions, easy to read.
Use conventional titles to divide the information. Choose the traditional way, such as "Work Experience" or "Education."
And always write the work experience in reverse chronological order.
Lost talent
The study of the Business School of the Harvard University "Hidden Workers: Unused Talent," published in September, notes that algorithms leave millions of workers out of the recruiting process, some of whom may be suitable.
For example, there are cases of hospitals in the US where an algorithm sought for the applicant to have the ability to do "computer programming", when in reality, the job description required the professional to enter a patient's data into the computer. .
Or there is also the case of a software that was looking for experience in "customer service", when the company required repairmen of electrical transmission lines.
Other drawbacks detected by the research suggest that the algorithms reject or give a low score to people who have Blanks or lagoons in your work experience.
The problem is that sometimes it is due to a pregnancy or a change of house from one city to another. These are extraordinary circumstances that the machine will only interpret as a "vacuum".
Due to problems like these, there are software developers who have been looking for ways to improve algorithms.
Even some companies in the technology sector have eliminated the requirement of having a professional degree for some positions if the candidate meets the profile that is sought.
Algorithm bias
From another perspective, software may be less biased than human raters because it can be programmed to ignore characteristics such as age, gender, and race.
But it can also happen the other way around.
"Artificial intelligence also works with biases because algorithms are trained to work according to patterns of success that are repeated over time," explains Hong Qu.
"Algorithms amplify the patterns of the past and in that process they can discriminate on the basis of race, gender or age"explains the creator of AI Blindspot, a system that helps software developers to recognize biases that can affect decision making.
For example, if 90% of those selected for a job were white in the past, he adds, the algorithm will repeat that pattern because of the way machine learning works.
Or the algorithm can teach itself to prioritize candidates who attended the same colleges.
Despite these difficulties, artificial intelligence systems continue to develop rapidly to adjust more and more to what companies are looking for.
What the experts advise is that, although the processes are long and strenuous, you do not have to give up.
And keep in mind that if you have not managed to pass the first selection filter, that does not mean that you are not a good candidate.
Perhaps with a few good adjustments to your resume, new possibilities will open up.
Now you can receive notifications from BBC Mundo. Download the new version of our app and activate them so you don't miss out on our best content.

www.bbc.com
Eddie is an Australian news reporter with over 9 years in the industry and has published on Forbes and tech crunch.