BBC Radio 4
Serie "Ingenious"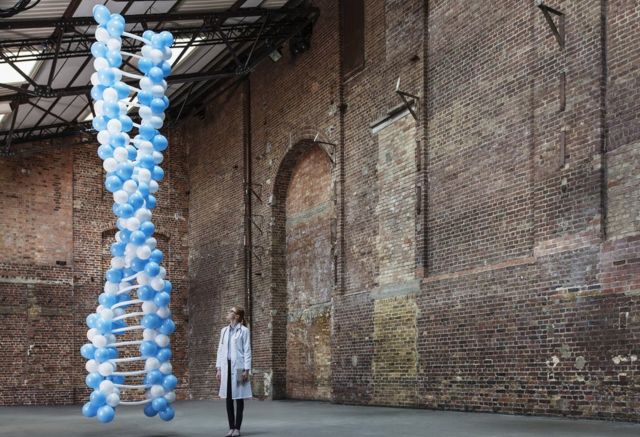 Genes are biological recipes that tell our cells how to make the things that our bodies build, send signals that travel through our brains, and do all the other complicated biochemical things that keep us alive.
And behind each of your 20,000 genes are fascinating stories, with more and more being added as genetics remain at the forefront of innovation.
To BBC Radio 4's "Ingenious" series , Dr. Kat Arney, a specialist in mammalian biomedical sciences, genetics and development, explored the science behind different genes to discover how they help us become who we are, cause or cure disease, and connect us with the rest of life on Earth.
These are 4 of the fascinating things we learned.
1. There is a gene that makes us more likely to be fat (and it had an unfortunate name)
Many of us gain weight during the pandemic, but can we blame our genes if we no longer fit in our jeans?
The fat mass and obesity gene, or FTO for short, is a regular gene that we all have.
However, a version of FTO makes you more prone to being obese and a version makes you less prone.
Giles Yeo, an obesity expert, explains: "About half the world's population has a copy of the FTO version that makes it slightly more likely that you will weigh more."
That means, Yeo explains, that if you're one of the lucky ones, "on average, you're a pound and a half heavier and 20% more likely to be obese in your lifetime."
One sixth of the population, that is, more than a billion people, will have two copies of this version of the gene and will be 50% more likely to be obese.
Surprisingly, this gene used to have the controversial name of "fatso", which in English is a pejorative way of referring to an overweight person.
But, believe it or not, it was not because of its link to obesity.
The nickname came about because it was the largest of the three genes found in a short stretch of DNA associated with problems during development.
In 2007, when FTO was linked to body mass index (BMI) and obesity risk, scientists decided it was time to rename it.
2. The "warrior gene" has been used in court as a defense for brutal crimes
MAO-A, or monoamine oxidase A to be precise, is a gene that breaks down serotonin, a chemical in our brain that we need to feel good.
When MOA-A is less active, explains psychologist Sally McSwiggan, there is a higher concentration of serotonin in our gray matter. Some think that this causes us to become more impulsive, more emotional, and more aggressive.
A study by clinical psychiatry professor Dr. Jari Tiihonen compared 800 violent and non-violent prisoners to see if there was a link between this gene and violent behavior. It found that inmates who carried a certain version of MAO-A were more likely to commit violent crimes.
However, that does not mean that whoever carries the gene is destined for a life of brutality. In fact, up to 6 decade 10 of us we live with the low-activity "warrior" version of MAO-A, and most never we commit a crime. That hasn't stopped lawyers from taking their clients' DNA into the courtroom in hopes of bailing them out.
Like in the small town of Hamlin, Arkansas, where Rene Patrick Bourassa violently beat 80-year-old Lillian Wilson with the bronze cross from the communion table at her local church to death.
In his defense, his legal team used the fact that Bourassa had the "warrior" version of MAO-A. Although convicted of capital murder, he was spared the death penalty.
His DNA could have saved his life.
3. We share the "eyeball gene" with all living creatures
PAX6 is the gene that tells the embryo to build an eye.
It is expressed very early, as Professor Geneticist Veronica Van Heyningen explains, just a week or two after fertilization in the human embryo. Before the brain is really a brain – just a tube of nerve cells – the eyes begin to "sprout."
PAX6 is then expressed in all the different layers of the eye, from the retina to the cornea and lens.
It's not easy for scientists to study PAX6, but one study revealed a surprising connection with the eye growth gene of another creature: the fruit fly.
Dr. Patrick Callaerts conducted experiments in which he turned on the gene (confusingly known, in the case of these insects, as the "eyeless" gene) in the legs of flies. He discovered that it startedWithOna grow eyes right there on your limbs.
Then his team put the human PAX6 gene into the flies and, amazingly, the same thing happened: the flies grew normal eyes.
It turned out that PAX6 and "eyeless" are simply different names for the same master control gene, which tells an embryo to build an eye, whether in a fly or a human.
And they learned something even more fundamental: wherever you find eyes, you will find PAX6. From fish to flatworms, from pandas to parakeets, from wallabies to water fleas, it is ubiquitous.
The same gene that makes our eyes makes those of all other animals, from those of a small fruit fly to those of a gigantic blue whale.
4. One in a hundred of us is naturally immune to HIV
Stephen Krone lived in New York amidst the gay scene in the 1970s and early 1980s. He watched as one after another of his friends, including his boyfriend, were struck by the mysterious disease ravaging his community. But Krone was never affected. Why?
The scientists discovered that a gene called CCR5 was the crucial portal through which HIV infects immune cells.
And a specific version of the gene, called delta 32, seemed to protect against the virus.
Dr. Stephen O'Brien found that people who had two copies of CCR5-delta32 were never found among people infected with HIV, which he describes as "statistically remarkable."
It seemed that if you carried this genotype you could not be infected, ever.
It was because these people simply did not have a door through which HIV could enter cells.
"They were part of a rare but very, very remarkable group that was genetically resistant to HIV infection," says Stephen.
It was a revolutionary discovery: "It was truly the first time anyone had identified a human mutation that was good for people in the sense that it protected you from a deadly infectious disease: AIDS. "
Up to 1 in 5 people of European descent has a single copy of the protective version of CCR5. 1 in 100 have two, giving them complete protection against HIV.
Remember that you can receive notifications from BBC Mundo. Download the new version of our app and activate them so you don't miss out on our best content.

www.bbc.com
Eddie is an Australian news reporter with over 9 years in the industry and has published on Forbes and tech crunch.