This year marks the 40th anniversary of the first case of AIDS in Spain. It was a 35-year-old patient who was admitted for a headache and Kaposi's Sarcoma (cancer) at Hospital Vall
of Hebron of Barcelona in October 1981. Operated urgently for a tumor, he died 4 days later.
In 1891 the disease had not yet been baptized as Acquired Immune Deficiency Syndrome (AIDS) and it would take 2 years until the virologist Luc Montagnier, Nobel Prize in Medicine 2008, isolate and identify the virus.
Eight years later, Mª José Fuster found out that she had AIDS. He was diagnosed in 1989, at only 22 years old, and told that his life expectancy was not
it would be more than two years.
«HIV diagnosis was another element of life shock", tells us. «I felt that my life was cut short. I, who had to be between books studying a career, I found that my life was in chaos ».
She remembers writing a letter to her mother saying she had AIDS, but her mother advised her to hide it. «That he did not tell anyone because the same medicine arrived and it cured me and, if I had told it, I could not say that I had not had it ». But he has never hidden it.
Almost 30 years later, Oliver experienced the same shock as Mª José, "anything but HIV." His mother, like Mª José, advised him not to tell anyone because they would "treat me very badly and be socially isolated."
Olivier Marcos was diagnosed with HIV at the age of 25, in October 2018, he remembers it very well. "Due to a series of health problems, fever and a throat infection that was getting quite severe, I was admitted to the hospital. After many tests they told me that he was a carrier of the virus.
His first reaction, something very frequent, was denial. «To this day I still don't know how or with whom, but now I no longer need to look for the exact moment or a culprit.
Guilty have been sought from the beginning, recalls Mª José.
"A virus, HIV, in less than a decade went from being something natural to causing a huge social and moral disorder, especially focused on threat and fear, which from the first moments preyed on the homosexual community."
In science, he went from a death sentence to having a life expectancy like a normal person thanks to antiretroviral treatments that keep the virus at undetectable levels.
Today, Mª José emphasizes, "we already know that a person with HIV, but with undetectable viral load (amount of virus in the blood) cannot transmit the virus sexually".
Between 2007 and 2016, three studies that looked at thousands of couples in which one component was living with HIV and the other was not, found not a single case of sexual transmission of HIV from a person with undetectable HIV to their partner.
That made, in 2018,
UNAIDS confirmed that there was strong evidence to ensure that people living with HIV with an undetectable viral load cannot transmit the virus through sexual intercourse. That is, undetectable = untransmittable.
"This is one of the great advances in recent years", highlights Mª José. "And it is very important that it is known that a person with undetectable HIV cannot transmit HIV, because it will gradually eliminate fear among the population."
In 2021, many people with HIV are afraid of being socially stigmatized. "Today intolerable situations continue to occur, but much progress has been made socially in situations related to fear."
An example is what happened to Olivier when he was told he had HIV. «At my first check-up, my doctor told me: 'You must have done something wrong'. He also does not have a good memory of his stay in the hospital. «The nurses did not enter the room and leave the food at the door for my mother to take».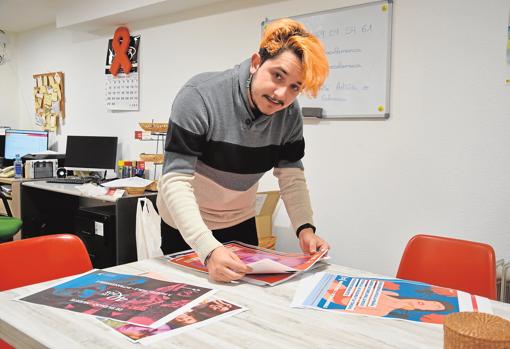 The health stigma continues to exist, Olivier denounces, although it is more due to ignorance and a minority. Doctors have evolved in many ways and many of them are activists, says Mª José, because "there are no great differences between what we want and what HIV doctors want: it is the same".
Mª José has been living with HIV for more years than if he had: 32. She is a professor of Psychology at the UNED and executive director of
STOP and she feels "proud and fortunate to have had so many experiences and to have been able to meet wonderful people."
Olivier also ignored his mother and took off the breastplate and the self-stigma in social networks where he received many messages of support, in addition to the 'thank you' from many people. Now he works as an Educator for the Peer Program
Salamanca Citizen's Anti-AIDS Committee. "HIV has taught me to be who I am."

www.abc.es
George is Digismak's reported cum editor with 13 years of experience in Journalism