Updated:
Keep

As of today, the labor market improves somewhat in March – a seasonally good month for employment – but it still does not lift its head if we compare the current situation with the data of a year ago. Unemployment is becoming chronic and in March the number of unemployed, despite falling by 59,149 people in monthly terms, was of a total of 3,949,640, that is, there are already 401,328 unemployed more than a year after Home confinement will be decreed to stop COVID infections. Just twelve months before, in March 2020, Spain suffered the highest rise in unemployment in its history and the number of unemployed grew suddenly by 302,365 people in just 15 days, up to 3,548,312 people, due to the impact of the stricter confinement and temporary closure of thousands of companies.
It should also not be forgotten that the number of unemployed does not include people protected by a Temporary Employment Regulation File (ERTE). Therefore, the number of unemployed should be added to the 743,628 people who are still in an ERTE, according to the data collected and published today by the Ministry directed by José Luis Escrivá. What's more, there are still 470,000 freelancers who perceive the cessation of activity, according to data provided by ATA. "The data on unemployment and affiliation to Social Security for the month of March published today cannot be said to be good or bad. They are mediocre, "said Lorenzo Amor, president of the National Federation of Self-Employed Workers' Associations, ATA.
The fall in unemployment in March is a mirage given the evolution expected in the coming months due to the dreaded conversion of ERTE into ERE that threatens to explode in the Spanish business fabric. From the USO union brand the March data as "misleading". "A little over a month after the end of the state of alarm and also the last extension of the exceptional ERTE, 743,000 workers are temporarily regulated. Many companies are already doing ERE despite that special ERTE framework, which continues to be a retaining wall. We fear that if that hatch is blown open, we will find ourselves with a scenario of almost 5 million unemployed as of June 1», Warns Joaquín Pérez, USO secretary general.
In breakdown by areas of activity, unemployment increased in March in agriculture, with 2,368 more unemployed and in the group without previous employment, where it increased by 3,529 people and fell in the rest, especially in the services sector, with 53,686 fewer unemployed. followed by construction (7,685 unemployed) and industry (-3,675 unemployed).
The positive data for March, as highlighted by USO, leaves it the ratio of permanent hires: 14.76% of the total, although more than half have been conversions. "This is, to a large extent, the result of the special Labor Inspection campaign, which revealed tens of thousands of fraudulent temporary contracts," Pérez points out.
Punctual increase in membership
On the employment side, Social Security registered a total of 18,920,902 average affiliates in March after increasing by 70,790 contributors compared to February. However, if we take stock of the last 12 months, we observe that 85,858 jobs have been destroyed and that compared to February 2020, the market accounts for 329,327 fewer employed persons.
According to data from the Ministry of Inclusion, Social Security and Migration, the general regime added 53,831 workers in March and stood at 15,581,654 employed persons. The special agrarian system subtracted 23,494 members, and that of the household grew by 1,061. "The recovery of activities is linked to the vaccination rates. You have to tighten in the vaccination. Nevertheless, We continue to have 1.2 million citizens who are either in an ERTE or are receiving the established cessation of activity benefit for the self-employed. Many will return to their job or resume their activity, but it will be impossible for many others to do so, "Amor interpreted.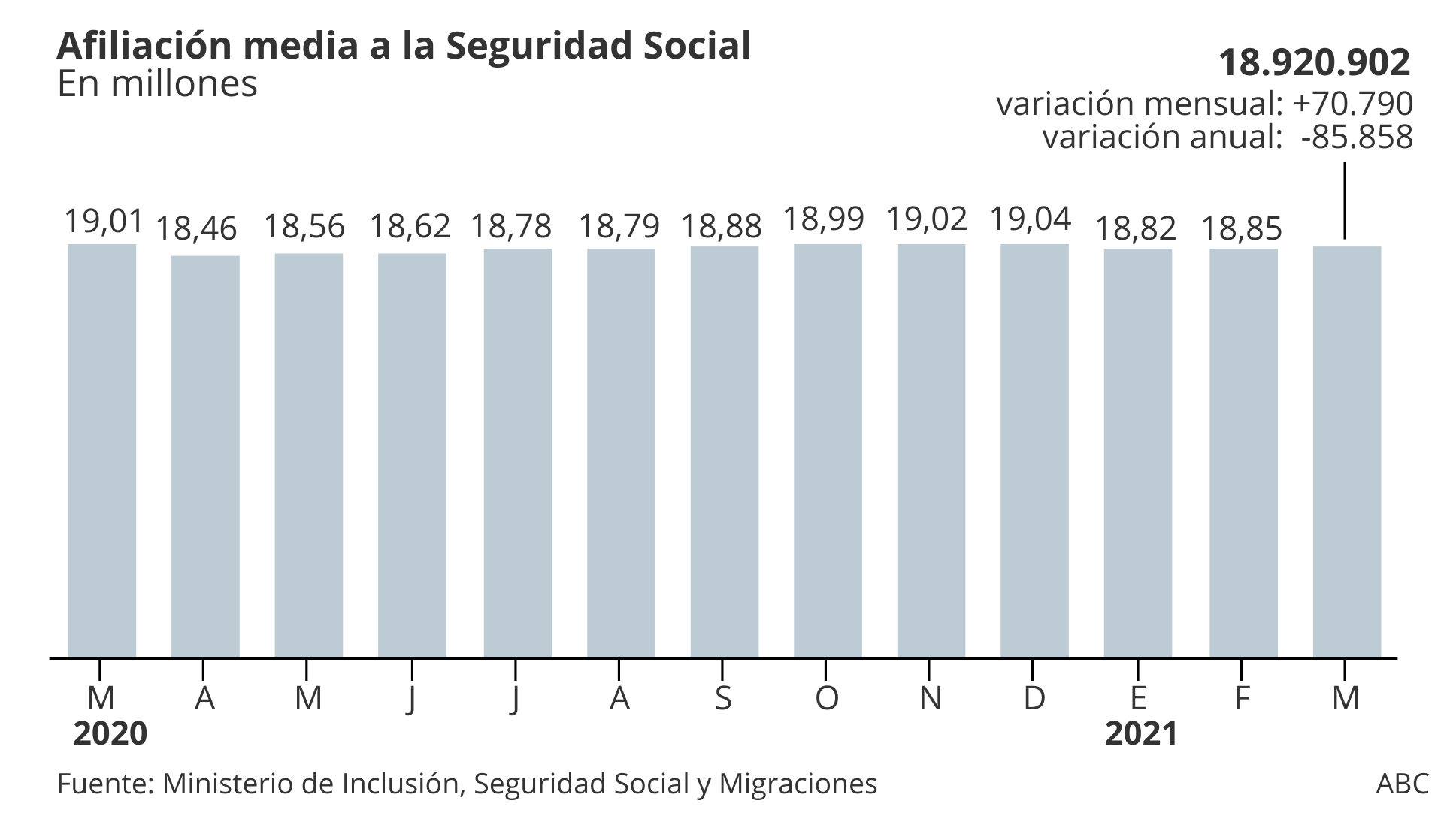 Despite the fact that in March there was a decaffeinated Easter, the hospitality industry gained 31,421 more affiliates, artistic and entertainment activities added 4,231 workers and construction registered 15,767 more. The sectors that lost the most were in turn financial and insurance activities, which registered 2,067 workers and administrative and auxiliary activities (-0.43%), with 5,495 fewer workers. For its part, the self-employed regime reached 3,277,500 average affiliates, 15,245 more than the previous month.
"Spring 2020 was unfortunate for the Spanish job market, and we are still feeling the consequences. For now Spring this year does not start strong enough to be optimistic about the general behavior of employment in this 2021. This will depend on the acceleration of the vaccination and immunization process of the population, "says Andreu Cruañas, president of Asempleo.
See them
comments

www.abc.es
George is Digismak's reported cum editor with 13 years of experience in Journalism