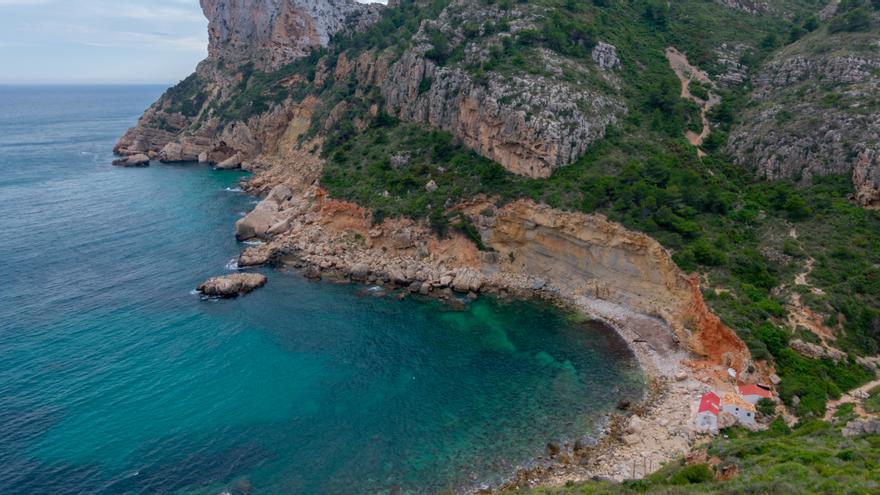 Summer is just around the corner and the heat is starting to tighten after the rains that have starred in the weather in recent weeks. Now the desire to hiking routes decrease to give way to the enjoyment of the multiple beaches and coves that can be enjoyed in the province of Alicante.
So then we show them five natural corners of the Marina Alta that you can enjoy without hustle and bustle and that have nothing to envy more popular coves such as the Granadella or the Moraig.
Cala Racó del Corb (Calpe)
The Cala del Racó del Corb is located on the line that divides the municipal terms of Altea and Calpe, separating the regions Marina Baixa and Marina Alta.
Shielded by cliffs of Morro de Toix, the waters of this cove are protected by law since they make up part of the Serra Gelada natural park. Furthermore, the presence of the essential oceanic posidonia meadow, a marine plant under protection and of great environmental importance, makes it even more attractive. The arrival of these remains, known as banquettes, help to keep the waters clean, oxygenated and crystalline.
It is a small pebble cove with a extension of just 200 meters long and 10 wide. His access it is only possible to arrive on foot or by sea And, although it is not too complicated, it requires caution. You have to go down a path full of pine trees with a quite steep slope, so it is advisable to wear good footwear. It is for this very reason that, although it is increasingly popular, it can still be enjoyed away from the hustle and bustle.
A perfect place for those who perform water sports like snorkeling, paddle-surf or the psicobloc. Likewise, for lovers of hiking there is the possibility of starting the Mascarat Canyon route.
How to get
Cala Llobella (Benissa)
This quiet cove of stone and sand preserves its more natural and wild look due to the few buildings that surround it. His discreet access and the low influx of users favors the practice of nudism by those who visit it.
She can arrive by car from the Calpe and Moraira road through the Cirer road and has a parking area with around 30 spaces available. It is also possible to get to Cala Llobella by doing the section of the hiking route 'Ecological Walk of Benissa'.
Along its 100 meters in length and thanks to its crystal background, this cove becomes an attraction for those who do underwater sports such as snorkeling, diving O kayak.
How to get
Cala Llebeig (Benitatxell, Teulada-Moraira)
Formed by the mouth of the Barranc de la Viuda, it is located between the municipalities of Teulada-Moraira Y The New Town of Benitatxell. His access is only possible by sea or on foot. If your option is to walk, you can do it in two ways. On the one hand, you can follow the course of the ravine from Teulada-Moraira or if you prefer, follow the path that runs alongside the cliff on the well-known Route of the Cliffs. Both routes are part of the trail SL-CV 50. However, we must be cautious about the crowds seen in previous years on this route due to the difficulty of several sections through which you have to descend by ropes.
The small houses of old fishermen that survive and its wild state make this cove a paradise to enjoy in the summer season. And if you want take advantage of all possible daylight hours, the best time to visit her is in the morning, since due to its position, the sun will stop shining at around 6 pm.
How to get
Cala Sardinera (Xàbia)
Located south of Xàbia, this cove is located between Cala Blanca and Cala del Portixol. However, their difficult access it does not allow it to concentrate as high a number of visitors as its neighbors do.
This cove is a lot less accessible than the rest of the beaches of Xàbia and in fact, most of those who decide to visit it access it by sea. If you do it walking, it can only be from the path that begins in the Mirador de la Creu del Portixol, a small dirt route, steep and without any shade for about 10 to 15 minutes.
Also, remember that this Sardinera cove is an isolated beach, without a lifeguard, without wastebaskets and without any type of service.
How to get
Cala El Trampolí (Dénia)
Located on the coastline south of Dénia, it is part of the rocky coves of the Les Rotes area. Although it does not have sand along its kilometer of extension, this rocky cove is one of the most coveted due to the good access by the road from Barranc del Monyo to Les Arenetes.
This natural corner receives its name from the particularity of the existence of a wooden trampoline on the same beach. Likewise, for those who enjoy bathing, it should be noted that it has a staircase and an access ramp and exit to the sea. It also has in mid and high season a lifeguard lookout post of the Red Cross.
With a capacity of 84 people, all those who visit this beach will enjoy the Natural Reserve of the Seabed of Cabo de San Antonio. However, for lovers of scuba diving There are restrictions, and if you want to practice this sport you must apply for prior permission to the Territorial Directorate of Agriculture, Fisheries, Food and Water of Alicante.
How to get

www.informacion.es
Eddie is an Australian news reporter with over 9 years in the industry and has published on Forbes and tech crunch.