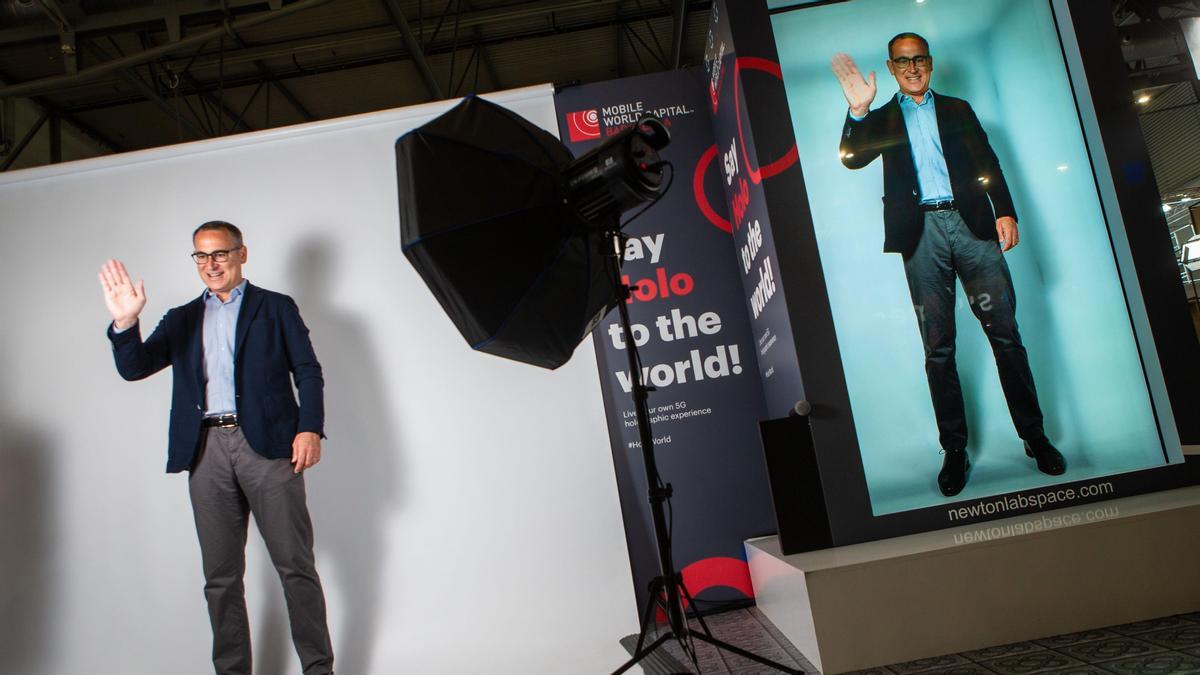 The technology from the future is already present at the Mobile World Congress (MWC) in Barcelona, where he 5G has become one more year with the leading role of the event thanks to a system of three-dimensional and life-size holograms that promises to revolutionize remote communications.
It is the Portl device, developed by the Catalan company Newtonlab Space, which allows 3D content to be projected and transmitted live with 4K resolution – its great differential – anywhere in the world thanks to the use of 5G technology.
Equipped with a white background, a camera, and two speakers, the system allows users to interact with the hologram in real time, which opens a universe of profits in the educational, health and business world, among others.
"The hologram is 3D, it has volume and shadow. It is a fairly accurate reproduction"
As the 5G director of Mobile World Capital Barcelona explained to Efe, Eduard Martín, whose 'stand' hosts a demonstration, the device is already at the service of companies with the aim of achieving "telepresences", that is, to simulate as truthfully as possible "that someone is in person". "The hologram is 3D, it has volume and shadow. It is a fairly reliable reproduction," he stressed, when comparing it with the "flat image" offered by a video call.
According to Martín, these types of solutions "will evolve a lot" in the coming years, since they can be combined with "virtual and immersive realities", especially in the field of education and health.
"There are many possibilities", has highlighted, for his part, the creative director of Newtonlab Space, Roger Belso, who has ensured that in the corporate world it can be used to make talks or presentations, as well as concerts and shows in the artistic field and even fashion shows or shop windows in retail.
Another of the successes of 5G in this edition of the congress, which lasts until Thursday at the Gran Vía de Fira de Barcelona venue, is the "YouCare" t-shirt from the company ZTE, a piece of clothing capable of analyzing biovital parameters with sensors almost imperceptible placed on the fabric.
This "remote health monitoring" instrument works by sending these parameters to a control unit which, in turn, records the data and converts it into digital format for later transmission to a mobile phone or smart watch.
In the words of the president of the Italian Red Cross, Francesco Rocca, who collaborates in this project, "It is an invention that will change the life and quality of home and remote medical services, improving assistance to many citizens with health problems and vulnerable people suffering from chronic diseases ".
In fact, ZTE also plans to participate today in another ambitious project, this time with Orange, by guiding a real ship from the congress and remotely with 5G technology that will be located hundreds of kilometers away, in the Port of Valencia.
In the healthcare field, a surgical cap developed by the Robinhat company and the Eurecat center also stands out, which allows healthcare professionals to record surgeries and make live connections thanks to a tiny integrated removable camera.
It is a first prototype that seeks replace the presence of cameras and mobiles Not sterilizable in operating rooms and offering a "touchless" mechanism (without physical contact) with lateral sensors and a precision laser.
Contactless technology has also found its way into 4 Years From Now (4YFN), the MWC entrepreneurs' lounge, where an automatic coffee machine that works with the eye has caused a sensation among attendees.
This device, from the company Irisbond and Grupo Azkoyen, works using advanced algorithms based on artificial intelligence and allows the user to select the product they want without having to touch with their hands, a solution that is presented as ideal to help prevent infections in full covid-19 pandemic.

www.informacion.es
Eddie is an Australian news reporter with over 9 years in the industry and has published on Forbes and tech crunch.