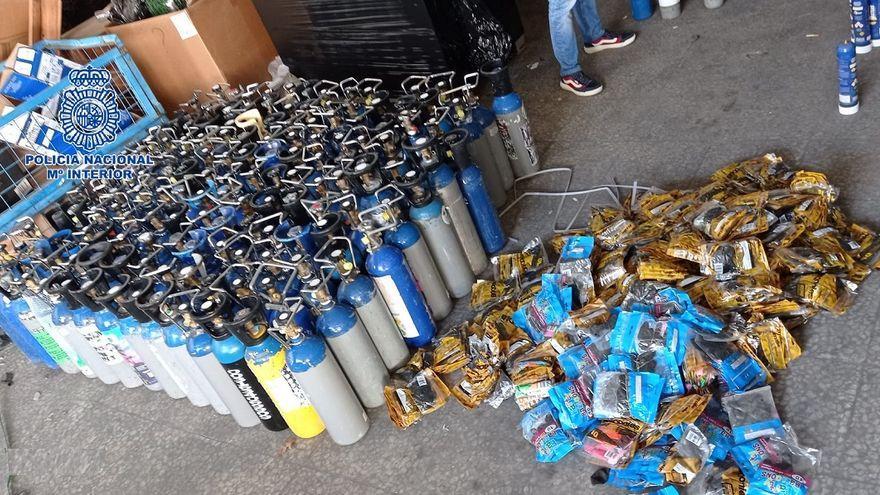 Four people have been arrested in an operation in which the National Police has intervened 800 canisters of laughing gas in Marbella and Mijas. Those arrested, all of Dutch origin and to whom they attribute the crimes of belonging to criminal organization and against public health, they had two industrial warehouses where they stored an arsenal of nitrous oxide before giving it out private parties of the Costa del Sol.
The investigation of the Udyco of Fuengirola started after obtaining a series of information that initially pointed to the drug trafficking in a industrial ship at Hermitage estate in Marbella. The investigators confirmed the strange movement of vehicles around the property by several people acting suspiciously. As reported on Monday by the Provincial Police Station, those investigated they closed the gates nothing more arrive and they tried to hide from the rest of the neighbors of the adjoining ships. One time identified several members of the group and locate their residence in Marbella, the agents tightened the fence and located a plot van in Mijas Costa, where they finalized an imminent operation with the occupants of a second vehicle with whom they entered a warehouse in the La Vega industrial estate.
On suspicion of a imminent transaction and the security measures adopted by the members of the network, the agents decided to act. They intercepted the occupants of a tourism to the departure of this last ship and verified that in the loading area they had 204 canisters of nitrous oxide. This action also led to the arrest of four people and the intervention of two vans and 3,550 euros. on record in the industrial warehouse of Marbella, the origin of the investigation, the agents intervened other 596 bottles of the same gas.
Nitrogen oxide is a colorless substance with a slight sweet odor It comes in both liquid and compressed gas form. Legally used in small amounts as an anesthetic for painless operations by dentists or also for industrial purposes in confectionery or aesthetics. However, the National Police recalls that in recent years its consumption has become fashionable among young people at parties because it is relatively cheap, between 3 and 5 euros per dose, according to the police. By inhaling the gas, usually through colored balloons, the consumer obtains sensations of intoxication, joy or daze. "The use of nitrous oxide for these purposes can produce lesions and alterations in the nervous system, such as delusions, as well as in blood and lung cells. These harmful effects on health can be increased if people combine it with alcohol", have remembered.
Last July, a young Swedish man died during a party in Marbella for pulmonary edema linked to consumption of nitrous oxide and other substances.

www.informacion.es
Eddie is an Australian news reporter with over 9 years in the industry and has published on Forbes and tech crunch.