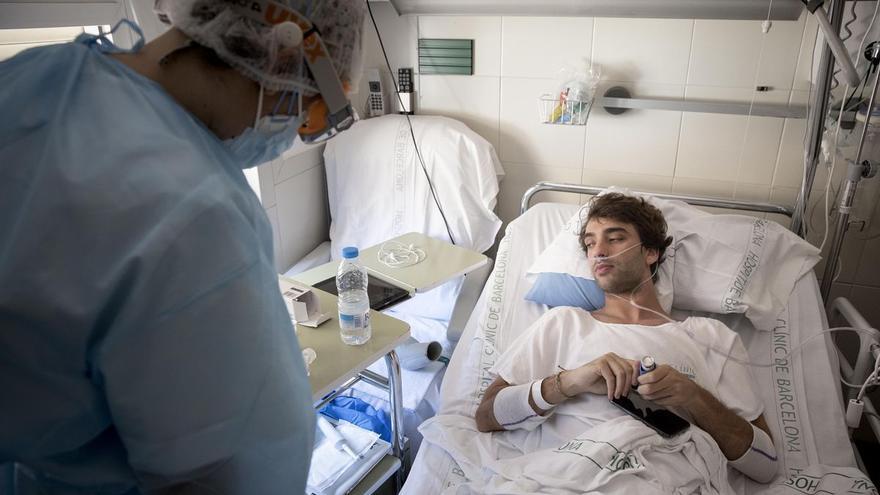 One of them is Victor Navas. It is impressive to see him cough. Is a dry cough, maddening. He has trouble even talking and needs oxygen to breathe. He has been admitted, since last Monday, in one of the six 'covid plants' of the Hospital Clínic from Barcelona. Suffers a bilateral pneumonia. Has only 24 years and it is still not believed that he has been infected with coronavirus.
"When I came to the hospital knowing that I was positive for covid-19, I did not even take my mobile phone charger because I thought they would simply prescribe me some medicine. I never thought that I would stay here ", explains to EL PERIÓDICO, a newspaper belonging to the same communication group as this medium. The doctors have told Victor that they would discharge him, in principle, next Monday.
Victor admits that he didn't even want to go to the doctor because he thought to a young man "this could not happen". "I felt like I was short of breath, but it was impossible for me to enter. At 23, it wasn't going to be my case. This was more for older people. And here I am at 23 years old and on oxygen. Before I went to the shower, I took off my oxygen and I couldn't, "he says.
This young man knows well where he was infected: in a wedding held on Saturday, July 3, where there was up to 20 positives. His two little brothers are also with covid-19, but they have not needed hospital admission. One in every hundred young people with covid-19 end up in hospital. One in every thousand, in the ICU. For this reason, although the majority do not get seriously ill, the more infections there are, the more young people will require a hospital admission.
"I started with strong symptoms on Tuesday morning: high fever, tremors, disorientation, muscle pain. The next, as it was getting worse, I came to the doctor and they told me it was bilateral pneumonia ", says this student of Law and Business Administration and Management (ADE) lying on his bed. Victor had not passed the virus. He was afraid of him, he confesses, above all because he saw many people around him catching the infection although overcoming the infection. But his was a step further. "I continued with very high fevers, very strong muscle aches … It was hard for me to breathe and that's where I got scared. "
Pandemic rises
All indicators of the pandemic are on the rise. Catalonia is right now the region of Europe most affected by the virus. The delta variant of the coronavirus, that was mixed with an increase in social interaction during the week of Sant Joan, is causing a explosion of infections unprecedented in this pandemic. The virus circulates so fast within the population that many people do not even know how it was spread. For example, Raúl Condomines, 24-year-old and Victor's roommate. He entered on July 13.
"I have no idea where I got it from, it's something I've thought a lot about. Last week I was only in contact with my grandparents and my co-workers. I can only think of public transportation or the gym; perhaps having lost my mind, "he says.
Although Raúl does not need oxygen to breathe, he admits that He is "very impressed" to see himself in the hospital. It is the first time you enter. "I was afraid of the virus, but I never really felt that possibility of being able to catch it. I always took precautions, I avoided large gatherings, parties … ", says Raúl. Until you experience this situation in the first person, he says, you don't understand" how relevant it can be. "He has" a lot "of friends who , like him, they have been infected.
Both Víctor and Raúl reject the criminalization of young people for being the bulk of infections in this fifth wave of pandemic. "Also we have made many efforts ", Victor specifies. In addition to how much the pandemic affects mental health: "It crushes you", Add.
"It is true that now there is a explosion of covid-19 cases among young people, but because we are not vaccinated. We follow the directions. I went to a wedding because they are allowed ", Victor recalls. He, he assures, has always worn a mask and has isolated himself the times he has been in contact with a positive.
His words are seconded by Raúl, who considers it "a mistake" to criminalize the group and consider that all young people are equal. "It is true that there are people more unconscious than others, but we are not all the same and in general we have made an effort. Now this wave has caught us and it affects us a lot ", ditch Raúl.
"We were expecting a quiet summer and it won't be like that"
"We were expecting a quiet summer and we already have six 'covid plants'," says the nurse Marga Robau, coordinator of one of those plants of the Clinical Hospital dedicated to coronavirus patients. Although there are "people of all ages", even "vaccinated people who get infected", there are also "younger than in other waves", as explained by this nurse.
According to the Group of Computational Biology and Complex Systems of the UPC, at the moment the West lives "of pandemics": that of the vaccinated and that of the unvaccinated. Young people belong to the second. But that the virus runs rampant in this group involves risks. The first, that there are young people who enter hospitals and ucis and that they even die. The second, that infect older people who end up getting sick (because, although vaccines are effective, they are not 100% effective) or who only have one dose. The third, that the transmission of the virus favors the appearance of new variants that, this time yes, they manage to avoid the vaccines. It is something that is not happening at the moment, but epidemiologists do not rule out that it does.
The vaccine is the solution, but it is not the only solution. As long as that desired 70% of the immunized population is not reached (at the end of summer in Spain, according to Pedro Sánchez), it will be necessary to continue taking face mask and respecting the social distance.

www.informacion.es
Eddie is an Australian news reporter with over 9 years in the industry and has published on Forbes and tech crunch.