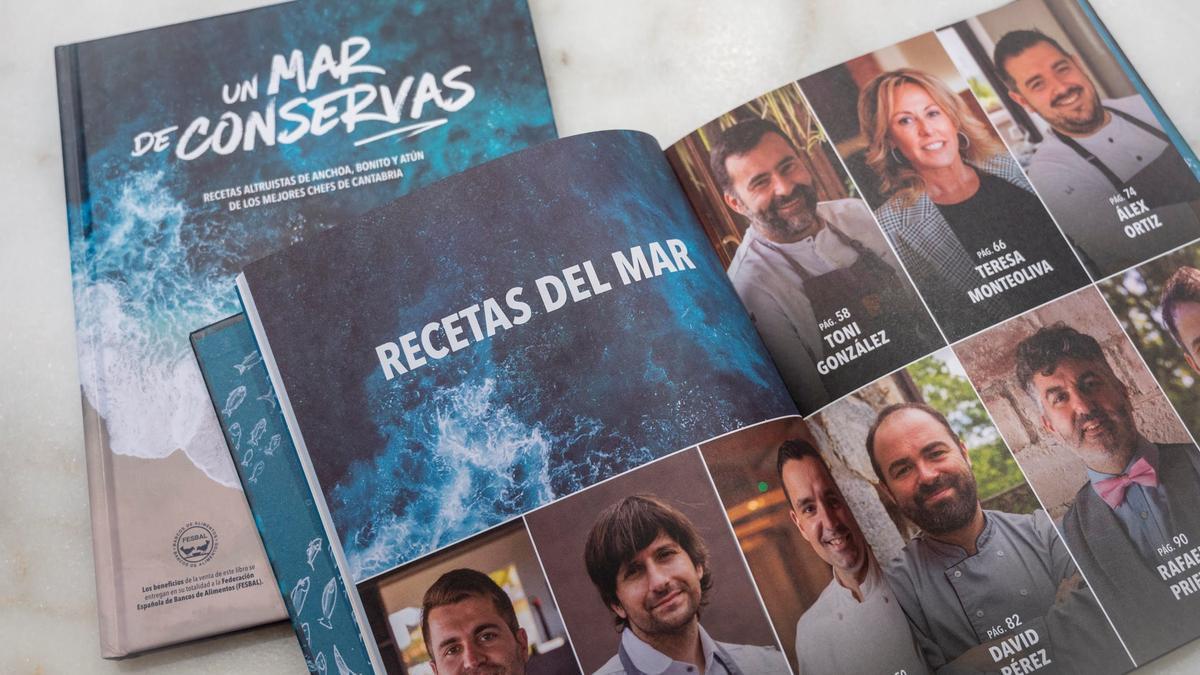 'A sea of ​​preserves' is the cookbook with which some of the best Cantabrian chefs, such as Ignacio Solana (Solana), Sergio Bastard (La Casona del Judío) or José Manuel de Dios (The well-appeared) teach to bring to the plate canned anchovies, tuna and tuna without wasting even the oil, and whose benefits will go to the Spanish Federation of Food Banks (Fesbal).
It is an initiative of the conservative Grupo Consorcio presented this Thursday in Madrid; Its vice president, Valeria Piaggio, has indicated that while other companies in the sector closed during the confinement, they decided to continue their activity to preserve jobs and continue with their support program for Fesbal by donating the equivalent of 100,000 euros to its 54 Food Banks in food.
Since the pandemic began, the aid of the Food Banks has increased "around 50 percent" destined to 8,000 entities with 1.5 million beneficiaries, has exposed the vice president of Fesbal, José Ignacio Alfaro, who has stated that "all help is little".
Therefore, the next step for Grupo Consorcio was involve Cantabrian cooks, located inside or outside the community, to collect in 'Un mar de conservas' recipes with cans of anchovies, bonito and tuna, as well as data on the importance for Santoña of this industry that began to develop at the end of the 19th century thanks to the arrival of the Italian salting masters.
Curiosities about the canning sector, with the fundamental role of women in factories, and the role of cans in haute cuisine are some of the aspects collected in this book for charitable purposes and in which all chefs have participated in altruistic way. The traditional marriage -combination of anchovies in vinegar and anchovy-, tuna and tomato fritters, pickled tuna lasagna, ajoblanco and anchovies or tuna belly with tomato tartare and oil emulsion are some of the proposals collected to get another performance in home to marine preserves.
"We all have cans in our pantry, but we don't all know the story behind them.", has indicated Valeria Piaggio, for whom this book, in addition to its purpose of helping the most needy," to value the jewels of the Cantabrian Sea and the work of those who cook them ".
José Manuel de Dios, who has directed the kitchens of La bien Aparecida (Madrid) since 2016, teaches that the oil in cans can be used "for mayonnaise, emulsions, vinaigrettes or for confit", while Sergio Bastard (La Casona del Judío , Santander), defends anchovies as "the queen" of your kitchen and advises to use long-curing ones – between 12 and 15 months – when it is the protagonist of the dish and shorter ones if they are used as an ingredient. Ignacio Solana (Solana, Cantabria) highlights the importance of marine preserves for an inland restaurant and assures that anchovy is "a spectacular enhancer" for fish such as hake.
Carlos Arias (Emma), Toni González (El Nuevo Molino), Álex Ortiz (Pan de Cuco), David Pérez (El Ronquillo) and Teresa Monteoliva and Rafael Prieto, co-owners of Grupo Cañadío and El Serbal, respectively, also give away their knowledge in form of 27 recipes with anchovy, bonito and tuna collected in 'Un Mar de Conservas', on sale for 12 euros at www.tiendaconsorcio.com.

www.informacion.es
Eddie is an Australian news reporter with over 9 years in the industry and has published on Forbes and tech crunch.