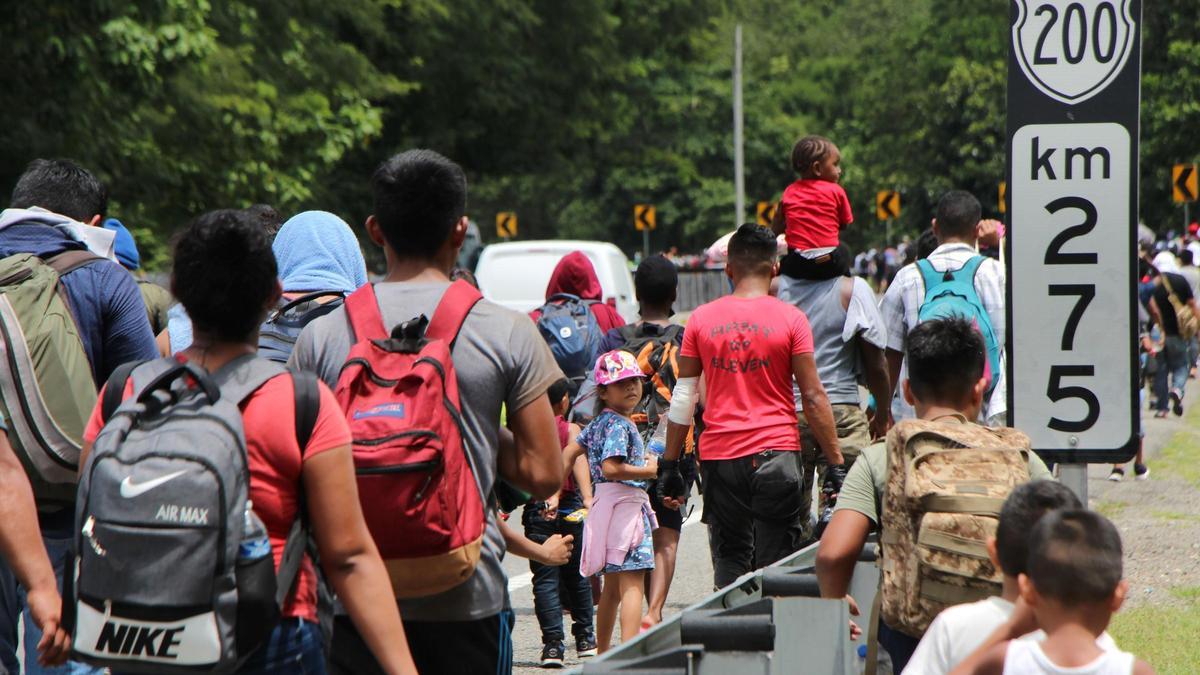 Thousands of migrants, mostly from Haiti, El Salvador, Honduras, Guatemala and Nicaragua, they prepare to leave in a caravan from the southeastern municipality of Tapachula, in Chiapas, to Mexico City. This march, for freedom, dignity and peace, seeks to leave next Saturday from Tapachula and in it the foreigners will walk in human chains and They will ask the Mexican authorities for respect in order to move forward and achieve regularization of their situation in an administrative office of the National Institute of Migration (INM) in the capital, as they explained to EFE on Wednesday. "We have all the faith that we are going to leave this October 23. We are making a sacrifice, so we ask for all the people who go since we are going to walk as far as the Lord allows us," the migrant told the media. Guatemalan Estela de León, who travels alone. Estela added that there is a lot of violence, poverty and extortion in her country and that is why she left her country. He indicated that his final destination in Mexico is Tijuana, where he seeks to work and have a safe life.
About some months ago, thousands of migrants of at least 11 nationalities have sought a way out of Tapachula seeking to advance in its procedures before the Mexican Commission for Aid to Refugees (Comar) or the INM, institutions saturated by the volume of applicants. Jorge Nelson Ramírez, originally from El Salvador, explained that in Tapachula migrants can do various jobs, but living conditions are often dangerous.
The migrants settled this Wednesday outside the facilities of the Tapachula Judicial Power, where between prayers they asked the judges to grant them the protections that should facilitate them to continue their travels. This Wednesday, migrants and human rights activists Irineo Mujica and Luis Rey García Villagrán carried 46 packages with petitions for protection to federal judges to allow migrants to leave Tapachula on this walk.
This afternoon, the INM invited in a communiqué the "people linked to amparos to wait in Chiapas for the resolution of their cases." The institute recalled that people with applications for protection cannot be deported as long as they remain "in the place where they are at the disposal of the court for protection" until the final ruling is issued. As reported by the INM, at the cut-off of 10.00 hours (15.00 GMT) there was notification of 54 amparo lawsuits that are linked to 2,351 people.
The region lives a unprecedented wave of migration since the beginning of the year with a historical flow of 147,000 undocumented persons detected in Mexico from January to August, triple that of 2020, and a record of 212,000 migrants detained in July alone by the United States Customs and Border Protection (CBP) United. In early September, Mexican authorities thwarted the advance of four migrant caravans that left from Tapachula. Various UN agencies and NGOs they criticized the use of force in the operations to dismantle said caravans.

www.informacion.es
Eddie is an Australian news reporter with over 9 years in the industry and has published on Forbes and tech crunch.