Fernanda Paul
BBC World News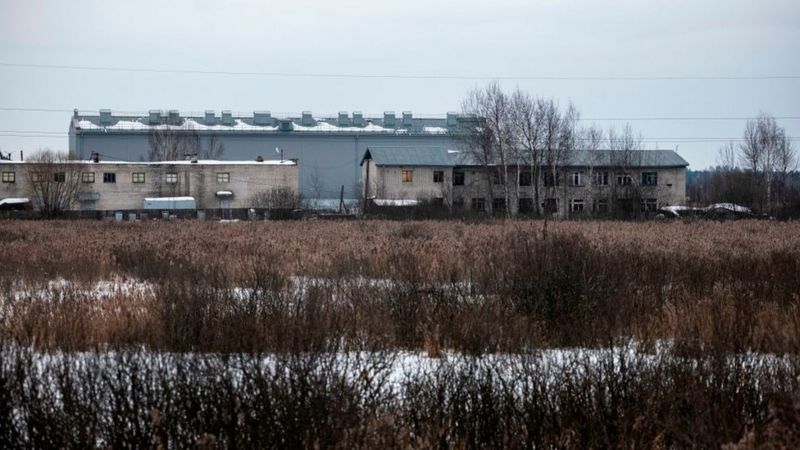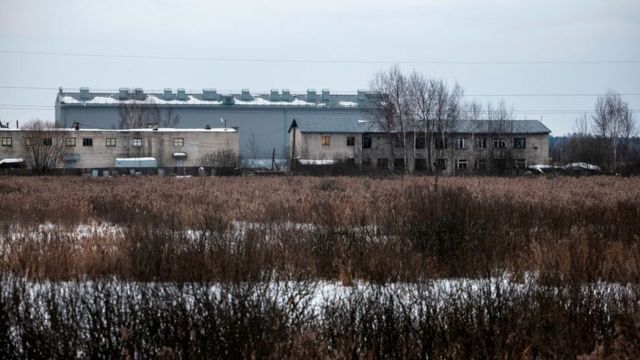 Horrible, cold, extremely strict and humiliating.
This is how the dreaded Russian prison has been described where the opposition leader Alexei Navalny it will spend its next two years.
Vladimir Putin's staunchest opponent was arrested in January, shortly after landing in Moscow from Germany, where he nearly died from a poisoning of which he accuses the Russian authorities.
Now, the justice sentenced him to 3 and a half years in prison for breaching the terms of the probation of a sentence suspended in 2014 for embezzlement.
Navalny's team did not know his whereabouts until this Monday the activist himself confirmed that he was transferred to IK-2.
Through his Instagram account, he compared the prison to a "concentration camp".
"I have to admit that the Russian prison system has managed to surprise me. I never imagined that it was possible to build a real concentration camp 100 kilometers from Moscow ", it says in the message.
While Russian prisons are widely known for their brutal conditions, the IK-2 has been described as the "tougher" in terms of "breaking" to the people.
Punishments, extreme surveillance and absolute deprivation of the outside world It is part of what their inmates — several of them imprisoned for political reasons — live on a daily basis.
BBC Mundo tried to contact the Russian government to obtain its version of the IK-2 prison, but until the moment of publication of this article we received no response.
Psychological pressure
IK-2 Prison, also known as Pokrov Correctional Colony or N2 Colony, is located in the Vladimir Oblast district, about 100 kilometers east of Moscow.
"Penal colonies" are the most common form of prison in Russia and are located throughout the country. The IK-2 has different departments and buildings where the inmates' dormitories and rooms are located to carry out various tasks.
Navalny is specifically in the "Intensified Control Sector A", as confirmed on his Instagram account.
In conversation with BBC Mundo, a former prisoner of this prison complex, Konstantin Kotov, says he lived in fear while he was there.
"There is a very strict regime, in which the administration has total control over all aspects of the convict's life. Apply methods of psychological pressure and physical pressure to break the will of a person. Everyone lives in constant fear of breaking the rules or doing something contrary to the administration, "says the activist.
Kotov was convicted of participating in protests against the Putin government "repeatedly", in a case that caused a stir in Moscow. Although at the beginning of the judicial process against him he was sentenced to four years in prison, in the end only one was imprisoned.
However, this was enough time for Kotov to learn about the atrocities experienced by the inmates in the IK-2.
Routine and extreme isolation
His day started at 6 in the morning. Then he had to dress quickly to go outside, regardless of rain or snow, stand in line and sing the Russian anthem. Next came the morning exercises, which they all had to do equally.
Later, he had breakfast in the common dining room, and after that, he had to march quickly and in formation with his hands behind his back while he and the rest of the prisoners received a "morning check." The same was repeated in the afternoon.
"You could be on your feet for more than an hour, twice a day, under extremely cold or hot climates, depending on the time of year, "he says.
In the afternoon, he had to go to the work zones. You might have to join the sewing or wood processing equipment, as well as clean the area, sweep up the trash, or remove the snow. If he did not, he was forced to watch television or government advertisements, without taking his eyes off the screen. If he fell asleep or looked away, they could beat him up.
At the end of the day, after dinner, he had a free hour where he could finally read or respond to letters, which were carefully checked by the guards.
"The administration fears that the prisoners will speak of the regime in the colony. And therefore, your communication with the outside world is minimized: there are only paper letters that are subjected to strict censorship. Calls are allowed once every two weeks, no more than 15 minutes, "explains Kotov.
"At the same time, all conversations are monitored. If a prisoner tells his loved ones something bad about the colony, he will be punished. A meeting with a lawyer is very difficult to achieve, it is made as difficult as possible, "he adds.
The extreme vigilance was confirmed by Alexei Navalny, who in his message on Instagram this Monday indicated that "there are video cameras everywhere, everyone is watched and before the minor infraction they make a complaint ".
Under this same logic, in the IK-2 they subject the inmates to strict quarantines.
According to another former prisoner at the compound, Vladimir Pereverzin, "Jailers isolate prisoners from each other to follow the principle of 'divide and conquer'. Small groups are easier to manage."
Pereverzin – who was accused of embezzling funds while working at the Yukos oil company – was released in February 2012. Despite the fact that the European Court of Human Rights later refuted the Russian court's decision, he passed 7 years and 2 months in jail.
"A normal person cannot understand what happens in this Russian prison. The degree of harassment and humiliation of a person knows no boundaries and continues 24 hours a day. The prisoners are kicked out of their beds to exercise. Then, they go to the bathroom, where there are 5 showers and 5 toilets for 60 people. You are always in a state of stress, you are always in a hurry to go somewhere ", he explains from Berlin in a telephone conversation with BBC Mundo.
Punishments
In this penal colony, there are prisoners who are called "activists" or "goats". They play an important role by cooperating with the administration of the compound, controlling the rest of the inmates, monitoring compliance with the rules and spying on everything that their companions do.
In return, these people get privileges like a shower.
"They make sure that the inmates follow order, they report any abuse to the staff of the colony and they are the ones who use physical force against the other inmates. With me they never used physical violence, they only exerted psychological pressure," Konstantin recalls Kotov.
In some Russian media, such as MediaZona, former prisoners have told how they have been forced to torture the rest of the inmates.
But the guards also fulfill their role.
According to Pereverzin, the inmates are "completely under power" of the gendarmes.
"They can do whatever they want. They can kill youand then they organize some situation and say, 'Oh, he fell off the stairs,' "she says.
Deaths have been reported in several Russian prison facilities. Despite the fact that many of them claim to have been due to "natural causes", complaints of beatings and torture are common.
"Sometimes they punish the prisoners, they beat them. Especially when they arrive at the colony and send them to quarantine," adds Pereverzin.
In the case of Alexei Navalny, however, Pereverzin believes that he will not receive too harsh punishments. "They don't want problems and they are not going to want that kind of thing to be made public," he says.
In this regard, the head of the Russian Criminal Service, Alexander Kalashnikov, guaranteed to the media in that country that "there is no threat to your life or health"He will be kept in absolutely normal condition," he added.
This is confirmed by Navalny in his message published this Monday.
"I have not seen any violence yet, not even a hint of it, "he said." Although due to the tense posture of the prisoners, firm and fearful of turning their heads again, I easily believe the numerous stories of IK-2, "he added.
Impotence
After getting out of jail, Pereverzin wrote a book – "Hostage, the story of a Yukos manager" – in which he tells the details of his stay.
Among other things, he talks about the brutal conditions he was exposed to every day.
"It's terrible. It was very cold. They passed you a blanket but that blanket did not heat up so you got sick. I lost weight because they don't give you good food either. You eat terrible things, just to survive, "he says.
Other former inmates have claimed that they were not allowed to sleep in clothes despite the temperature of the rooms it did not exceed 10 degrees.
For Pereverzin, the hardest thing about being in prison all those years is that he felt "helpless."
"You feel powerless. You can't do anything about this situation. You know that you are right, that you did nothing to be in jail, but you are there", he says.
When the former Yukos member was released, he couldn't believe it. "I did not believe that I would ever be free," he tells BBC Mundo.
Something similar felt the activist Konstantin Kotov.
"I was overwhelmed with emotion. For the first time in a long time, I was able to hug my wife, my parents, my friends. But of course my stay in the colony left a mark on me and I have not recovered from this negative experience until now, "he concludes.
Remember that you can receive notifications from BBC Mundo. Download the new version of our app and activate them so you don't miss out on our best content.

www.bbc.com
Eddie is an Australian news reporter with over 9 years in the industry and has published on Forbes and tech crunch.