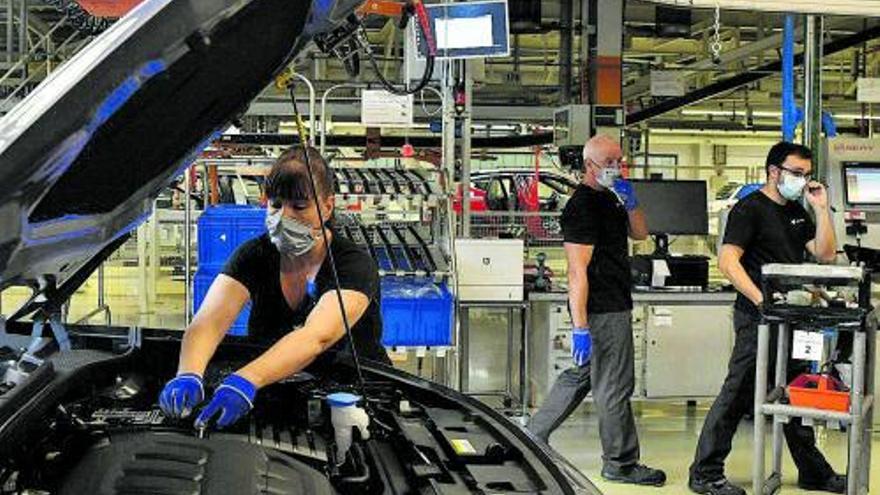 More than a year ago, the European Commission launched its industrial strategy to reduce dependency, ensure a green and digital transition and strengthen, among other issues, Europe's strategic autonomy. Fourteen months later, the Covid-19 crisis has forced to update that roadmap to stop the enormous dependence on raw materials and critical products for the EU, manufactured mainly in Asia, which in the current context of pandemic has caused problems of supply and an increase in costs and prices in key sectors.
Dependence on China
"Supplies were blocked at the borders, air cargo prices skyrocketed because planes stayed on the ground and imbalances in trade flows led to a shortage of maritime containers," summarizes Brussels on the situation experienced this past year in an analysis that establishes 14 key industrial ecosystems – from textiles to the agri-food sector, construction, renewables or electronics, among others – and that offers a first X-ray of 5,200 products imported to the EU. Of these, 137, representing 6% of the total value of merchandise imports, are 'highly dependent' for the EU, mainly raw materials destined for energy intensive industries, active pharmaceutical ingredients and products for green and digital transformation.
Of all of them, 52% come from China, which is by far the largest supplier to the EU. Although European industry could seek alternatives by diversifying the supply chain, there are 34 products (0.6% of the total value) "potentially more vulnerable" because they are difficult to substitute for European production. Its scarcity, if China chooses to turn off the tap within its own industrial and strategic policy, could lead to higher prices in the European Union.
From the European point of view, the solution is not to turn its back on international trade. 'Trade and industrial policies are interrelated and must be mutually reinforcing. Ensuring that the EU remains open to trade and investment is a prerequisite for achieving resilience, "says Pierre Gattaz, president of the European industrial association BusinessEurope.
Microchips
The car, forced to stop
It is possibly the most pressing problem and the one with the most complex solution. Microchips, those tiny pieces that all electronic devices incorporate, have been scarce since the end of 2020 after the purchase of products such as computers, telephones or video cameras, for example, skyrocketed.
This shortage has become tangible for months in industries so sensitive for Europe, and especially for Spain, such as the automobile industry, which has had to reduce its production and send thousands of workers home due to the impossibility of obtaining these components and manufacture the usual volume of units. There is also no PlayStation stock for months and even giants such as Apple or Microsoft have felt the effects of the lack of semiconductors without going any further.
Europe is back at a disadvantage as a result of industrial relocation and Asia once again has the upper hand. China, South Korea and especially Taiwan are the territories where the production of these coveted silicon wafers is concentrated.
It is a problem that is difficult to solve, despite the recent moves by Brussels to boost community production, since it is estimated that investment for this type of factories rises to 20,000 million and that achieving profitability would take practically decades.
This chaos derived from a change in consumer behavior can be replicated in the short term with other elements that will be highly demanded for the green economy. Some minerals such as cobalt, lithium, copper or silver are registering significant price increases in recent weeks because they are key resources of the energy transition: for example, an electric car uses six times more minerals than a conventional one. For this reason, the International Energy Agency warned this week of a "mismatch" between "global ambitions in the fight against climate change" and the "availability" of the necessary "critical minerals".
Wood
Chinese control of Africa
This raw material is a highly demanded good for the construction of houses, a sector that soared its activity already last summer, especially in markets as powerful as the United States or China. Contrary to other basic materials, European industry does produce wood, albeit with specific characteristics. They are species such as pine, poplar or birch, which are denser and heavier. In these cases there are no supply problems, although there are manufacturing problems – due to high demand – and lower profitability, due to high prices, as highlighted by Vicente Folgado, first vice president of the Valencia Chamber and owner of Tableros Folgado.
Where Europe does feel the shortage is in the market of tropical woods, lighter, highly demanded in construction, nautical or transport.
These types of materials such as okume, fromager or ilomba are located largely in Africa. In this continent, China has carried out a strong implantation in recent years and controls a large part of the logging operations. These varieties do not reach European manufacturers because a large part is destined to cover Chinese demand and delays in orders to Africa are around three and four months.
In addition, disruptions in maritime transport contribute to the diversion of traffic to the Far East, adds Folgado. Freight, the price of transporting a container by ship, to Asia has increased by up to five times: a container that was previously worth 2,000 euros now costs 10,000. The maritime sector links the increase with the "reductions" that China made after its commercial reopening to recover lost customers compared to Europe. Thus, it was made with many long-term contracts that it must now fulfill, which has come to cause some industries to pay ships to return empty, leaving the rest without cargo capacity.
For now, companies like Folgado's are being able to weather the storm by cutting production and giving up orders, which he considers "paradoxical" at a time of crisis in which each order is a relief. But he warns that if the shortage continues and margins continue to fall due to rising costs, "between now and summer there is a risk of having to stop."
Metals
Overwhelmed by demand
Its price even doubles for the small buyer. The origin of the problem is the same: the speed at which economic activity rebounded after the massive lockdowns in the first half of 2020, especially in China. The reactivation caught producers on the wrong foot, who now cannot meet the full volume of demand, which is causing manufacturers of metal-based goods to give up orders, since their orders also take up to four months.
Asia plays with an advantage. There, around 60% of world production is agglutinated, while 30% is in the US and just 10% in Europe. And a set of priorities has been entered: domestic demand – triggered in China – and the industries that offer a greater volume of sales – automobiles, electrical appliances and solar panels – come first. The rest have to wait and assume extra costs.
Vicente Llatas, president of the Spanish Agrupación de Empresas Exportadoras (Arvet), links the increase in demand with the "boom" in housing reforms after the months of confinement. First, the retail businesses, then stockists, later manufacturers and, finally, producers depleted their stocks. "A vicious circle" in which each intermediary squeezed the most out of their supplier, he says. Now, with the logistics chain broken, taking over a metal consignment is an almost impossible mission. Whoever succeeds tries to stockpile and buy the maximum available. "Orders are delayed, nothing can be planned and prices vary a lot," adds Llatas. And he gives the example of the German group Thyssen Krupp: "They have covered the order quota for 2021 and will not accept anything until 2022. It was unthinkable a year ago."
In addition, not everything goes in the metal sector. "A simple trestle uses five different types of steel, and if one fails, the product cannot be manufactured", laments the president of Arvet. "Nothing can be planned because components appear and disappear from the market." Llatas expects this distortion to last until 2022 and finds it difficult for the EU's attempts to boost demand to work: "The problem is how to boost domestic consumption without domestic production." And it warns that after a year of crisis, manufacturers have no margin to assume the price increase, which will lead to a rise in inflation if they finally transfer that increase to the final product.
Cotton
The consumer will pay it in the end
The rebound in cotton prices began almost a year ago, and since then it has maintained an upward trend that has placed the increase above 90%. Issues such as lower production in the main growing areas of the United States, the Trump Administration's ban on Chinese imports and consumption that has been growing in both Asian and African countries have led to this situation, which is having pernicious consequences for textile companies.
The vice president of the Spanish Intertextile Council, Pepe Serna, points out that "at the moment there is less supply of cotton in circulation, which has led to higher prices. The normal thing is that the situation tends to normalize, but, while that comes, we are going to have complicated moments, because this raw material, together with polyester, is the main one for the sector both with regard to clothing and fabrics for decor".
The pandemic has already led to a 14% reduction in sales at the national level last year, when the increase in demand for home textiles failed to offset the drop in clothing. "The situation," emphasizes Serna, "continues to be complicated, because consumption continues to stop and the market cannot now digest a price increase in the final product. So companies, for the most part, have so far chosen to cut profit margins. "
This has been the case so far, but the sector is already warning that the rise in rates is just around the corner. Francisco Jover, manager of the Jover Group, with decoration brands such as Ka International and Maison Decor, does not hesitate to point out that "everyone is already preparing price increases for the month of June, because the costs are unaffordable. It is not just about cotton, as transport has also exploded, with the price of containers tripling. This is all bad news for the industry, "he concludes.

www.informacion.es
Eddie is an Australian news reporter with over 9 years in the industry and has published on Forbes and tech crunch.