Next year they will celebrate six decades together. Teresa is 80 years old, Manuel 83. They have preferred to use an assumed name to tell their story of harsh reality, that of a generation that, being just children, had to leave school and toys to get to work. She dedicated herself body and soul to caring for others, just as she was raised, and he, to bringing sustenance home. Teresa was diagnosed with Alzheimer's five years ago and Manuel became her caregiver, focused on watching over her absentmindedness. His head has begun to fail him and the doctors suspect that the cause may be the same, that disease that bears the name of the German psychiatrist who discovered it and that has disrupted the life of this Galician couple and their daughter.
Everything changes in a house when Alzheimer's erupts with its disorientation of space and time, its incomprehensible mood swings and an indomitable disorder. In the family of this family in the municipality of Oleiros (A Coruña), not only had to remove the carpets, place handholds in the showers, replace electrical appliances that burned due to forgetfulness or buy watches with GPS, but Teresa became "another person" . "She does things that she never did in her life, like singing and dancing," illustrates her daughter, María del Valle.
Before her illness, Teresa's character was the result of a life of self-demand and great misfortunes. She was the fourth of a brood of 11 children and the first woman, so at that time she was forced to be the one who took care of all her siblings since she was a child. Three of them died too young, one in her own arms, and she had to take care of one of her orphaned nephews. She internalized the role of a "perfect" housewife, says her daughter María, dedicated to caring for others without ever loosening up: "She didn't go out, she had no friends and she never complained". She had two children and one died in a traffic accident, a misfortune that marked the family forever and that she also faced taking care of, this time for her grandchildren.
Teresa racked up two or three years of symptoms before being diagnosed with Alzheimer's. The family began to notice "strange details" just as her grandchildren reached adolescence and no longer required her care. Her daughter remembers that she began to appear "sad, off", as if she were suddenly returning to that deep grief that her dedication to her grandchildren had hidden: "Everything began to scare her: the rain, the wind, going by car. He even suffered an anxiety attack.
Manuel perceived too many absentmindedness in her. "I told my daughter and sister-in-law: 'Something's wrong with mom." But Teresa was reluctant to go to the doctor. Her husband managed to take her to the bedside half deceived. He detected cognitive impairment. It was necessary to wait five months for the TAC (computerized axial tomography; that is, the group of serial images of sections of an organ or tissue) of the public health system that cleared the diagnosis. Today, her daughter and her husband repeat, Teresa is another woman, "more cheerful, more reasonable, she likes to go out and be with people". "Now that he's released, he's even playing music," María del Valle slides. He likes to listen to Mocedades and the Coruña group Amizades.
Teresa's illness turned Manuel's daily life upside down, brought up to live totally oblivious to housework. Suddenly, at almost 80 years old, he had to shoulder the house and his work, without losing sight of his wife while the forgetfulness and disorientation that Alzheimer's brings multiplied. He had to watch her take the pills, take her to medical appointments and therapy. "My father has been overwhelmed," says his daughter. At the beginning of 2020, on a street in A Coruña, he left his wife for a few minutes and told her that he was waiting for her a short distance away. But Teresa was lost. They met her with a lost look. Her husband's displeasure was tremendous.
Lack of public aid
Teresa and Manuel are now fighting together against the advance of their dementias in the day center of the Association of Relatives of Alzheimer's Patients in A Coruña (Afaco). She has been there for years, but he started last April. "I forget things and I have to find a way to remember," says Manuel. He is dedicated to doing accounts and, since he has no studies because at the age of six he went to work, he has had to "start from scratch, like in school." Teresa sees it differently. "My husband was bored and I told him: 'Come to Afaco and you will have a good time.' I'm a veteran, but he's in toddlers ", she jokes with a mischievous smile.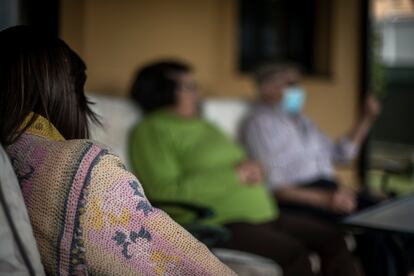 What they have detected in Manuel is a mixed type dementia, fueled by his heart problems and by a cognitive deterioration that they have not been able to label at the moment because the old pacemaker he has prevents him from undergoing the magnetic tests necessary to diagnose Alzheimer's explains his daughter. Playing Parcheesi, she discovered that she no longer knew how to count and began to suffer temporary disorientation and those mood swings that Maria had already detected in her mother.
Teresa and Manuel's daughter underlines "the commendable work" of groups like Afaco, which "cover needs to which aid does not reach." They not only take care of patients with their therapies, but also their families, who suffer enormous physical and psychological wear and tear. Manuel says that dealing with other affected families through the association helped him a lot. Now it is his daughter Maria who bears the burden of caring for this sick marriage. After years of watching her mother deteriorate, she "blew up" last year when her father started with symptoms. Up to three people from Afaco kept an eye on his mood on a daily basis. Today he receives free psychological help from the group and he perceives that the "strategies" they are giving him serve to keep him going.
For the two of them going to the day center every day, Teresa and Manuel pay 600 euros, to which they must add another 450 euros for transport. She receives from the Xunta a help of only 150 euros because, although a month ago they raised the degree of dependency to 2, they have not yet updated the amount. He does not enter any benefit because due to the paralysis of the pandemic he could not request it until last January. "With my mother it took 15 months to arrive," says María. They must also pay two people to do housework for them. Manuel, who worked 40 years in a factory where he started out as a gardener and ended up as head of maintenance, complains about the meager aid granted by a welfare state for which he has contributed for so long. "There are grants, but they are excessively bureaucratic," explains María. "It was a big problem for me to combine my work with its processing. I am a secondary school teacher and I had to go to the social worker to understand some documents ".
Manuel responds with a grimace of resignation and "it won't get to me in time" when asked about the slow progress of science in the search for a drug against Alzheimer's. "Let's see if it reaches your daughter, because with this genetics," smiles María, the woman who will continue to watch over them while the disease progresses. Manuel looks at Teresa: "My wife doesn't give me any problem. We still love each other like the first day, I think even more. Without her I am nobody ". She laughs.

elpais.com
Eddie is an Australian news reporter with over 9 years in the industry and has published on Forbes and tech crunch.