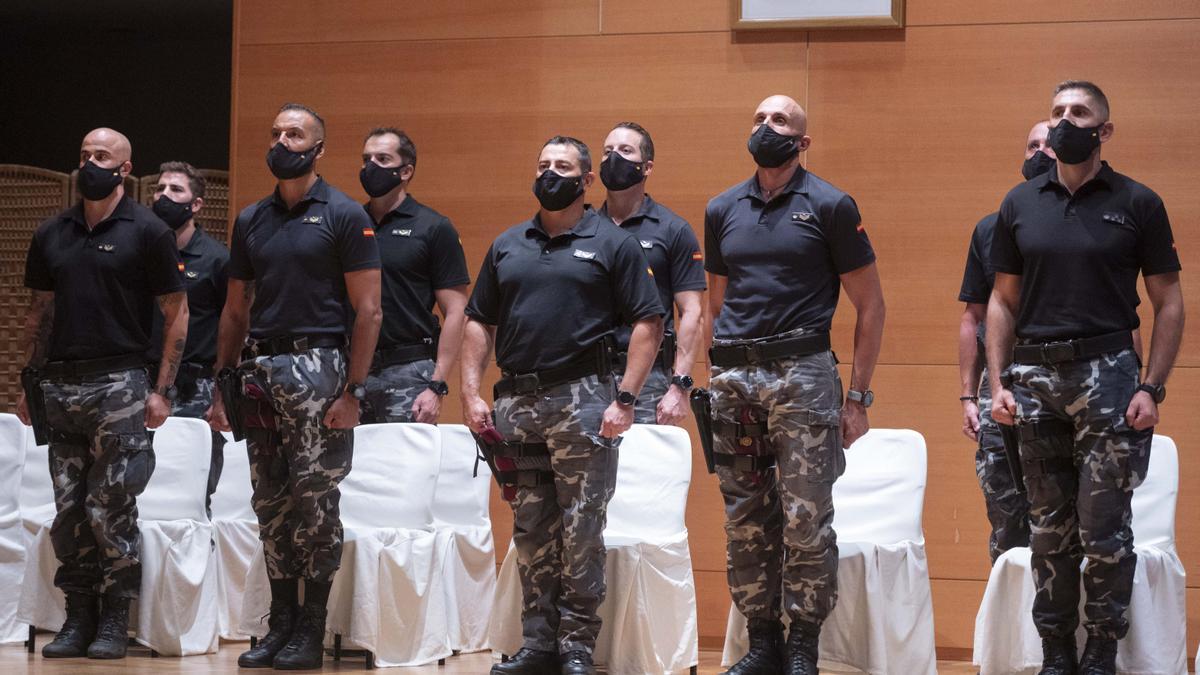 Two weeks have passed since Ismael along with his colleagues from the GEO of the National Police returned from Kabul after participating in the evacuation of nearly 2,000 Afghan collaborators and their families. "We have been able to give back to them what they did for us for years. They had done us until the purchase. When you take these people out on a plane it is a pride, the milk."
Ismael tells Efe the experience of his "third Kabul", the hardest. A mission that began at the beginning of August and in which a dozen members of the Special Operations Group (GEO) to give regular relief to colleagues who had been in the country for about 80 days. "We had to be there until mid-October, but in a few days everything was precipitated."
On August 27, this agent of the elite unit of the National PoliceHe was returning to Spain from Kabul on the last evacuation flight of the Spanish contingent together with the military, embassy personnel and the rest of his companions, in total pass GEO (to the ten that there were already three more reinforcement days were added) and seven agents of the Police Intervention Unit (UIP).
Honored this Thursday by the Government and grateful for the praise, they defend that they only fulfilled their duty as national policemen and continue to have, at least Ismael, the "bittersweet" feeling for their return.
"You are happy because you have returned home with yours, but you think that you have left people there in very difficult conditions", tells Efe Ismael, still shocked by the attack in which thirteen US soldiers died whom they saw every day. "Hours before we had been there and in fact, one told us that from that point we had to leave now."
The attack took place on the eve of his return home and a week before leaving the embassy due to the rapid advance of the Taliban towards Kabul.
With little time to remove the flag, another banner in memory of Isidro Gabino and Jorge, the two geo-murdered in Kabul in 2015 and of destroying documents that in the hands of the Taliban would mean leaving Afghan citizens in a dangerous situation, the police officers protected diplomatic personnel in a safe place at the airport.
"They hugged us as if we were their saviors"
Ismael explains that airport facilities are complex. They have many physical barriers to prevent attacks precisely because it is a civil and military base. "It is not designed to manage a flow of people like those days."
"Wow, that's difficult!", He answers the question of what images come to his memory. There are many, he says, but he sums up one: that of the parental despair that they try to give you their baby and that you take it with the hope that you can save it and that they will try later.
"When you took those babies and their families also came in and hugged us without knowing us at all, as if you were their savior, it's very, very hard."
The National Police had a list of "evacuable people" provided by the embassy. They established a system to locate them at the entrances and try to pass the filter.
From the color code to evacuate 300 Afghans through a sewer
That system was "the color code" with yellow and red scarves. They showed and hid them; so we located them outside and took them out. "That worked really well for the first 48 hours, but then a lot of people started copying it."
Thus many were rescued Afghan collaboratorsAlso many people whom the police operation knew from their missions there.
"When you saw someone you know it was a pride to give them back in some way the effort they had made for you for years to make your life easier. From buying ourselves to buying phone cards to talk to our families. When you took those people out with their family, it was the milk, "says Ismael.
The National Police had been in the field for many years and knew the facilities very well. He knew which doors could have less flow or which routes could be useful to speed up evacuation, such as entering through a sewer that crossed one of the most dangerous checkpoints of the Taliban and where thousands of people were concentrated.
"We have had a very personal relationship with the British and North American military and that also opens doors", says Ismael, before highlighting the effectiveness of this route of entry that was exploited for 48 hours and by which they were able to evacuate nearly 300 Afghans.
After those days, that point was closed because it was no longer safe. Thus, they were reinventing themselves. "What at one time served us at the hour stopped serving because the situation changed."
Brotherhood with military from other countries
What didn't matter was whether you were a Spanish policeman or an Italian or French military man. We have provided entries from families of Italian collaborators and they to us.
"That is the good part, there has been a lot of union, a lot of help, brotherhood. It has been many years in Kabul", concludes Ismael, who does not consider himself with sufficient information to analyze the causes of the fall of Afghanistan into the hands of the Taliban. "That is a very big thing for how small we are."

www.informacion.es
Eddie is an Australian news reporter with over 9 years in the industry and has published on Forbes and tech crunch.