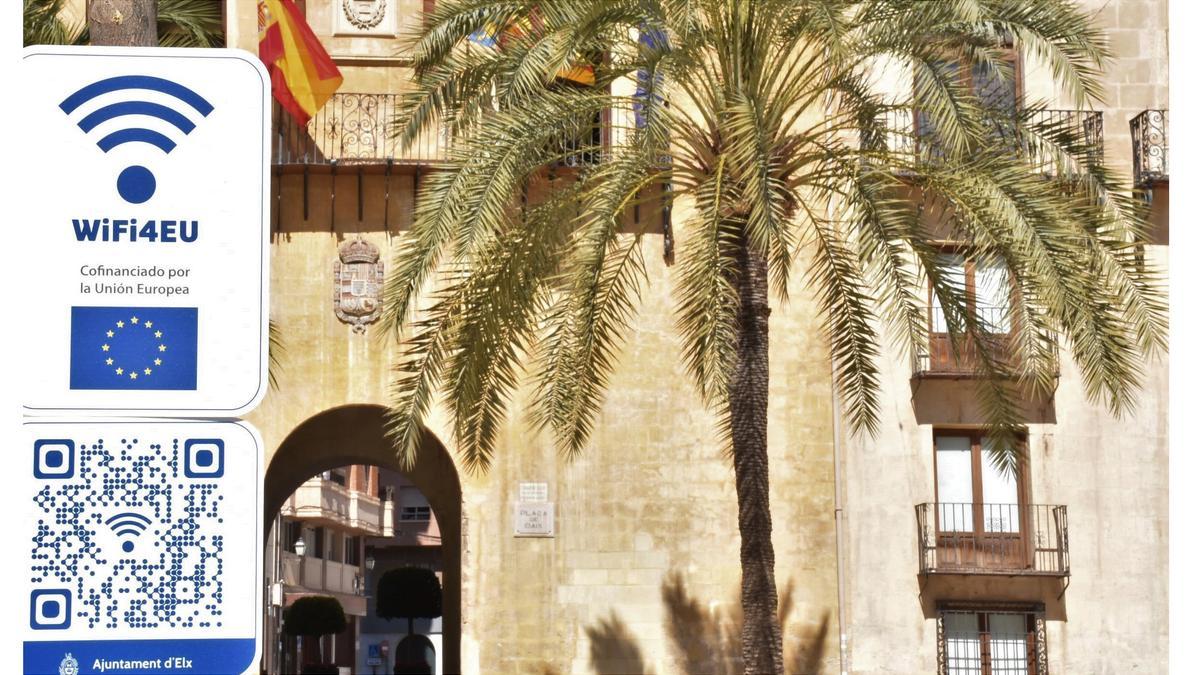 The City Council of Elche already has in operation 140 free WiFi points in neighborhoods and districts, which will reach 200 next year. This network, which is part of the European WiFi4EU project, is 100 times faster than the previous one, makes Elche a Smart City and helps eradicate the digital divide so that all citizens can have the same opportunities to access the Internet.
The modernization of the Network has been possible with the contribution of 15,000 euros from the European Union to change the access points, which may reach the 200 with the investment of half a million euros from DUSI funds.
The mayor of the city, Carlos González; the Councilor for Innovation, Ramón Abad; and the leading national expert in the Investments in DG Connect's High Capacity Networks, have recently presented this plan so that practically the entire municipality has access to free WiFi.
This service, in addition to social inclusion, will mean a great territorial cohesion and a whole tourist bet that will improve the stay of visitors to the city. With this initiative we improve our WiFi Network and we multiply the speed by more than 100 with respect to the previous one, since we went from 0.25 Megabytes to more than 30 Megabytes ", according to the mayor.
For his part, Moreno thanked the collaboration of the town hall and pointed out that "with this new tool the access to the user by means of a QR code and an identifying symbol of the European Union ".
Goals:
Reduction of the digital divide.

Promote new opportunities for the business and tourism fabric of the municipality, attracting talent and knowledge.

Promote new growth opportunities. o Promote cohesion and social inclusion.

To universally facilitate the connectivity of users, businessmen and administrations.

Facilitate accessibility to the most unfavorable groups.

Compensate for technological inequalities between families.

Promote tourism services through the infrastructures that are deployed.

Promote small businesses.

Improve access to advanced educational experiences.

Promote social development.
Points in service:
1- districts
– La Marina (Friendship Square)
– Torrellano (Plaza Maestro Antonio Cutillas, 1)
– Arenales del Sol (Av. San Bartolomé de Tirajana, 42)
– Perleta (Calle Perleta, 16)
– La Hoya (Av. San Antonio de Padua, 2 – 3)
– Valverde (C / Paco Viudes, 26)
– La Berries (C / La Casilla, 2)
– El Altet (C / Valencia, 22)
2- Elche urban center
Sector V – The Plan:
– Torres Quevedo, 14 (Sports Center)
– Calle Labradores, 5
– Crevillente Square
– Plaza Santisimo Cristo Zalamea, 1
Raval:
– Plaça Major del Raval
– Plaça de Sant Joan
– Plaça Antoni Brú i Gómez
Carrús – El Toscar:
– Barcelona Square
– Plaza Algeps
– Plaza Obispo Siuri
– Plaça Françesc Canto
Center:
– Plaza de la Glorieta
– Plaza de Baix
– Fira Street
– Calle Uberna
– Calle Filet de Fora
– Animes Street
– Diagonal del Palu Street
– Plaza de la Fruita
– Calle Troneta
– Plaza Santa Isabel
– Paseo de Eres de Santa Llucia
– Plaça de la Merce
– Eucharistic Congress Square
– Plaza de la Flores
– Replaceta de la Fregassa
– Replaceta de l'Espart
– Hospital Street
– Calle Mare de Déu dels Desamparats
– Bisbe Tormo Street
– Calle Trinquet
– Calle Ample
– Spain Square
– Municipal park
– Children's Traffic Park
– Ladera del Río (route between the Ferrocarril bridge and Altamira bridge)
Altabix:
– Plaza Castilla
– La Lonja
Palm groves:
– Olmo Street
– Calle Abogados de Atocha, 39

www.informacion.es
Eddie is an Australian news reporter with over 9 years in the industry and has published on Forbes and tech crunch.