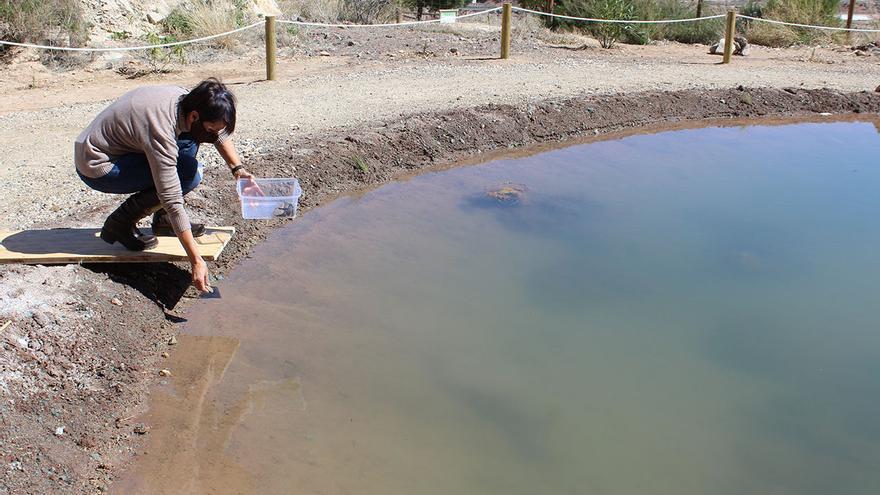 The works, which have been carried out by the municipal brigades, except the waterproofing of the raft that has been developed by a specialized company, will allow concerted visits to the enclave, carry out environmental education actions and improve control of the Fartet population , by adding this new raft to the one built in 2013. During the act of presentation of the proceedings, in which the release of copies of Fartet and of leprous pond turtle, Lourdes Abad, Councilor for the Environment, has shown her satisfaction with the progress that has been made in the department in just two years of the legislature with the launch of the Sustainable Energy and Climate Action Plan, Local Forest Fire Prevention Plan, a new Local Burning Plan, the increase in reforestation work or future projects such as the declaration of the Paraje dels Clots de la Sal and Cerro de La Mola, the creation of a recreational area in La Mola or the signing of a new collaboration agreement with the Novelder Mountaineering Club. Abad has stressed that for the government team "The Environment has ceased to be a slogan to become a political action in which we believe and for which we bet".
Agenda 2030
For his part, the Mayor of Novelda, Fran Martinez, has appealed to citizens to keep the environment in optimal conditions and has indicated that this action assumes the City Council's commitments to the 2030 Agenda and the Sustainable Development Goals, specifically with goal 15 of "Protect, restore and promote the sustainable use of terrestrial ecosystems, sustainably manage forests, combat desertification, halt and reverse land degradation and halt the loss of biological diversity". Martínez stressed that with this type of action "We put our small grain of sand in defense of biodiversity, creating a refuge for local fauna that maintains the commitment of the government team for the recovery of our environmental heritage ".
Threatened species
Remember that the Fartet is a small endemic fish from the Iberian Peninsula, one of the most threatened Iberian vertebrate species, characterized by a high reproductive and growth rate, early maturity and reduced longevity. At natural environment acts as an effective predator of mosquito larvae, keeping the populations of these insects controlled without the need for other treatments. Its recent location on the Vinalopó River confirms the progressive improvement of the aquatic ecosystem and the quality of its water, which has allowed the Fartet to live again in the River.

www.informacion.es
Eddie is an Australian news reporter with over 9 years in the industry and has published on Forbes and tech crunch.