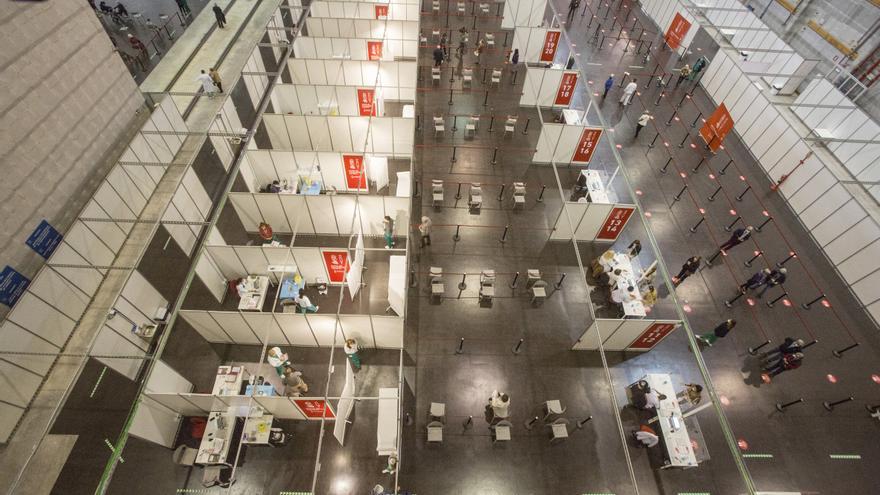 I went to my appointment, to the City of Light, with the feeling of who has won the lottery, with the conviction that I do it for myself so as not to get infected -or do it with less risk- and for others, because we need to achieve group immunity. Because we are part of a whole and taking care of yourself or protecting yourself entails taking care of and protecting the Other. I read that 21,000 people have not been vaccinated in the Valencian Community for unknown reasons; with our experience we may be in time to convince them. Confinement or vaccinations are already words that we have incorporated into our daily vocabulary and that are going to be etched on our skin and on our retina. I parked on that immense esplanade where cars of different displacements gathered, for a few moments – that's what public health has that equals us all -, free buses arriving from different parts of the city and some taxis. It is impossible to get lost, and it is affirmed by a person with a terrible sense of direction, because the instructions and the deployment of security and health personnel present prevent it. As I was heading to the right place, I thought it was priceless to vaccinate you with splendid views of the sea, with tents for family members and companions to wait for us in the shade. There were no queues or crowds -despite the number of people mentioned- but what most caught my attention and I want to highlight is the kindness of the medical staff and the smile that appeared despite the mask. Those smiles that have so many benefits for the human soul and when you find them, it is convenient to say it and thank them. Before leaving with our inoculated dose, a fifteen-minute wait awaits us, watched at all times by the health personnel.
I would like to highlight an organization and outstanding care in a complex management, such as mass vaccination, in which the investment of material and human resources has been evident, as well as the innate vocation of those who dedicate themselves to health care. Now that we are in the middle of the income campaign, it would not hurt to remember that a good part of our taxes are necessary to finance, among other things, our entirely free public health care. For many years that pass, I will be grateful to Science, Public Health, its staff -including cleanliness and security- and the privilege of being born in this part of the world, when vaccines barely arrive in other parts. "It is well born to be grateful" goes the saying and we should practice it more. We are prone to criticism, but it is difficult for us to talk about what goes well. We are among the countries in Europe with the highest percentage of vaccination and this is an achievement of the central government, the Autonomous Communities and Health professionals. Recognizing and expressing it is national pride as well. The pandemic and mass vaccination have demonstrated the value and need for a strong public health system that allows us to face, as it seems that it will be, successive pandemics. It costs money to maintain it, but to govern is to prioritize public resources, and while some governments of autonomous communities decide to close health centers for example, the Generalitat Valenciana has committed to maintaining, at least until 2022, a good part of the Covid contracts and hopefully they can be more. We have to learn to value what we have not only with applause. Hope and both social and economic recovery go through vaccination and the guarantee of a public health system with enough muscle to face future crises and take care of our health that has been affected by the pandemic. Let us value it, take care of it and demand that our leaders not give up their efforts.

www.informacion.es
Eddie is an Australian news reporter with over 9 years in the industry and has published on Forbes and tech crunch.