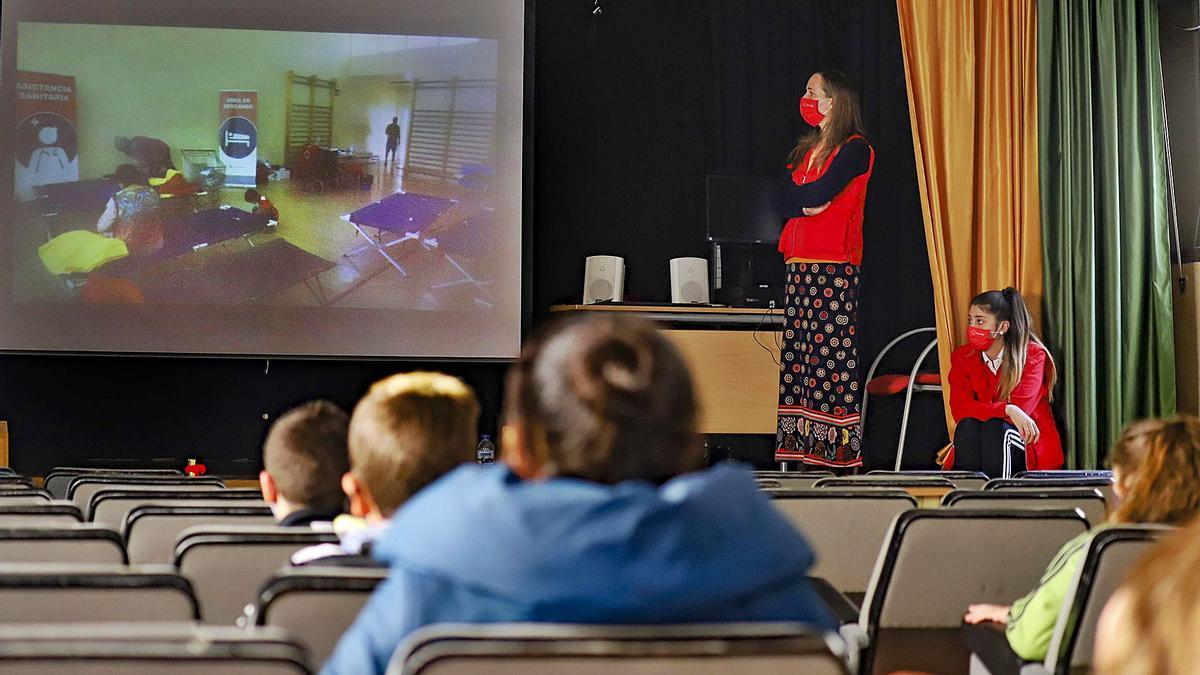 "The fear passes and if you know how to control your nerves you can help a lot at home, especially your parents because if they see you calm and safe, they will also feel that way by not suffering for you." Merche Alcaraz, a social worker for the Red Cross, addresses the 20 students in a Primary class at the Rafael Altamira school in Callosa de Segura. It is one of the first educational centers in Vega Baja where the organization gives a workshop for schoolchildren in the region to learn to act in an emergency such as the DANA of September of last year and know how to control their nerves and emotions in a traumatic situation like that.
Red Cross has been present during emergency and post-emergency management of cold drop -It continues to attend to people who psychologically have not yet overcome this devastating episode-, and now it is proposed to provide the educational population, in 5th and 6th grade of Primary, with basic knowledge about the emergency and its different repercussions. The activity that, in addition to Callosa will be carried out in schools in Orihuela, Granja de Rocamora or Almoradí, aims to publicize the tools to act in such a situation with a two-hour workshop in which it seeks to raise awareness and make visible the impact of an emergency, know the most common risks in Vega Baja, preventive and self-protection measures and train schoolchildren in emotional management during a traumatic event.
"Just as we give first aid talks that can save a life, in the event of an emergency it is the same, if you know how to proceed and protect yourselves and your families, you are heroes", Alcaraz explains to some increasingly attentive students. that, after those words, they feel excited. «DANA was a traumatic experience for many children and with these workshops we want them to tell about the emotions they experienced, what they felt and that they can get it out, and then explain techniques to manage their emotions, through breathing and relaxation; But we also give them protocols to guarantee their safety and that of their loved ones, such as cutting off the power or not going down to the basement in the event of a flood, "explains Angélica Carvajal, technical director of the Red Cross in Callosa de Segura.
The workshop begins with a video of the Red Cross's performance during DANA and the post-emergency, with harsh testimonies from those who have lost everything. "I feel lucky that nothing happened to my family"says a student, very affected after the projection. The second part is to tell their experiences and bring out their emotions to teach them to control them and, finally, give them advice and techniques to face the emergency.
There will be a total of 400 schoolchildren, between 10 and 12 years old, who will learn to act if a situation like DANA repeats itself, but also in the event of a fire or earthquake, the other two most common catastrophes in the region. In addition, their learning can be extrapolated to the coronavirus pandemic. «It is important to work now on emotional intelligence; If students do not learn to manage their emotions, they will lose skills, which is why these workshops are necessary, "says CEIP director Rafael Altamira de Callosa, Mari Paz Pérez.
What to do in a contingency like a flood?
The Red Cross technicians who participate in the training workshop for schoolchildren in an emergency give a series of advice to minors, which also serve for adults, in the case of a contingency such as a flood. Thus, they explain to them that they have to turn off the lights and, if possible, cut off the electricity, turn off the gas, not go down to the basement of the house and leave the house as soon as possible, if possible. And, most importantly, stay calm and control your nerves through breathing techniques. "With a clear mind, act correctly", they point out.

www.informacion.es
Digsmak is a news publisher with over 12 years of reporting experiance; and have published in many industry leading publications and news sites.