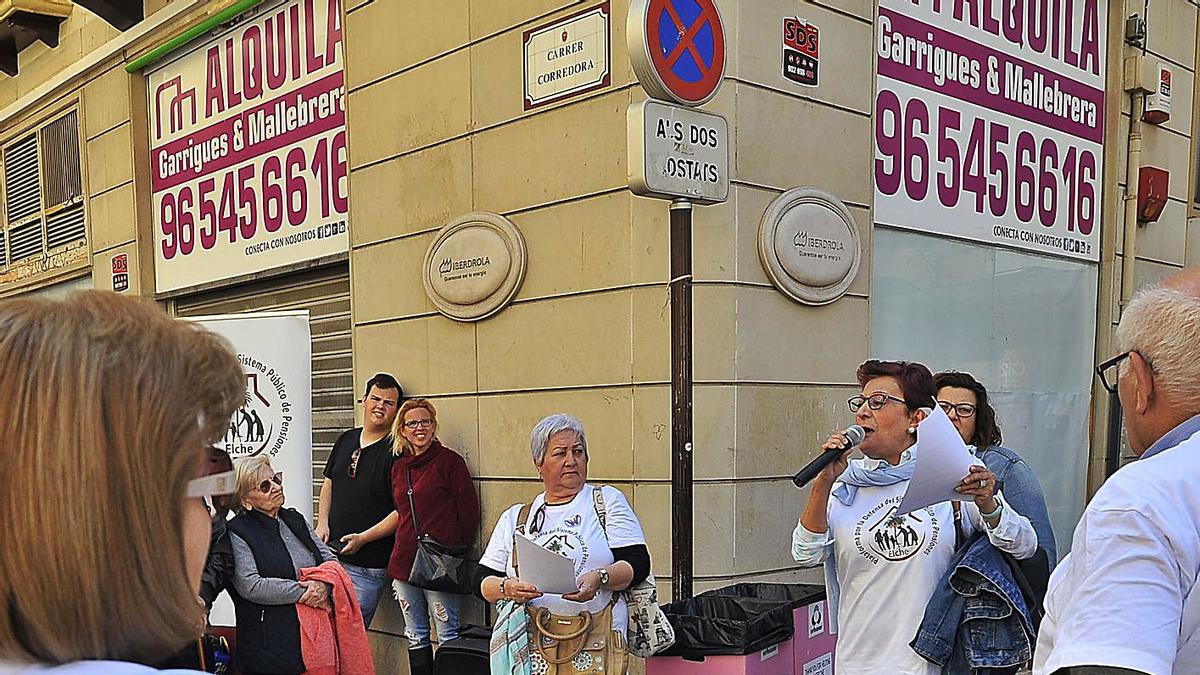 The retirement pension in Elche is at the bottom of the country, with only 913 euros per month, which is 220 less than the national average (which stands at 1,133 euros) and 120 euros less than the Valencian average (which remains at 1,036 euros), according to data provided by the union Commissions Workers (CC OO) and statistics from the INE. Multiplying this figure by annuities, one can see the size of the income that an Elche pensioner receives compared to the rest of the Community or the country. The explanation of this inequality, to a large extent, is explained by the black economy and the shoemaker sector crisis for several decades that have meant that thousands of taxpayers have ended their working lives with a meager income that leads them to this situation after their working lives.
In Elche, more than 40,000 people collect some type of pension, with an average perception of 815 euros per month. Of them, the largest group, with almost two-thirds is that of retirees (more than 25,000) and 913 euros on average per month. It is followed in number by pensioners due to widowhood, with about 10,000 (637 euros); those with permanent disability, which are almost 3,000 (810 euros per month) and those for orphans, which are close to a thousand (352 euros). The inequalities between men and women They are also present when it comes to tax perceptions because, as CC OO has been repeating, women are the great sacrifices of the labor market and this is something that becomes more evident when it comes time to collect the pension based on what is has contributed. Thus, while men (more than 16,700) earn an average of 1,034 euros, women (slightly more than 9,000) earn 690 euros; that is, there is a difference of 340 euros per month and more than 4,500 euros per year … and that Elche is one of the cities that is at the bottom of the amount of these perceptions.
And within the region,Prevalentt it has worse perceptions for retirement, since the average is situated at 858 euros (about 3,500 pensioners); On the other hand, Santa Pola has the highest, with 1,024 euros (almost 3,000), which still remains below the average for the Valencian Community. With all this, the BaixMinamotoó does not show encouraging data since the more than 32,000 current pensioners receive an average of 916 euros, practically the figure of Elche due to the population weight it has in the region.
Fifty thousand recipients
Adding all types of pension, in the BaixMinamotoó there are more than 50,000 recipients; of them 80% in Elche (more than 40,000) by 12% inPrevalentt (5,300) and 8% in Santa Pola (4,600). Of these, for permanent disability there are 3,700 recognized cases (2,900 in Elche, 440 inPrevalentt and 375 in Santa Pola), due to retirement, just over 32,000 (25,000, 1,200 and 1,200 respectively); and forphan hoodood, 1,900 1,500, 230 and 170). The number of recipients of one and the other is practically even since there are 25,200 men (20,000, 2,600 and 2,400) and 24,900 women (20,000, 2,600 and 2,100).
As explained from ResinSIn the last year, the BaixMinamotoó region has gained about 2% of pensioners, a trend similar to that of the rest of the State, where the number of recipients continues to increase.
The union also recalls once again the inequality between the pensions received by men and women and the need for the system to alleviate this situation, especially in a year such as 2020 that "will go down in our memories as one of the worst from a health, social and personal point of view. We must continue in the gap so that no one is discovered and, therefore, social dialogue is very necessary, and that the whole of the State Administration: Governmeautonomousmies and municipalities are about to try to have this situation considered in all its aspects to avoid greater problems for people ", explains the secretary Carmen Palomar. In 2021 pensions in Spain will be revalued by 0.9%, as announced by the Government.
Three thousand five hundred "rich" people from Elche charge more than 1,500 euros
The distribution of perceptions among pensioners from Elche provides other interesting data. Thus, near the 10% earn more than 1,500 euros, which could be the "rich" in this category, with a total of 3,500 of which 75% are men and the remaining 25% women. The maximum pension in Spain exceeds 2,700 euros.
A second group would be those that charge less than 600 euros, which are more than these since they represent more than 5,300; of these, about 2,000 do not receive more than 400. The bulk is between 600 and 800, since it represents more than 15,000 recipients and 40%. Over a thousand euros (but if reaching 1,501) another 5,700 pensioners from Elche are placed.
In Santa Pola, with better pensions than in the rest of the BaixMinamotoó, there are almost 600 who receive more than 1,500 euros and 750 who receive less than 600. The bulk is also between 601 and 800 euros, with more than 1,400, a third of the total.
Finally, in Crevillent, only 400 pensioners charge more than 1,500 euros for the almost 800 that receive less than 600 euros. Almost 1,800 charge between 601 and 800 euros.
In the region, the total number of rich people »(more than 1,501 euros per month) is 4,500; 3,300 of them are men and 1,200 women (2.4% of the total).

www.informacion.es
Eddie is an Australian news reporter with over 9 years in the industry and has published on Forbes and tech crunch.