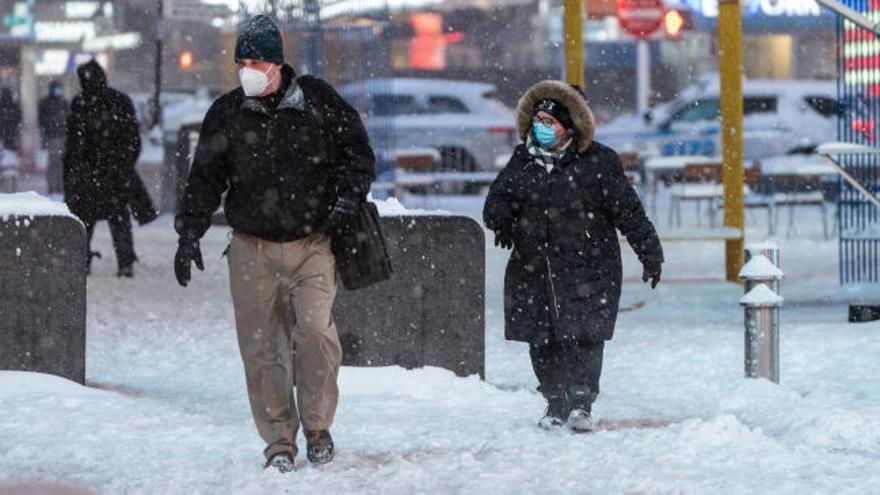 Northeast U.S suffered this Monday the impact of a great that threatens to leave up half a meter of snow in New York, which would be one of the largest accumulations in the history of the Big Apple, which has already decreed a state of emergency and paralyzed its vaccination campaign against COVID-19.
By early Monday, more than 15 centimeters of snow had already fallen in the city of skyscrapers, but forecasts suggested that rainfall would continue strongly throughout the day and even through Tuesday.
According to experts, the storm could hit New York uninterrupted for about 48 hours and leave a total of more than half a meter of snow, a snowfall of the kind that only occurs every many years.
According to the federal weather service, the Big Apple has only experienced snowfall of this size seven times since the mid-1800s, with the highest accumulation recorded in January 2016, with almost 70 centimeters.
Given this situation and the expected strong winds, the municipal and state authorities have declared a state of emergency, restricting circulation and urging to avoid all non-essential movements.
"In the most intense moments you are going to see between two and four inches of snow per hour. That is an extremely intense snowfall," New York Mayor Bill de Blasio said at a press conference.
Impact on vaccinations
The storm has caused New York to stop its vaccination campaign against COVID-19, postponing all appointments scheduled for Monday and Tuesday, which will be rescheduled in the coming days.
"We do not want people, especially the elderly, to go out in these unsafe conditions to get vaccinated," explained De Blasio, who also ordered the closure of schools and, at least, two days of remote teaching only.
According to the mayor, the delays in vaccinations can be corrected quickly, since the city has a great capacity to administer them and in the next few days it may accelerate even more.
The big problem, he insisted, is the lack of dose that the Big Apple is suffering, where the vaccination rate is for now lower than expected.
According to De Blasio, so far some 800,000 doses have been placed in the city, to which those over 65 and many workers considered essential have access, starting with those in the health sector.
The snowfall, according to local media, was also complicating vaccinations in other areas of the region such as Washington, Philadelphia or neighboring New Jersey.
Paralyzed airports
The storm practically paralyzed air traffic in the region, with some airports in the New York area such as LaGuardia forced to suspend all activity and others such as the JFK and Newark operating at a minimum, with most of its flights canceled.
A hundred flights had also been canceled at Philadelphia International Airport and nearly 200 at Boston Airport.
Total, This Monday, at least 1,620 flights in the United States had been canceled, according to the air traffic portal Flightaware.
Meanwhile, snow and strong winds also affected railroads and subways that run on the surface, with authorities warning of probable closures throughout the day and New Jersey canceling most of its service.
In the roads the situation was also very complicated, given that it was expected that the snow plows will not be able to keep up with the snowfall and this will force the closure of some large roads.
"This storm is not a joke and the main concern now is the expected snow rate of two inches (five centimeters) per hour, which creates an extremely dangerous situation on our roads," said New York Governor Andrew Cuomo .
In coastal areas, authorities were warning of the risk of flooding, so an alert had been set until Tuesday.

www.informacion.es
Eddie is an Australian news reporter with over 9 years in the industry and has published on Forbes and tech crunch.