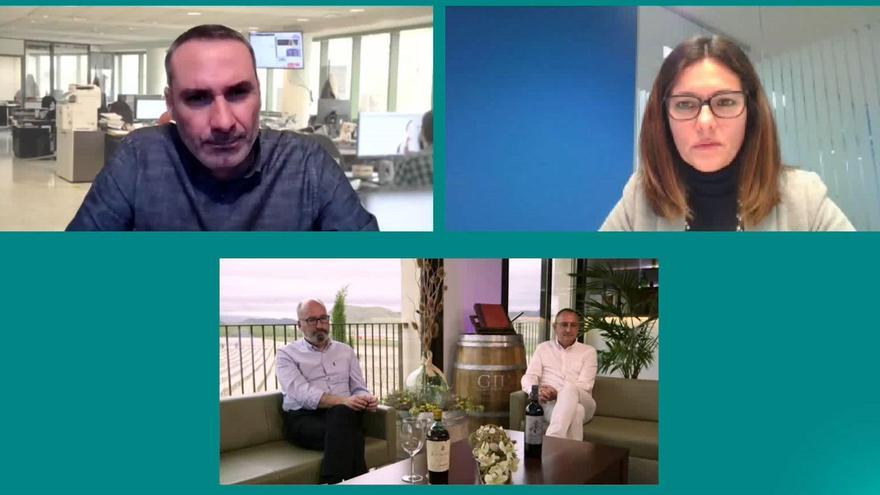 When talking about wines and family businesses, it is exciting to know the history of Juan Gil and Viñas Familia Gil, the company that nine brothers started in 2000 in Jumilla to take back the business of their father, grandfather and great-grandfather. The creation and expansion of this exemplary family project, which has now spread to more than 50 countries, has been addressed in the webinar forum "The legacy: land, tradition and sustainability", organized by BBVA, in collaboration with the editorial group Prensa Ibérica, coinciding with the celebration of Earth Day. The brothers Miguel Gil and Ángel Gil, co-owners of Viñas Familia Gil, and Anabel Andreu, wealth planner at BBVA Territorial Este, participated in this digital meeting, and it was moderated by journalist Alejandro Lorente.
The origins of the company go back, Ángel says, to 1916, when his great-grandfather, who was a stonemason, fulfilled his dream of creating a winery. One hundred years later, Viñas Familia Gil is made up of eleven wineries in ten denominations of origin, all of them tax-domiciled in Murcia, and it is a sustainable company that promotes its autochthonous varieties. And there are now four generations of this "sustainable legacy". Miguel recalls that after the death of his father a family unit was forged, whose values ​​have been transferred to the company, something that he attributes to his mother's ability to face adversity. She transmitted her love to the land and to the family. In his honor in 2016 they decided to set up a winery in La Rioja Alavesa and we gave it his name: Rosario Vera.
"We started," says Miguel, "against the tide, thinking that we had to understand the consumer and give him what he really wanted. All the brothers had to mortgage ourselves and the farmers put their grapes in a project that was still an embryo and they trusted our criteria and our management. The results far exceeded our expectations. ' Ángel comments that the company's business volume was really born outside of Spain and that forced them to take even greater risks when faced with an unknown market. The value for money allowed them to penetrate abroad at a cruising speed they did not expect. "In the United States, we achieved an emblematic brand in a short time. We ran out of bottling stocks and we didn't have enough when there was demand in Spain, "explains Ángel.
Part of the success of this company is that the family relationship is very strong. There is a Family Council in which decision-making is based on solidarity between the parties, that is, if the company needs investments, the distribution of benefits returns to the company. "We believe that being a family business has allowed us to make decisions that, if it depended on a council with external partners, would not have been possible, a clear example is the support to our hospitality customers."
Generating employment in rural areas has always been one of the fundamental objectives of the company, as well as diversifying and not only products and markets. Viñas Familia Gil is committed to sustainability and the circular economy, incorporating technology in the wineries and investing in solar panels. The objective is "to be self-sufficient in renewable energies", says Miguel, who also highlights that "we have our own nursery to ensure the autochthonous clones. We are working on research for these clones to adapt to climate change. I believe that we are the only winery in Spain in which we generate our own organic fertilizer in collaboration with universities ».
Ángel comments that a sustainable economy is essential for them. In fact, four of its facilities are circular economy and "100% will shortly be energy self-sufficient." He considers that the sustainable economy is not just a slogan, but that it has to be real and profitable, and for Viñas Familia Gil it is.
For her part, Anabel Andreu ensures that sustainability is one of the BBVA group's strategic priorities. "For us," he says, "it is essential to help our clients in the transition to a sustainable future." How are they doing it? They focus on two pillars. On the one hand, they align all their activity towards the Paris agreement, that is, to fight against climate change. On the other hand, they value social responsibility above all. BBVA is clear that it has to help to achieve inclusive growth, supporting entrepreneurs so that no one is left behind. "In this way, we are implementing our commercial offer around sustainability. We are marketing loans for green cars, mortgages for efficient houses and also in our asset branch we have funds with socially responsible investment criteria ", explains Anabel, who gives as an example the Sustainable Future Fund that gives part of the management commission to NGOs . Specifically, in 2020 it has been one million euros that has been allocated to NGOs. In the Mediterranean arc, in particular, two Murcian NGOs and one Valencian NGO have been awarded more than 111,000 euros.
In addition, Anabel comments that BBVA's investment portfolios have incorporated a module that invests in megatrends to invest in the sectors that are going to be the engines of economic growth in the future, such as social and demographic changes, technology and changes in consumption. This module has had a return of 16% in financial year 2020. "This leads us to the fact that sustainability is a plus to profitability in all our assets and portfolios," he says.
Generational relief
A key issue in a family business is generational change. In fact, for Angel it is the hardest part. At present, three nephews have already joined the business and they would like them to do more, but as long as they decide and are trained for it. In this regard, Miguel emphasizes that "the transition to the future generation must be prepared and the best thing for the company is to choose the most prepared people and for this a protocol has been drawn up. Those who come have met very demanding requirements to guarantee the future of the company.
For Anabel, doing the generational change is very complex and success must be ensured, and she considers that a dynamic and sustainable family protocol is essential, as well as the training of those who are going to be part of that business.
Anabel believes that to make that generational transfer, that legacy to the next generation, good estate planning is necessary. For this reason, BBVA's estate planning area reviews and orders family assets. "It is necessary to see what patrimonial structure it has and how to adapt it to the fiscal reality to carry out this transfer of legacy", concludes Anabel.
Facing the pandemic with serenity and with confidence in a future "without limits"
Another of the issues that were discussed in the digital meeting was that of the pandemic. Miguel Gil affirms that "what we entrepreneurs must always maintain is calm, serenity and a cool head to analyze the possible scenarios and see what possibilities there are." He explains that this year they have made a very profound change in the way they manage and commercialize and comments that what has made them survive this crisis has been the ability to maintain that serenity and unity among all. Ángel agrees that "you have to see all the scenarios and attack the worst possible scenario, so you are prepared for everything. In our case, working like this has allowed us on more than one occasion to find that the opposite has happened, that is, it has finally been an opportunity to grow ».
Anabel Andreu assures that companies demand their support and BBVA accompany them at all stages of their life. "BBVA," he says, "wants to cover their needs, as has happened during the pandemic, providing liquidity so that companies can continue to maintain employment and suppliers. We accompany the family business in all its stages: with financing when it is being born or growing, or by managing its investments with the most optimal financial-fiscal profitability, so that they do not worry about their investments and focus on their business ».
Furthermore, in the event that the family business, as happened with the Gil family, wants to go abroad, «BBVA has the advantage of being present in many countries and when our clients need to position themselves abroad, we help them with all the services that we have there, "says Anabel.
Regarding the future, Ángel and Miguel argue that the limits "are set by the market. We, as good managers, will put the brakes on to continue growing ». Viñas Familia Gil now markets 10 million bottles in 50 countries. Miguel believes that if they maintain the equipment they have and the quality of the people who accompany them, and if the rhythm continues as it has been up to now, "surely in 20 years we will find ourselves in an infinitely better scenario than we have now."

www.informacion.es
Eddie is an Australian news reporter with over 9 years in the industry and has published on Forbes and tech crunch.