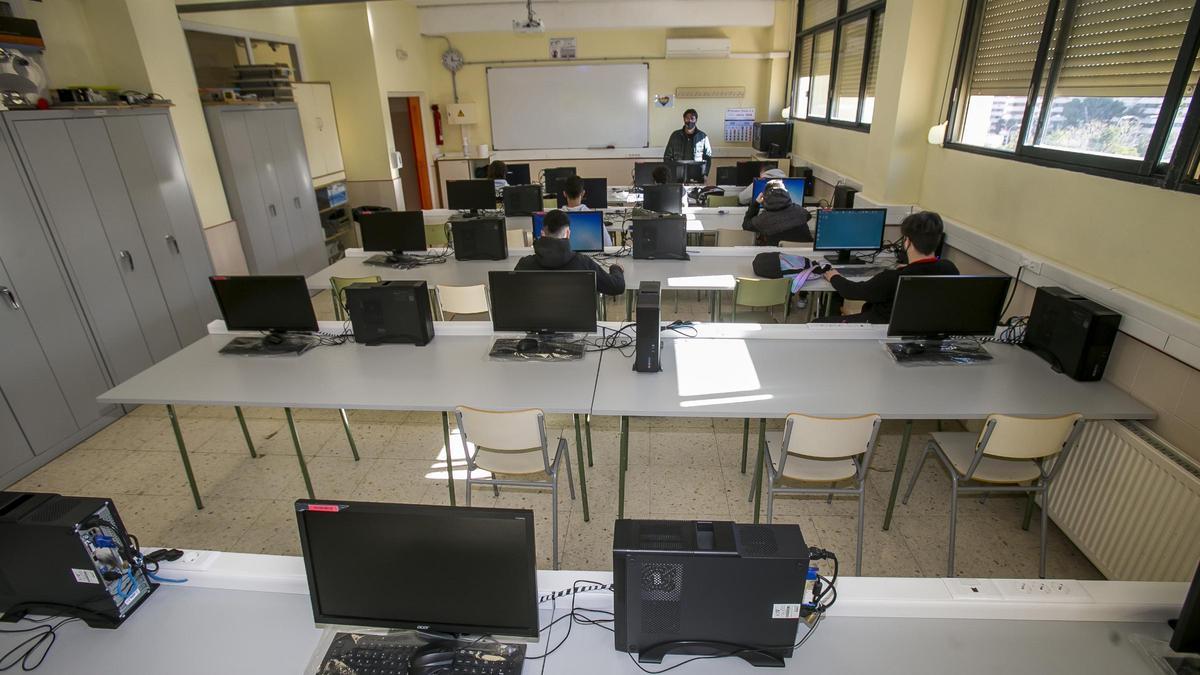 A primary school teacher at the Alicante school Juan Bautista Llorca de Villafranqueza, He complains that he was denied a second PCR before joining the center after passing the corresponding quarantine, and that only his concern about the possibility of infecting his students freed the school from an outbreak.
Alicia navarro She is willing to go to the end with what has happened to her, and has put it in the hands of the CSIF teacher union to make it officially reach the heads of the Ministry of Education so that something that, she says, does not happen again "It happens too often in classrooms".
Music specialist, this course is a Primary tutor at school and she has been on leave for 24 days, first due to an otitis infection and later due to covid. He details that on January 11 he was diagnosed with otitis in the emergency room but that he was already ill and he made it known to the doctors, in case they did a PCR.
The otitis opinion was so conclusive that a PCR was ruled out. In fact, the antibiotic had its effect and the infection subsided, but she continued with the symptoms of a constipation and a severe headache, in addition to losing her taste, which she has not yet recovered.
The situation led him to return to demand medical attention and to do a PCR after four days, which was positive on Friday the 15th, so that the absence was extended for fourteen days and he had to return to class on February 1.
«I have the theory that We become more infected because the quarantines that would be de rigueur are not kept, that is, 40 days, or unless you do a second PCR to make sure you are COVID-free before you go back to work. It is precisely what has happened to him.
He warned that he still had symptoms before joining, but the health insurance company that cares for teachers informed him that they are not required to do a second PCR after 21 days off. «I do not understand that they do not repeat the PCR to teachers with more than twenty children in class. I was afraid of infecting them and I paid out of my pocket the 120 euros for the test, which has returned positive, "he laments.
Alicia Navarro is still on sick leave due to covid and very upset by the fact that she thinks that if the test is not paid, it would have caused an outbreak of coronavirus in the center. «They sent me to work infectedIf I was guided by the Health protocol, I would have arrived infected. They deny the second PCR to teachers when it should be mandatory before returning to any job if it has previously been positive.
This teacher severely criticizes that Health protocols do not contemplate the second PCR "for safety for public health."
Teachers insist on strengthening protocols to control outbreaks
They demand that a minimum number of infections be set per center and that VET and language schools go online
"It is urgent to adopt urgent measures given the situation that the educational system is experiencing due to the uncontrolled increase in the pandemic." Thus begins the manifesto that the majority union of teachers, STEPV has sent to all the cloisters to sign it and force Education to set "a minimum number of positive students per center to decide the closure; updating protocols, clear instructions and more PCR in the centers ".
And so they also transferred it to the Educational Forum that returned yesterday to bring together teachers, parents and educational leaders. ANPE also calls for more anticovid measures and resources, in addition to minimal and clear criteria in the face of the specific request for the closure of centers, but asks that the negotiating table meet and not the Forum, in order to adopt measures. CSIF emphasizes the covid permit for teachers, so that they are compensated for the days they must spend with their children when they are confined at home. Education affirms that it has also asked the Government because it is its authority. Finally, from CC OO they reiterate the need to speed up immediate substitutions and PCR.

www.informacion.es
Eddie is an Australian news reporter with over 9 years in the industry and has published on Forbes and tech crunch.