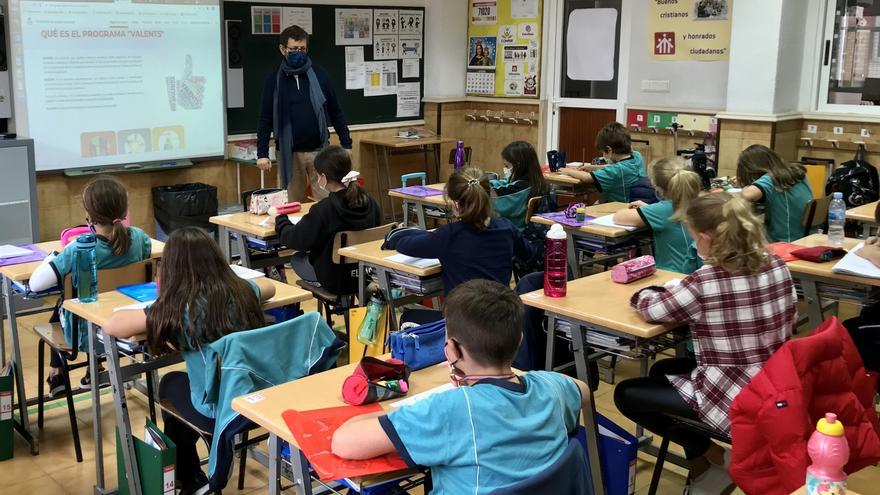 "Bullying is a problem that occurs in classrooms but not only in them, we mean that there is another scenario such as the playground. And it occurs in any of its forms, both in the Primary and Secondary stages, as well as in Infants, which even though there are studies in this regard are not enough ", says Loli Botía, professor of Teaching at the CEU of Elche and member of the psychopedagogical cabinet of the Salesianos San Rafael de Elche school, who has detected, in a survey with more than 2,200 students, that most cases of bullying They take place in the playground hours, according to said students.
Botía and the school team have been working, since the 2014/2015 academic year, on the study of social relations in the classrooms and through a sociogram that the center has drawn up for Early Childhood Education (for the 5-year-old level) and 1st of Primary Education and another standardized sociogram from 2nd to 6th grade Primary, which among other variables measure the topographic variable of bullying, have been able to detect that suspicious behaviors of bullying, in its different manifestations, occur mainly in schoolyards. "We have asked the tutors and we have analyzed the responses of each other and this has allowed us to know which boys or girls are identified by two different agents (teachers and students) and who need special help, due to the role they are playing in your class group ".
Based on the responses obtained, they focused on the so-called dining room patio, in which a significant number of boys and girls congregate, and which is more durable than the playground. The idea was to extend the prevention of bullying beyond the classroom, so they created the Valents dining room program, in which once a week, throughout the school year, the students who stay to eat, around 70% of the students from the center, and which ranges from 4 to 12 years old, enjoy "exciting patios", inclusive patios where they carry out "a series of activities with which students are educated from a socio-emotional perspective," says Botía.
"Without a doubt, the patio is that setting where the most important encounters take place and not for that reason less pedagogically important. The important thing is not the space or the place. It is not about a large or small patio, it is about a way of being. Being attentive and available to the students. Being within reach of someone who asks for help, even often without words, or someone who needs a friendly word, a "word in the ear," of encouragement, correction, concern. It is about educating and involving the entire educational community "; acknowledges this expert.
For Botía, "the presence of violent behaviors, rejection, behaviors of inappropriate treatment between equals occurs from an early age.Therefore, we intend to prevent and provide the students with tools from the Early Childhood Education stage, to be able to contribute to the improvement of social competence, guaranteeing continuity in the work that we will develop with the students during the Primary Stage ". Among other reasons, because most programs to act against bullying are focused on Secondary and those for Primary are designed from 3rd grade. We firmly believe that it is important to prevent and educate for a peaceful coexistence from the earliest childhood
The activities of this project have been divided into eight thematic blocks, which must be considered globally, since the competences are interrelated. They work on emotional education, emotional management, emotional autonomy, socio-emotional skills, the resolution of conflicts, coeducation, group cohesion and diversity. The dining room program is complemented, Botía warns, with the work that is also carried out in the classroom, in the different educational stages from Infant to Primary, since in this first space is where the awareness of the students begins.
"Social roles tend to be perpetuated, therefore, all members of the educational community are responsible for our minors and when we focus our gaze carefully we discover the origins of socially worrying behaviors, and that, without early intervention, they will end up being bullying behaviors between equals ", acknowledges Botía. Therefore, this teacher of the CEU of Elche, emphasizes the role of teachers and cafeteria monitors, as reference adults of the youngest members of each educational community, to give importance to the visibility and non-tolerance of said behaviors. "We refer to all the forms that bullying takes and not only physical violence, but also social isolation, rejection, humiliation and mockery. And it is clear that it is not something occasional (which in my humble opinion should not be allowed either), but that these behaviors, which are perpetuated over time, undermine the self-esteem of the victims and generate a situation of defenselessness ".
Is expert emphasizes: "If our claim is to educate, there is no doubt that pedagogical principles such as prevention and early detection can also be applied to the development of students' social competence, from the earliest stages. If we start as soon as possible to provide our students with tools to socialize in a healthy way, we will be able to see the change ".

www.informacion.es
Digsmak is a news publisher with over 12 years of reporting experiance; and have published in many industry leading publications and news sites.