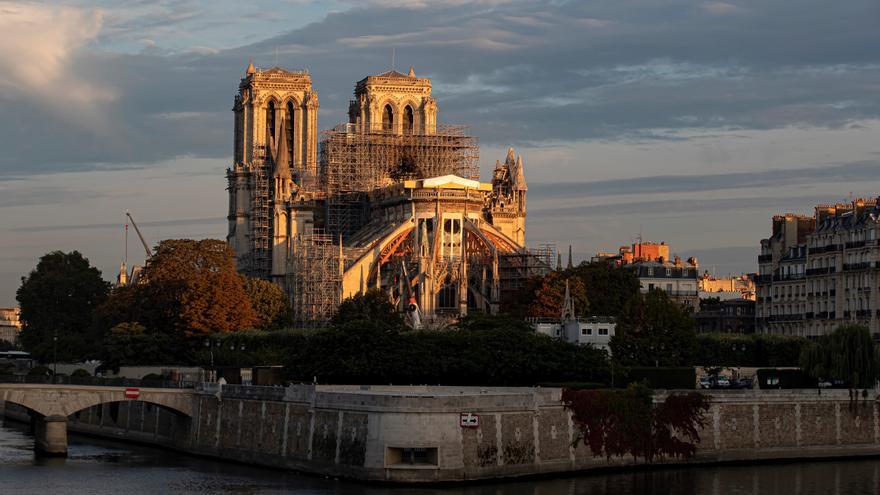 An immersive experience offers in Paris a journey back in time to the Middle Ages to revive the construction of Our Lady and visit the interior of the cathedral, closed to the public since the fire that destroyed part of its structure on April 15, 2019.
Using augmented reality glasses and a backpack, users immerse themselves in the history of its construction, starting in the year 1163, without moving from a large room located in the Espacio Grand Arche de la Défense.
Since its opening on January 15, about "a thousand" visitors, in groups of between two and six people, have virtually entered that temple at a time when it is still undergoing restoration.
"We already have all the weekends complete," Anne Charlotte, one of the employees of the Amaclio Productions company, told Efe, which has offered similar experiences of other historical places such as Mont Saint-Michel.
The ability to travel through time
This technology, on the rise in recent years, offers the possibility of traveling anywhere in the world at any time in history.
In the latter case, after putting on the augmented reality glasses, the visitor appears on a rainy night in the Parisian Middle Ages, where he is received by a countryman who will guide you through the cathedral during your tour throughout several centuries and various construction processes or liturgical acts.
The user, who can enter its different rooms, stands next to the workers of that church to see, for example, how they carve the stones that will form part of its ornamentation.
Vertigo and precision at real scale
One of the most repeated sensations by the public is the vertigo when "ascending" through virtual wooden platforms to the different heights of the cathedral to see, for example, how the stained glass windows of the rose windows were placed or to witness a mass from the organ of Notre Dame.
"People ask us if there really are platforms on the ground that go up," Charlotte jokes. The precision in the graphics helps to forget that it is a virtual experience and to feel like a citizen of the 12th century.
The way Notre Dame is portrayed through the glasses is made on such a real scale that it makes everyone who puts them on experience real sensations.
"When we were outside I felt that there was really air and rain", a visitor tells Efe. "It's absolutely immersive. It's incredible to go to all heights," add Marius and Claire after that half hour of immersion.
The experience will remain at La Defénse throughout 2022, from May it can also be seen for three months at the Conciergerie and the organization plans to take it to Notre Dame square from September.

www.informacion.es
Eddie is an Australian news reporter with over 9 years in the industry and has published on Forbes and tech crunch.