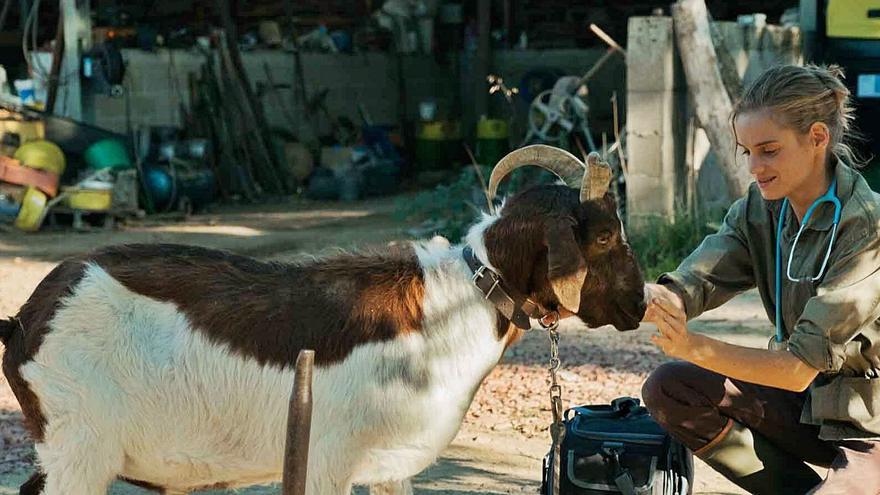 Shot in a not very well known area of ​​Burgundy called Morvan, the film talks about two worlds in collision: that of Nico (Clovis Cornillac), a rural veterinarian who begins to be overcome after the retirement of his partner, and that of Alexandra (Noémi Schmidt), recently graduated, bright, misanthropic and with no desire to return to the town of her childhood.
«We want to reconnect with nature, for me it was one of the reasons why I wanted to write this film and then I realized that many people feel the same way, there is a kind of nostalgia for the countryside and with everything that has happened in the last year even more, "says Manoukian, referring to the pandemic.
The director was clear that she wanted to do a comedy that would make the viewer feel a little better when leaving the cinema. "It is not a naturalistic film, nor is it gloomy," he emphasizes. But it was not about offering an overly romantic vision of rural life that does not correspond to reality. "You had to find the middle ground," he says.
The actress Noémi Schmidt, the daughter of a biologist who grew up in the Swiss mountains, was the ideal candidate for a character who, in addition to having to carry a mouse on her in several scenes and attend a (real) delivery of a cow, has a difficult character.
"A vet in Burgundy"
France, 2019. Direction and screenplay: Julie Manoukian. Photography: Thierry Pouget. Music: Mateï Bratescot. Cast: Clovis Cornillac, Noémie Schmidt, Lilou Fogli, Carole Franck, Caroline Gaget, Sébastien Pruneta, Juliane Lepoureau, Victor Pontecorvo, Matthieu Sampeur, Antoine Chappey, Cyril Couton, Christian Sinniger, Stéphane Rideau. Duration: 92 minutes.
Fantasy and martial arts
The new cinematic adventure "Mortal Kombat", inspired by the popular video game franchise. It is directed by his film debut Simon McQuoid and stars a diverse international cast from film, television and martial arts including Lewis Tan, Jessica McNamee, Josh Lawson, Tadanobu Asano and Mehcad Brooks. In his adventure, the protagonist of Mortal Kombat will train with experienced warriors to join the best fighters on Earth in their confrontation against the enemies of Outworld.
"Mortal Kombat"
USA, 2021. Director: Simon McQuoid. Screenplay: Greg Russo, Dave Callaham (Story: Oren Uziel, Greg Russo). Photography: Germain McMicking. Cast: Lewis Tan, Joe Taslim, Jessica McNamee. Duration: 110 minutes.
Five Oscar nominations
"A promising young woman", written and directed by Emerald Fennell, tells the story of a brilliant young woman until a mysterious event derails her future. But nothing in his life is what it seems: he is a marvel of intelligence, his cunning has no limits and Cassie lives a double nightlife where she seeks revenge. Alison Brie, Bo Burnham, Carey Mulligan, Clancy Brown, Jennifer Coolidge, Laverne Cox make up the cast of this film with five Oscar nominations.
"A promising young woman"
United Kingdom, 2020. Direction and script: Emerald Fennell. Photography: Benjamin Kracun. Music: Anthony B. Willis. Cast: Carey Mulligan, Bo Burnham, Alison Brie, Connie Britton, Jennifer Coolidge. Duration: 113 min.
For children
The animated film is released for children "Detective Conan. The Scarlet Bullet", in which coinciding with the celebration of the World Sports Games, the world sports competition in Japan, the arrival of the Japanese Bullet is inaugurated, a state-of-the-art train capable of reaching 1000km / hour.
"Detective Conan. The Scarlet Bullet"
Japan, 2021. Address: Tomoka Nagaoka. Script: Takeharu Sakurai (Manga: Gôshô Aoyama). Music: Katsuo Ono. Animation film. Duration: 110 minutes.
And another premiere animation tape is comedy "Whoops! 2 Now where's Noah?" in which Noah's ark drifts out to sea with best friends Finny and Leah on board. After weeks with no land in sight, food reserves are depleted and the peace between carnivores and herbivores could be broken.

www.informacion.es
Eddie is an Australian news reporter with over 9 years in the industry and has published on Forbes and tech crunch.