"Say goodbye to him because he is most likely not going to survive." Those were the words Marie Velázquez heard from the doctors hours after giving birth to her first child. Due to the lack of oxygen, the baby had no vital signs when he was born and the prognoses were poor. 12 years later, Patricio touches the screen of his electronic tablet with the help of his mother to solve the additions and subtractions that his teachers have left him for homework and, with the help of his father, he moves around the house while he watches his sister play in the patio of his house in Metepec, State of Mexico.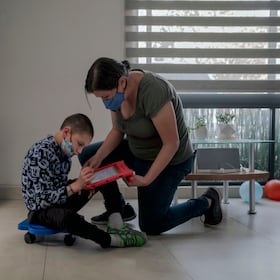 PHOTO GALLERY | The challenge of homeschooling children with disabilities
Marie Velázquez, 41, remembers her first labor marked by pain. The physical pain of an emergency cesarean section due to the collapse of the umbilical cord and the emotional pain due to the severity of the baby, who spent the first three months of life in intensive care. "You feel very bad, but I believe in God and then I told him: 'I think I can do anything, but don't take it away,'" says Marie. Patricio suffered hypoxia at birth, which caused a brain injury that has affected his cognitive and motor skills throughout his life.
After years of rehabilitation, therapies and comings and goings to different hospitals, Patricio's diagnosis continues to raise questions. In addition to his cerebral palsy, some doctors have also detected characteristic features of an autism spectrum disorder in the child. "Patricio moves a lot, more than other children with paralysis, but he has many problems with attention, with concentration, with memory, with impulse control, which has more to do with autism," explains Velázquez.
Until 2019, the De Loza Velázquez family lived in the State of Michigan, in the United States, but the low temperatures frequently affected their son's health: in a year, Patricio was hospitalized six times for pneumonia. For this reason, her parents decided to return to Mexico a year and a half ago. They fixed the place of residence after Patricio was accepted in one of the few public schools in the country for children with disabilities, the Multiple Attention Center (CAM), located in the municipality of Metepec. Until last year, some 628,609 students with a disability were enrolled in basic education, according to figures from the Secretary of Public Education (SEP).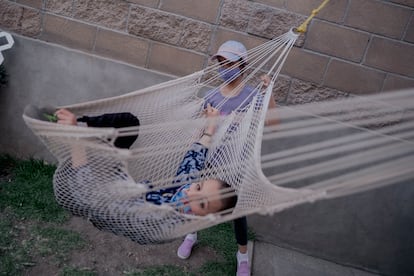 Patricio's mother says that after more than a year in confinement her son still looks for his backpack in the morning to go to school. He is one of the few students who have been able to connect to the virtual sessions, although his mother admits that he cannot spend more than 40 minutes in front of the screen because he gets tired. "When the quarantine began, he could not even stop moving, he could not attend class, when he despairs he moves his legs a lot," he says. Other families, Marie indicates, do not have internet or the time to be able to follow the classes under this new situation.
Their home has been converted into a classroom for their two children: Patricio, 12, and Inés, 9. In Patricio's space is his inseparable tablet —through this device he can communicate— books, pencils, a colored abacus and a dozen photocopies with school activities. There, mother and son spend their mornings between additions, subtractions, readings, music and drawings. "I have noticed more anxiety, their concentration periods are lower and obviously it is much more difficult for them to sit down when they have to take a class," acknowledges the mother.
The De Loza Velázquez family has assumed a task that for now cannot be fulfilled in person by teachers or therapists due to the pandemic. She quit her job as a teacher and her husband quit one of his jobs to help take care of Patrick in the afternoons. Both have taken extreme precautions to reduce the chances of a contagion, because due to disability, the coronavirus poses a double threat to the child. "The doctors' prognoses are straightforward: if he has the virus, he would have to be hospitalized. Starting from that, we have kept it isolated, with all the emotional implications that this brings ", ditch Marie.
Although there are still no official dropout figures in this school population, the level of dropout in the classrooms will be high due to the challenges it has posed for each of the families
In strict isolation, where visits from other family members have even been restricted, Marie Velázquez has found in the association Parents of Children with Special Needs (Phine) a window to share with other moms and dads who live the same situation as her, their fears, worries and daily battles to care for and educate their little ones in the midst of a health crisis.
Margarita Garmendia, founding partner of Phine and mother of María Fermina, a child under 13 with cerebral palsy, warns that the commitment of the Government of Manuel López Obrador, which prioritizes television and Internet content, is not viable for the majority of children with a disability and reveals the situation of discrimination in which these families find themselves.
In addition, the lack of alternatives due to confinement is compounded by the economic limitations derived from the pandemic. "Although our laws include the right to inclusive education, the reality is that this does not occur in practice. Disability is a luxury and in education it is a double luxury that your child can go to an inclusion school because in addition to paying tuition, you have to pay a support teacher who can help him make all the adjustments "adds Garmendia .
The Phine co-founder acknowledges that the months of confinement have been complex with María Fermina and her three other children at home. "She cannot express the same thing in this part of the language, it is difficult for her to transmit what she is feeling. She is supported by boards where she says: 'I feel sad, I feel tired, I feel angry' … So that has helped her; At first, I did feel like a lot of frustration. It has been difficult, but there we go surfing ", he admits.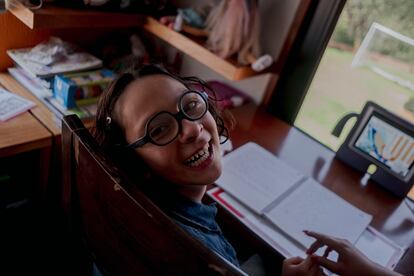 Despite the educational and emotional challenges they have gone through in the past year, Margarita assures, with her voice choking with emotion, that her daughter has been her teacher during this pandemic. "It has been, for us as a family, a great blessing and has taught me a different meaning of life. She is like a spring, like she re-centers us all. When outside everything is contrary to what she is, she reminds us of what is important, what is worthwhile for us as a family ", he concludes.
"Climb Everest with flip flops"
The first time Alan logged on to a Zoom session, he looked "super fired up," recalls Katia D'Artigues, mother of this 14-year-old boy with Down syndrome. Now you know how to activate your microphone, take a break and celebrate the birthdays of your classmates through the screen. "The teachers have had to make real marometas (pirouettes) to try not to lose its population with disabilities ", the journalist also agrees.
Although there are still no official dropout figures in this school population, D´Artigues predicts that the level of dropout in the classrooms will be high due to the challenges it has posed for each of the families. "Now we are like jugglers: between taking care of the children, reasonable adjustments, the house, the kitchen, the work … The truth is, there is a very clear level of exhaustion in the moms who take care of children with disabilities and that is another of the great pandemics, that of mental health, which is considered a psychosocial disability ", he adds.
More than a year after the start of the confinement, D'Artigues recognizes the effort of his son to adapt to this new normal. An everyday life that goes through daily classes, therapies and some exercise made in a "volleyball on a clothesline" in his own home. "Everything is like climbing Everest with flip flops, there are many more things you have to do even to contain yourself emotionally and to be able to explain to your son or daughter what is happening, and teach them to wash their hands well," he details.
Like other mothers with children with disabilities, one of D'Artigues's biggest concerns is the possible risk of contagion from Alan. "People with Down syndrome have, due to this genetic issue, greater chances of becoming infected and dying because they have a tendency to hyperinflammation," he says. Precisely because Katia is well aware of the risks of covid-19 for thousands of children with this life condition, she is grateful every day for the well-being of her son and hers.
Note to readers: EL PAÍS offers openly all the content of the Future Planet section for its daily and global contribution to the 2030 Agenda. If you want to support our journalism, subscribe here. You can follow PLANETA FUTURO in Twitter, Facebook e Instagram, and subscribe here a nuestra 'newsletter'.



elpais.com
Eddie is an Australian news reporter with over 9 years in the industry and has published on Forbes and tech crunch.