Shande Zambrano is in her last year of high school in Mechanics at a technical school in Caracas. A highlight of his studies this year was making a screw on the lathes and milling machines at his institute, after having learned to calculate using mathematical formulas how this fundamental part of any machine and almost any manufactured object is made. He had to do it on cardboard, drawn. "We are incomplete, we have not learned anything," says the 17-year-old with concern, who does not know how he will enter the labor market with such deficiencies. Venezuelan education in the last year has not only lacked screws, nuts and gears; For many students it has meant the total paralysis of their training.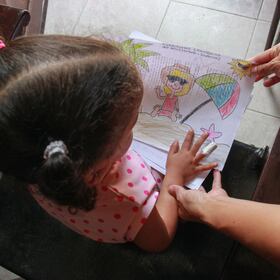 PHOTO GALLERY | When the children forgot to read
Zambrano walks through the capital on a Thursday morning in March with four classmates after leaving the high school where they went to find out how they would do the internships with which they must graduate. They wear their school uniform; frustrated. In a year they have hardly spoken to their teachers, they have no internet at home and not even a mobile signal to make a call. They have been left in the black hole of disconnection in Venezuela. In addition, they must visit banks for a whole week to get cash and be able to pay for a trip by public transport to their school in a country in hyperinflation where 96% of its population is mired in poverty, according to the latest measurement. of the Venezuelan Living Conditions Survey.
Distance education in Venezuela is at the distance of an abyss. The obstacle course that Zambrano and his friends must overcome is commonplace in the school system, which has not reopened classrooms for a year and is still far from doing so. The Government of Nicolás Maduro decreed the suspension of classes even before the first cases of coronavirus were detected in the territory. Abruptly, one of the countries with the slowest connectivity in the region, in which six out of 10 people do not have a mobile phone – according to figures from the National Telecommunications Commission– and where several regions spend several hours a day in the dark due to blackouts, he began to educate himself through an intermittent WhatsApp, recorded classes broadcast on state television and hundreds of photocopies of guides that parents collect in schools every fortnight and, sometimes they can't pay.
Pandemic plus emergency
With an initial spread slowed down by the country's crisis itself – poor air connectivity and an aggravated fuel shortage reduced mobility and, therefore, the contagion of coronavirus – a year later the epidemic begins to show its teeth with a rapid increase of the cases. Although the Government first announced a blended return to classrooms for the month of April, on March 22, Maduro said that there will be no return to face-to-face classes and decreed a new confinement due to the detection of the new most contagious variants of the virus.
Vaccination is uncertain. But covid-19, in reality, is the least of it. The pandemic found the country in a humanitarian emergency. This precondition has also made going back to class a mirage in schools that don't have water to guarantee hand washing and when teachers have dropped out en masse because they receive less than a dollar a month in salary. According to Venezuelan Federation of Teachers, more than 40% of the country's teachers have resigned in recent years. Many have taken advantage of distance education – which has been limited to sending and correcting homework – to undertake other trades in order to survive.
Seliandry Rodríguez's three-year-old daughter, 29, began her education under these conditions. His mother receives instructions on WhatsApp and how she can teach him numbers and vowels at home. She has not wanted to take the little girl to sessions with the teacher because she fears contagion with the virus. In the same house, the two children of her sister, Carolina Castelin, study, who says that she has not found a way to explain to the older one what mestizos, zambos and mulattos are, fifth grade assignments on the history of the discovery of America .
In the narrow access corridor to the house, located in the La Lucha neighborhood in eastern Caracas, there is the kitchen, a refrigerator and the furniture in which the notebooks and materials for the task are stacked, some pots and the blender. The sisters, both unemployed, have designed pieces to support their children's learning, to the point that they end up drawing their drawings in their notebooks. Rodríguez has some experience because he studied eight semesters of Preschool Education, although he had to retire two years ago "due to the country's situation": he did not have money to pay for transportation to the university, which was two hours from home.
While waiting for a Google Meet session to begin, which was eventually suspended without further explanation, 11-year-old Mattias Gasper says he was very good at math, but that suddenly changed. "I think the teacher disappeared after the pandemic began, we did not know more during the last period and my mother is very bad with numbers," he explains.
Gasper studies at a private school that developed an application to implement a virtual classroom. He could be lucky, but the crisis has caught up with him too. His mother, Karla Franceschi, shares her laptop from work in the mornings so he can study, but says she is saving for the tutor and therapy her son will need to get through this year of unlearning and stress. He has given everything for lost.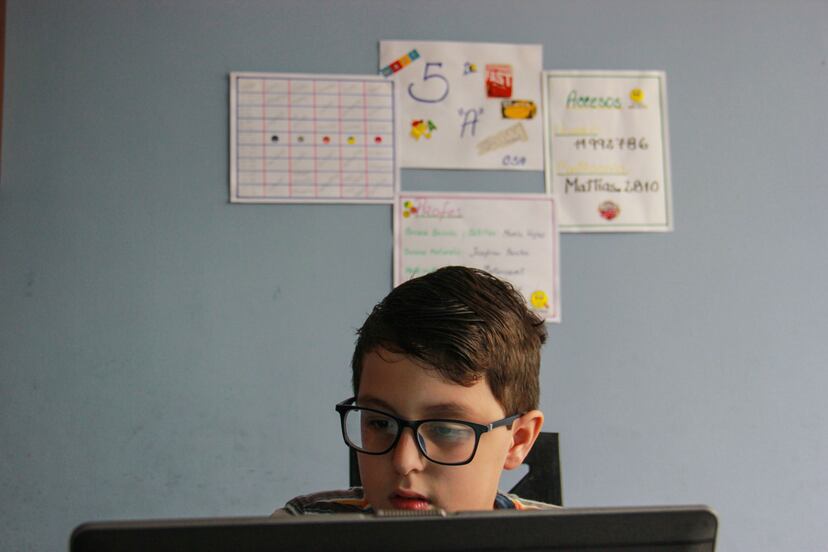 Broken logic
"In Venezuela there was a break in the logic of learning at a key moment of the school year, when it was about to end," explains Olga Ramos, a public policy specialist at the Educational Observatory of Venezuela. "The learning processes could not be closed and what has happened in many cases is unlearning, incorrect learning and accumulation of deficiencies. There are lessons that can only be face-to-face and they continue to be postponed ". Two school grades have been disrupted by the pandemic: the one that ended abruptly in June and the one that began last October at home, without having the conditions to be implemented remotely.
The same survey of Venezuelan Living Conditions pointed out in 2020 that almost 20% of students between 12 and 17 years old are two years behind in school, and 18% are behind one year. In the 2019-2020 academic year, 40% of students frequently skipped classes due to lack of transportation, water or food. In the analyst's opinion, the Government has left the door open to improvisation by discharging its obligations. "We were in a humanitarian emergency before the pandemic and the educational system was also unstructured because we have a failed state that is unable to fulfill its functions."
In the 2019-2020 academic year, 40% of students frequently missed classes due to lack of transportation, water or food
Ramos says that it is difficult to know the consequences that this will have in the future, but from the outset he assures that inequality has gained ground. "Where there was a better connection, the student had greater capacities to learn," he says. "The schools, being scattered throughout almost the entire country, allowed Venezuelans to learn regardless of their living conditions. Now, their development will depend on their living conditions ".
In La Cruz, another Caracas neighborhood, teacher Socorro Medina has seen how children have forgotten to read. In his house, in a room measuring three by three meters, a classroom with desks, a blackboard and a library has been operating for years, serving six to 12 children of all ages and in all subjects. In the pandemic it has been in greater demand. At one point it is with Roman numerals, it passes to the commutative property and then to the use of the that and the this, eso and this in English.
Medina has more than 20 years of experience and teaches at a state-subsidized school where he earns 2.5 euros per month. When the pandemic began, her husband, who worked as a waiter, was unemployed. "I had to turn what I like into my livelihood," he says. Now, for each student he receives at home, he charges a dollar a day, just 83 cents of a euro. Among those who go to their supervised tasks, there are boys whose parents have to work on their own in the street to live from day to day —more than 60% of the Venezuelan population—, others who have been left in charge of other relatives due to migration —close than a million children have been left behind, estimates the NGO Cecodap– and even some who do not have a table at home to do their homework. "School is badly needed", emphasizes Medina one afternoon in which several students arrive one after another with a pile of questions to be resolved.
Note to readers: EL PAÍS offers openly all the content of the Future Planet section for its daily and global contribution to the 2030 Agenda. If you want to support our journalism, subscribe here. You can follow PLANETA FUTURO in Twitter, Facebook e Instagram, and subscribe here a nuestra 'newsletter'.



elpais.com
Eddie is an Australian news reporter with over 9 years in the industry and has published on Forbes and tech crunch.