By Elaine Jung and Tom Donkin
BBC World Service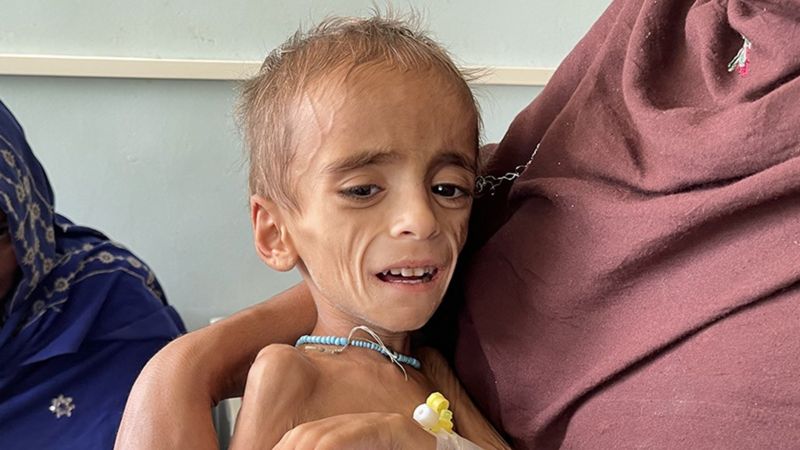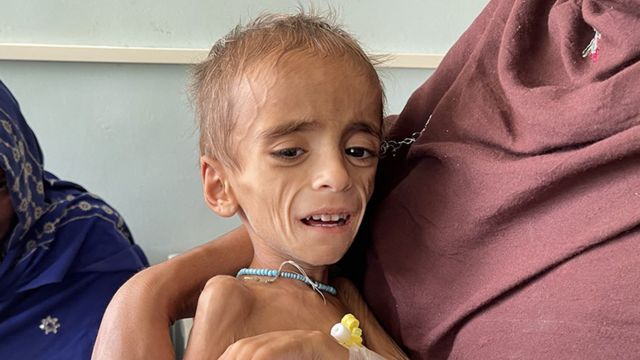 Many of the doctors in crisis-hit Afghan hospitals work without pay. In this report, they talk to the BBC about the country's brutal humanitarian crisis and how caring for their patients is nearly impossible.
All names in this report have been changed.
Dr. Nuri, an obstetrician in central Afghanistan, was about to start a cesarean section when the young mother burst into tears. She begged that they kill her and her baby.
"I don't know how I can stay alive ', said the mother,' how can I give birth to another human being?"
The women in Dr. Nuri's ward are so undernourished that they know they are unlikely to have enough milk in the breasts to feed their children.
Nuri says the wards are so full of people that she has to squeeze women who are in labor against the walls full of blood or tend to them lying on dirty sheets. Most of the cleaners quit their job in the hospital for months, sick of work without pay. And the maternity ward is so crowded that sometimes there are multiple women in one bed.
Nearby facilities and private clinics have had to close, and this hospital, once a prestigious modern hospital in central Afghanistan, has three times more women than before.
"The maternity ward is one of the happiest wards in any hospital, but that no longer happens in Afghanistan," says the obstetrician. She says that in just two weeks in September she saw five newborn babies starve to death.
"It's like hell in here"
Afghanistan was already recovering from a severe drought and decades of conflict, but the Taliban takeover accelerated the country's descent into the economic collapse.
The slow trickle of international aid, which sustained the economy and its healthcare system for decades, stopped in August. Western donors speak of serious concerns about the transfer of money through a government that denies basic rights to women and girls and threatens severe Sharia (Islamic law) punishments.
This means that Afghanistan faces his worst hunger crisis since the records began, according to the latest UN figures. It is expected that around 14 million children suffer acute levels of malnutrition this winter.
Across the country, hospitals that treat the hungry are on the brink of collapse, with nearly 2,300 health facilities already closed. Doctors in remote areas have reported that cannot provide basic medicationsEven something as simple as acetaminophen for the seriously ill who have walked 12 hours to seek treatment.
In the capital Kabul, a major children's hospital is experiencing some of the worst cases of famine from the country. It is currently operating at 150% of its capacity.
The hospital's director, Dr. Siddiqi, saw a spike in deaths in September after funding was cut, when up to four children under the age of 10 died each week from malnutrition or related illnesses, such as poisoning from poor food hygiene.
He says that it is the youngest who bear the brunt of the crisis, and the majority of those under the age of five arrive too late to be saved.
"These children are dying before being admitted … We lose a lot of cases like this," he says.
For those who make it through on time, there are few resources to help them: the hospital suffers a severe food shortage and medications, and even goes to great lengths to keep patients warm. There is no fuel for central heating, so Dr. Siddiqi now asks staff to cut and collect dry tree limbs every day to power a wood stove.
"When we finish with the branches, we worry about the next month and what to do next."
In Dr. Nuri's maternity ward, regular power outages have dire consequences. Several premature babies have died when their incubators failed during blackouts, she says.
"It is very sad to see them die in front of your eyes."
And he says power outages can also have potentially fatal implications for patients undergoing surgery.
"The other day we were in the operating room and the power went out. Everything stopped. I ran and screamed for help. Someone had fuel in his car and he gave it to us so we could run the generator."
So, he says, every time the hospital performs an operation, "I ask people to hurry up. It's a lot of stress."
Despite being forced to work under such challenging circumstances, the majority of healthcare personnel he doesn't even get a salary at this time.
Dr. Rahmani, director of a hospital in the province of Herat that specializes in treating patients with covid-19, shared with the BBC a letter from the Ministry of Health led by the taliban.
Dated October 30, the letter asked staff to continue working without pay until funds were secured.
On Tuesday, Dr. Rahmani confirmed that his hospital had to close, because the funds did not materialize. The photos show patients leaving the hospital on stretchers. It is not known what will happen to these patients now.
Nearby, another hospital specializing in treating people with drug addiction is also struggling to adequately care for its patients, whose withdrawal from heroin, opium and methamphetamine can no longer be supported by medication.
"There are patients those who have to be tied to the bed with chains, or there are patients who need to be handcuffed because they suffer severe attacks. It is very difficult for us to treat them, "says Dr. Nowruz, director of the hospital.
Nowruz adds that without proper care, "our hospital is exactly the same as jail for them."
But this hospital is also on the verge of closing in the face of downsizing, and if it closes, Dr. Nowruz worries about what will happen to his patients in the brutal winter what's next.
"There is no shelter for them. Normally they go to live in places like under bridges, in ruins, in cemeteries, in a situation that is unbearable for a human, "he says.
Donors
In November, Dr. Qalandar Ibad, the Taliban-appointed health minister, told the BBC's Persian news service that the government is working in concert with the international community to re-implement relief efforts.
Nevertheless, major donors seek to elude the Taliban, fearing that the aid will not otherwise be used for its intended purpose.
On November 10, the UN succeeded in doing this for the first time, injecting $ 15 million directly into the country's health system. Approximately USD $ 8 million was used to pay some 23,500 healthcare workers in the last month.
Although it is a relatively small amount for now, other international donors hope to do the same. But time is running out.
"Soon we will not have enough clean water," says Dr. Nuri, as her patients struggle to stay warm in the freezing temperatures.
The harsh weather conditions will soon restrict the remaining passage of goods from countries such as Pakistan and India.
"Whenever these women leave our hospital with their babies, I keep thinking of them. They don't have money, they can't afford to buy food"He says. His own family is also struggling to stay afloat.
"Even I don't have enough food to eat as a doctor; I can't afford it and I'm almost done with all my savings."
"I don't know why I keep coming to work. Every morning I ask myself this question. But maybe it's because I still hope for a better future".
This note had the collaboration of Ali Hamedani, Kawoon Khamoosh, Ahmad Khalid and Hafizullah Maroof.
Now you can receive notifications from BBC Mundo. Download our app and activate them so you don't miss our best content.

www.bbc.com
Eddie is an Australian news reporter with over 9 years in the industry and has published on Forbes and tech crunch.