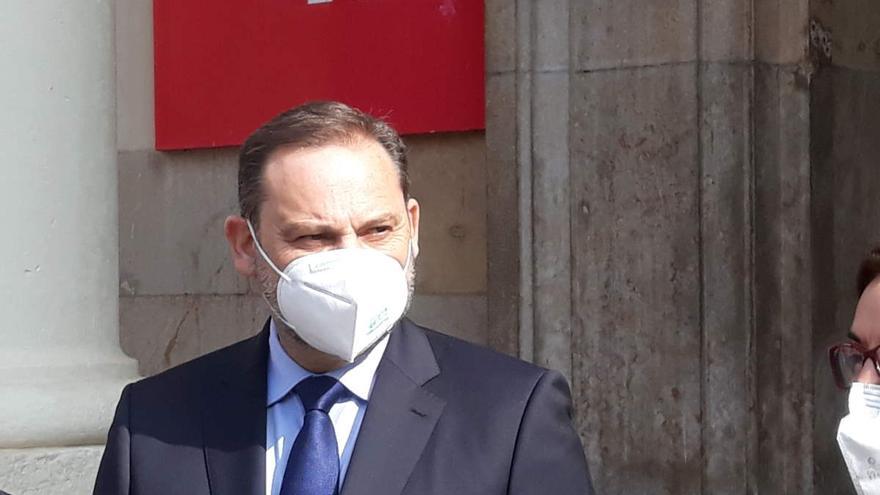 The Minister of Transport, José Luis Ábalos, has claimed this Friday that he always grants the "presumption of professionalism" to the State Security Forces and Bodies, and has opined that if they act in the protests over the arrest of rapper Pablo Hasel because "surely there is reason to intervene."
Ábalos has indicated to the media in Valencia that, where appropriate, trust in the security forces will always prevail, which does not mean "no blank check, not everything is possible, not everything is fine", because it does not have "any prejudice" in recognizing its role.
He has admitted that there may be "some isolated action" that "unworthy", because it is "contradictory" with the public function they represent, but he has insisted that the public powers must act "responsibly and not take this as a question of sides or bands."
He has refused to comment on the statements of the mayor of Valencia, Joan Ribó, in which he has described as "disproportionate"the police action in these protests, because he prefers to express his opinion on the facts and do so" as a minister of a government, and not from the position of someone who is in a demonstration. "
Ábalos has remembered that, When at the age of 16 he participated in clandestine demonstrations, he never caused any "destruction", He only ran so that they would not catch him, so now that he is a minister he will not "share" that windows are broken or containers are overturned.
"I do not share the use of violence in any of its expressions, neither in daily life, nor in the domestic sphere, nor in the public sphere," he stated, since he considered that "Any expression of violence arises from a violent character" and "people of peace do not do violent acts."
For the minister, in a democracy "no right is exercised through violence", not even in "objective or subjective situations of repression", but rights "are claimed from the Law, and the Law is changed from the Law."
Ábalos has indicated that if it is considered that there is legislation that is disproportionate to the facts that deserve sanction, the way is to modify the criminal legislation, and has opined that when opinions are oversized, someone may "Get a size you don't deserve either."
In his view, an expression, as much as it "hurts", it should not lead to deprivation of liberty ", that it should be "the last resort", and has insisted that to change this, "no row" is necessary, but rather that a legislative initiative, such as the one that the Government "is determined to do," is "enough" so that the consequence of certain facts is "proportionate".
"There are little understandable situations, but they must be resolved by the law and always peacefully," insisted Ábalos, who has indicated that he does not like graffiti or that there are people who are affected "by someone's right", because "There are no unlimited" or "absolute" rights.
Nor has he wanted to comment on whether the We can support these protests aggravates the crisis between this party and the PSOE, since it welcomes "with the greatest tranquility the differences", he works" to resolve them "and does not comment on how the other party behaves, among other things because he is a member of the government and deserves" a lot of respect. "
On the other hand, police sources have assured Efe that the image of one of the young people who appears in yesterday's riots bleeding in the neck area is prior to any incident. They have also indicated that the head of the police operation approached the young man to inquire about the origin of the wound and he did not want to clarify anything about it.

www.informacion.es
Eddie is an Australian news reporter with over 9 years in the industry and has published on Forbes and tech crunch.