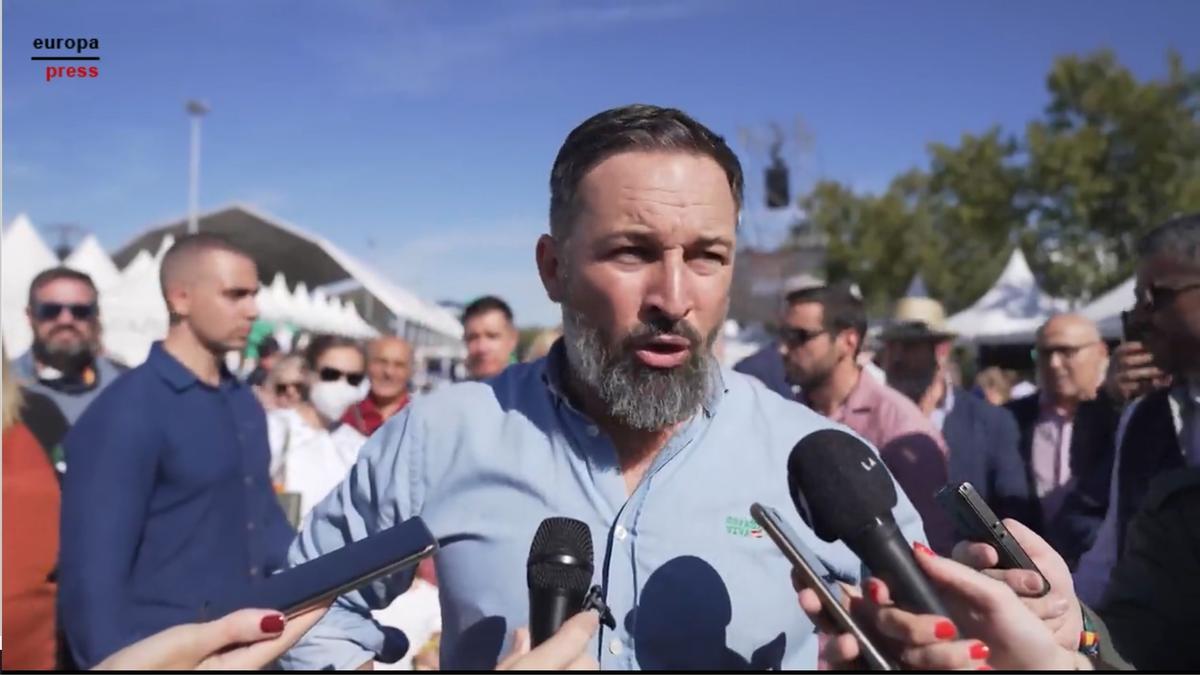 Fifty-two flags have paraded across the stage that Vox has prepared this Saturday at the IFEMA venue in Madrid. The 52 insignia of the Spanish provinces and, one by one, have summarized their benefits. Of course, going back to historical events and war slogans. No reference to the current reality of these same territories. It was the perfect prelude to the argument that Santiago Abascal launched seconds later on the Conquest of America, "the best thing any nation has ever done in human history". The leader of Vox has entered to dispute to Isabel Díaz Ayuso the defense of the past of Spain.
Three days before the feast of the October 12 °, when the arrival of Christopher Columbus to America is commemorated, Abascal has asked the Spaniards to feel proud of what their ancestors did who, upon discovering the 'new continent' "invented the Spanish solar empire, which it was the empire of human rightsThus, just as Díaz Ayuso did a few weeks ago criticizing Pope Francis for apologizing to Mexico for evangelization, the ultra leader has launched himself against Joe Biden.
"The unfortunate president of the United States just said … Well, has not said anything because it is difficult for him to say one word after another, but he has just attacked the great work of Hispanity: evangelization, "said Abascal, mocking the age of the US chief executive. He was referring to Biden's words admitting the" painful history of torts and atrocities"committed by" many European explorers " against tribal nations and indigenous communities.
Then, he has reproached the president of the United States for affecting the Conquest of America when his "ancestors arrived with the excuse of making buttons and advanced west. with the evangelization of lead, not leaving an Indian and putting them in reserves".
Isabel la Católica and the Spanish brotherhood
With the attacks on Biden done, Abascal has focused on praising Spain's past. "What pride can we feel in what our ancestors did; what pride in the best of our queens, Isabel the CatholicWhat pride to know we are heirs of those who discovered the new world and put an end to the indigenous genocide, of those who invented the Spanish solar empire, which was the empire of human rights, "he declared, surrounded by the 52 provincial flags.
Far from staying there, the far-right leader has applauded those inhabitants of the Iberian peninsula who, in the middle of the reconquest, saw how the territory was too small for them "and overflowed it" to extend "uses, customs, faith, architecture, university festivals." all over the world. In summary, Abascal has described it as "the greatest work of universal brotherhood ever contributed by any people"." We do not apologize to the progressives, we feel pride in our elders, he has sentenced.

www.informacion.es
Eddie is an Australian news reporter with over 9 years in the industry and has published on Forbes and tech crunch.