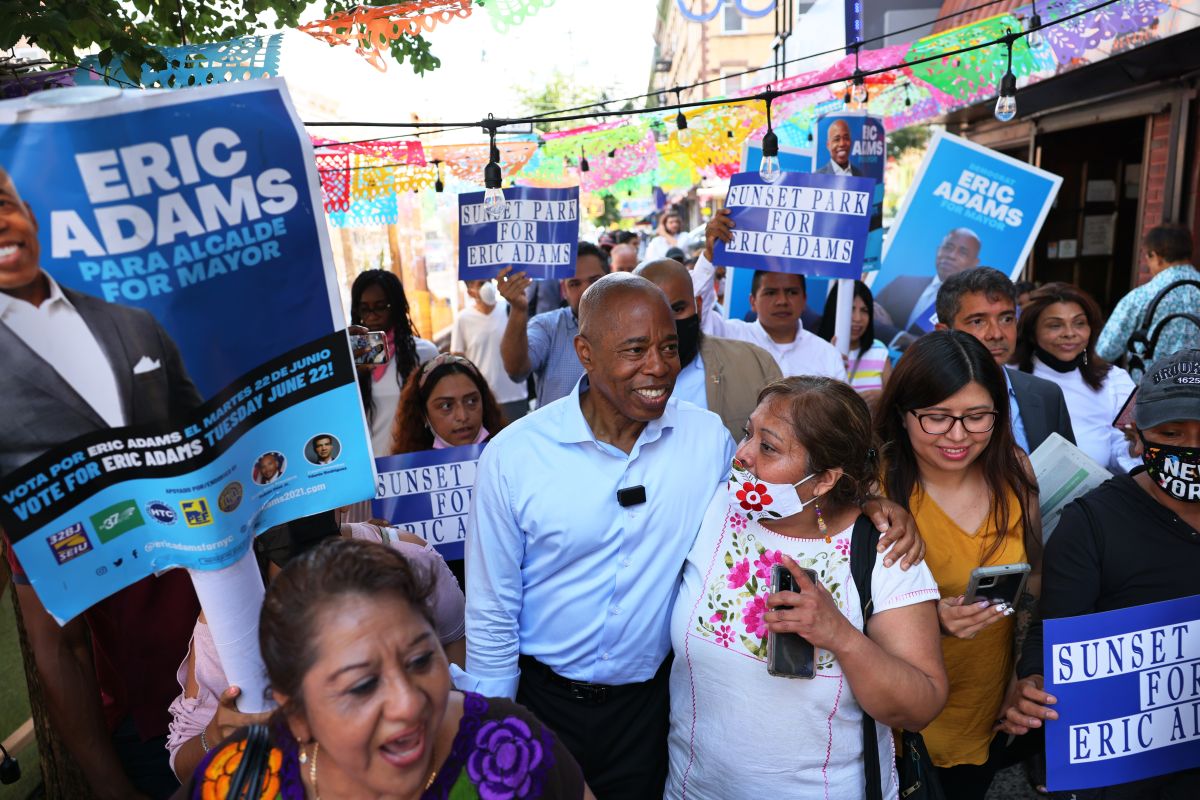 The Big Apple lived up to its history of being a city of immigrants, by standing firm in its defense of undocumented communities during the attacks of the former President Donald Trump's Administration, and fought to remain a 'Sanctuary City'. And when there are less than two and a half months left for the arrival of a new president to the Mayor's Office, one of the questions that hundreds of thousands of immigrants are asking is whether they will continue to be protected from 'Immigration'.
And who is shaping up to be the next Mayor of New York City, Democratic candidate Eric Adams, promised this Monday during a roundtable with ethnic media, that the Big Apple, which is home to approximately 500,000 undocumented, it will continue to be a place where they can live without the daily fear of deportation.
"We will continue to be one 'sanctuary city'. But for me that of a 'sanctuary city ' means more than just saying that we will not work together with ICE and we will not allow our agencies to do work in conjunction with Immigration persecuting our undocumented residents, but we must go further, "said Adams.
The current president of the borough of Brooklyn added that it is essential "to make sure that these undocumented New Yorkers are being given the support they need, so that their families no longer live in the shadows of the American dream, but are part of that dream."
Adams assured that an example of this will be to get that population to register in the health care programs that the City has, and for which the immigration status does not matter, as well as in the bilingual programs in schools so that they children of these immigrants "Have a real future in our city", and also on job assistance plans and helping them fill out the forms.
The Democratic candidate clarified, whether he is undocumented or not, "they are paying their taxes in this city. Just by walking into a store to buy bread, no one is going to ask you about your 'Green Card'or documents before I pay those taxes (for the purchase of bread), and therefore they must receive all the benefits of those who pay taxes, and that is why we will continue to be a' sanctuary city '".
Hispanics in new Administration
A large percentage of these undocumented immigrants are of Hispanic origin, which contributes to the fact that after whites, who are 42.7%, Latinos are the largest population group in New York City, representing 29.1% of the total population. population.
And when asked if Hispanics will be well represented in their future Administration, if they win the Mayor's Office in the general elections on November 2, the Democratic candidate assured that on that specific point he is dealing with a "good problem", and that is that there are so many good, talented and qualified Spanish-speaking New Yorkers to choose from.
"Many of them are already applying for positions in a future Adams Administration, and we are very excited about that, because we will surely not have a shortage of qualified people who will fill many positions if we are fortunate to be elected," said the applicant.
And to ensure that the Hispanic presence in his future government is well represented, he said that they are also acting proactively by already contacting leaders and organizations of this community, as well as elected officials and even religious, to apply to those positions and thus have that talent, show diversity and the experience that many of them have to move the city forward.
"We do not have to choose a Hispanic person because we have to fill a quota, but because we have a large number of them qualified, as well as from other communities," said Adams, adding that for sure "there will be a great diversity in the Administration."
"Not only English is spoken here"
Noting that the diversity of this city is reflected in the dozens of different languages, the Democratic candidate recalled that here "not only English is spoken", and therefore promised to maintain constant communication with the communities in their languages, taking advantage of the ethnic media that serve these communities to transmit the messages of the municipal agencies.
"I think we can do a better job achieving that communication. For example, during the Covid we could have done a better job and also during the census, "said Adams, adding that for this it is also necessary to better inform" about the available resources, since there is an impressive number of people who are not aware of the most basic resources available to them, things as simple as the income tax credit, which allows parents to receive thousands of dollars for children ".
Adams emphasized, "We can do a better job communicating with all New Yorkers every day, because this is not a city where only English is spoken."

eldiariony.com
Eddie is an Australian news reporter with over 9 years in the industry and has published on Forbes and tech crunch.