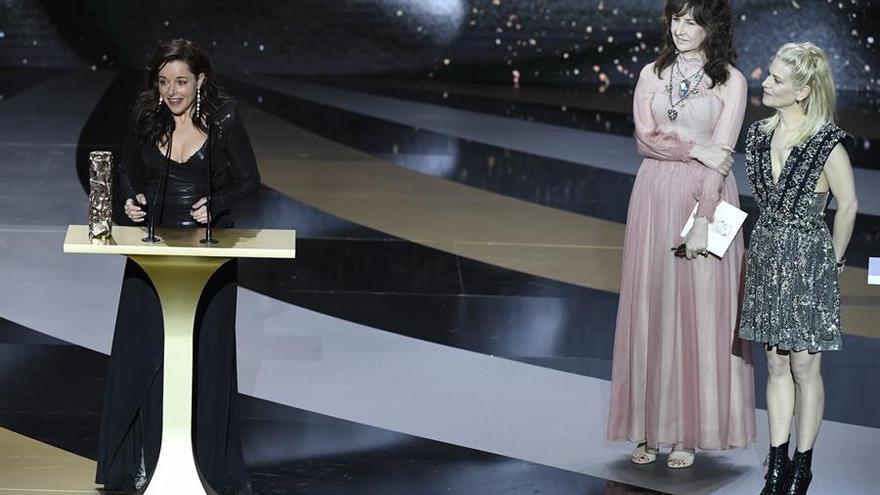 'Goodbye idiots', by Albert Dupontel, won this Friday with seven statuettes at the César awards for French cinema, which has been marked by the closing of theaters for almost eight of the last twelve months due to the pandemic. This comedy, about a 43-year-old woman who, when she discovers that she is ill, sets out in search of the son she was forced to abandon at 15, was distinguished in the categories of best film, director, supporting actor (Nicolas Marié), original screenplay. , photography and decoration, and also won the award from the students.
This year's selection was limited because only films released in 2020 could compete, and it left another of the main competitors, 'Été 85' (Summer of '85), by François Ozon, empty-handed, who was opting for 12.
Also without an award was the Spanish Jonás Trueba, nominated for best foreign film for 'The Virgin of August' and defeated by the Danish Thomas Vinterberg for 'Another round' (Another round), while the Spanish-French production 'Josep', by Aurel, stood out as the best animated feature film.
Laure Calamy as Best Actress by 'Antoinette dans les Cévennes' (Holidays with you … and your wife), and Sami Bouajila for Best Actor for 'Un fils' were other of the winners of a night where the favorite, 'The things we say, the things we do' (The things we say, the things we do), with 13 nominations, only saw its supporting actress, Émilie Dequenne, rewarded.
Also surprised 'Teenagers', by Sébastien Lifshitz and award for best documentary, sound and editing at a gala that constantly charged against the government decision not to authorize the opening of cinemas.
"We have closed cinemas and theaters and banned concerts to open churches because we are a secular country," said actress Marina Foïs, who served as presenter and spokesperson from that platform of general feeling. His claim was shared by the rest of the participants, but none as graphic as that of the also actress Corinne Masiero, who undressed on stage: "Now we are like this, naked," he said in reference to his sector, while on his torso you could read the message "Without culture, there is no future."
Change of era
This gala was called to be the beginning of a new era in French industry after the numerous controversies of the past year, from complaints for praising Roman Polanski as best director for 'J'accuse' despite being denounced for rape to criticism for lack of transparency and parity at the Academy. After the resignation of his previous director in February 2020, last September the institution put in charge Véronique Ayla, former president of the Arte chain, and director Éric Toledano, known for feature films as 'Untouchable'. And in November it fulfilled its promise to renew its statutes to be equal with a new general assembly of 82 men and 82 women and separated from its 18 "historical members", a statute from which Polanski benefited among others for its awards.
Although sexual violence was not totally absent from the ceremony. "Know that if this year you are 100 in a room of 2,000 it has nothing to do with the covid. It is that we have stayed only with those who are sure that they will never have a 'Balance ton porc'", said the humorist Fary in reference to the complaint movement with which the #MeToo was known in France.
In these Caesars, who inaugurated a stage of greater openness, the award to two black actors as best revelation performers: Fathia Youssouf by 'Mignonnes' ('Guapis') and Jean-Pascal Zadi por 'Simply black'.
The sought parity, however, was not reflected in the nominations and awards: only two women, Maïwenn and Caroline Vignal, were included in the main categories, best director and film, and none were awarded.
Industry complaints
It was a long gala, lasting more than three hours, after which the plea to the government will not remain in words: a score of cinemas are planning to screen films this weekend in protest against the government's decision not to authorize their opening.
France, the cradle of the first cinematographic projection 125 years ago, is proud to be the first country in Europe in terms of attendance at theaters (213 million viewers in 2019), the number of its cinemas (2,045 establishments) and the number of and diversity of films released (700 unpublished per year). But since March 14 of last year, just before the first lockdown, the big screen has been off for almost eight months and the sector says it is "totally blocked" by the restrictions imposed by the Executive. That is why the ceremony could be interpreted as a political act to show that they are still alive despite everything and to honor the bravery of producers and distributors who released their tapes in this period.
The French Minister of Culture, Roselyne Bachelot, criticized at the beginning of the ceremony, said she was by his side: "I understand your frustration and exasperation. (…) I want to convey a message of hope. We are deciding the conditions of reopening," he had advanced upon arrival.

www.informacion.es
Eddie is an Australian news reporter with over 9 years in the industry and has published on Forbes and tech crunch.