An ephemeral restaurant. Only one hundred days. Lunch and dinner, 80 people per service. A total of just under 16,000 clients, counting that I will go several times. 400 euros the menu, without drinks. Passed away Joel Robuchon, the best chef in French cuisine: Alain Ducasse. Retired Ferran Adrià, the best chef in Spanish cuisine: his brother Albert. The 7-course menu is a dialogue not only between two great chefs, nor two great gastronomic countries, but between two ways of understanding freedom and life. There was a war twenty years ago and we won it. And not only did we win it, but we changed the world, we dethroned French cuisine, we blew up its corseted
rules in the air, we turn Spain into the first gastronomic powerhouse and we lay the foundations of total freedom in creativity, replacing the concept of national cuisines and local products with intellectual cuisine in which the most important products are talent and intelligence. This is what Mr. Ducasse and Albert Adrià represent and these are the conditions of the experience, in the spectacular Palace of Shadows. There is another condition, which Albert jokingly says and Mr. Ducasse cannot be taken more seriously: yes NOWA curious name for a restaurant -and for everything- manages in this time to obtain profits above 5 million euros, it will cease to be ephemeral to become permanent.Alain Ducasse had met the previous week with the lighting engineer of the Tour Eiffel so that at the exact hours, when sparkling lights adorn the monument, these same little lights will also shine in the restaurant, which seems like it has the tower, so close it is, and so elegant, and so majestic. This detail has a lot to do with Mr. Ducasse's perfectionism, with the magnetism that comes from being in his presence, and with the years that he has been the world's leading haute cuisine entrepreneur. On Tuesday, with a gray cashmere jacket, dark pants, a white shirt and his mythical round plastic glasses, he filled the palace with his being and no one was unnoticed that he was there.
'Bullinian' dishes
In stark contrast, Albert Adrià, his partner on this adventure, was working in the kitchen, first with the main menu and then with the desserts, and this was reflected in the decadent personality of the menu. Despite being is 'pop up' an initiative of Ducasse and that it is sold as a creative continuity of the cuisine that the chef presents in his restaurant at the Plaza Athénée hotel, the truth is that in each of the seven dishes that the menu consists of, the language, the concept and aesthetics are clearly 'bullinian', although it is true that Albert Adrià, his brother retired, is the undisputed best chef in the world and knows how to do more and much better things than those he offered yesterday on his first night open to the public .
There was a detail in the menu, categorical and definitive, which is that after a series of dishes that were difficult to overcome, and markedly Adrian, among which were a tremendous meringue from Brillant-Savarin With white truffles, and some obscene chickpeas with espardeñas covered with such a layer of caviar that it looked like the Costes hotel comforter, Ducasse wanted to vindicate himself and the next step was to get us two loaves with the butter of his town. The 'maître' explained something about a cow and how they squeeze it, and of the infinite talent of the Adriàs, and by extension of Spain, we returned to the talk about the terroir, local and undoubtedly charming, because both the butter and the bread were Very good, and even the spatula that the owner of Nutella, a close friend of Mr. Ducasse, had designed for the occasion was funny. But as a whole, this butter dish reminded me of the shock it had produced on me when I arrived at the Tour Eiffel, which from so close seemed like one more property of our palace. Then you went out to the terrace and realized the distance. The same thing and for the same reasons Mr. Ducasse realized and with his butter he underlined it.
Not so many years ago that we Spaniards rolled our eyes over French butter, whether it was on the plates – nouvelle cuisine cooked everything with butter and cream – or in the movies, and as repressed as we were, we went up to anoint Maria Schneider in the cinemas of Perpignan. Spain has come a long way in just a few years and France continues to be where it was. And precisely one of the most basic victories of Spanish cuisine over French was that we taught them to cook and season with olive oil and that was how not only France but the whole world overcame the buttery heaviness of their sauces.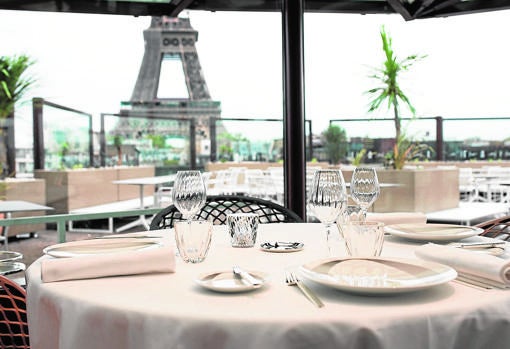 Dom Perignon patrocina
The restaurant is sponsored by Dom Perignon, and for this menu it is the best idea. Although the 'sommeliers' offer you a pairing – that is, a different wine for each dish – so much mixture feels bad and distracts from the essential, which are the creations. The house has the courtesy of giving us a magnificent rosé Dom Perignon from 2008, to which we dispatch with great joy and greater perseverance. Ducasse continues in the room talking to everyone, nervous, elegant, stylized, with the tension of a businessman and the gestures of an artist, in the sight of all and all dazzles us. Just as Ferran and Albert were always at El Bulli and the customers' first stop when they arrived was the kitchen, and they could say hello and touch and take pictures with them; Mr. Ducasse is rarely in his restaurants, and if he is, it is difficult for his customers to agree with him, because he has many and in all parts of the world. So seeing you on a Tuesday night in Paris, glad to have been able to coordinate the little lights of the Tour Eiffel, and dodging the conversation about whether this restaurant is going to last only a hundred days, but wanting to tackle it, is a historical and aesthetic experience that it is worth taking advantage of because it is not written anywhere that we are going to have it again.
The room equipment is mainly from the Ducasse factory, with the stellar presence of the 'maître' of the Louis XV of Monaco, Michel Lang; but El Bulli marks its character in a service that is closer and more understandable, and less haughty, with Pol Perelló, today the best room manager in the world and the only excellent one in any register: both at Estimar de Ibiza, to organize to the millimeter what may seem chaos from a distance, as at Tickets, Hoja Santa or this palace in the heart of Paris, with the 'maîtres' of the three-star restaurants of Mr. Ducasse crazy to learn from him, and not the other way around. Regarding the ephemeral restaurant, only one hundred days, it must be said that all those who work in it, both the veterans of the French chef's team as well as those released from El Bulli, and the young interns – who have put on a striking and somewhat absurd red jacket-, they do it with great emotion, living it as a stellar moment in their careers.
The idea of ​​Mr. Ducasse, and in this France and the French are always going to beat us, is to somehow retain Albert in Paris when the hundred days expire in March. He doesn't know how yet, but he's going to get it. It is so irrefutable that El Bulli and Spain not only defeated and devastated France, as we have burdened Barcelona: the aesthetics of the city and its businesses, and today each and every one of Albert's five restaurants are closed. And Mr. Ducasse not only has everything open, and working at full capacity, but he has time to think of new ideas and embark the best chef in the world on them. This 'pop up' is not amusement for the businessman Ducasse, who only has to see him to know that he does not have the time or the sense of humor to go around joking around. This restaurant it's a test, a test to see if the association works, and Mr. Ducasse, who is very smart and despite his French vanity has very clear ideas and knows exactly where he is, is going to renew his brand with Albert, he is going to rejuvenate it in attractiveness and concept, and will create with it a model of restaurant suitable for replication in all parts of the civilized world. I do not know if he will succeed but it is just as obvious that Ducasse lacks a genius that Albert lacks an entrepreneur.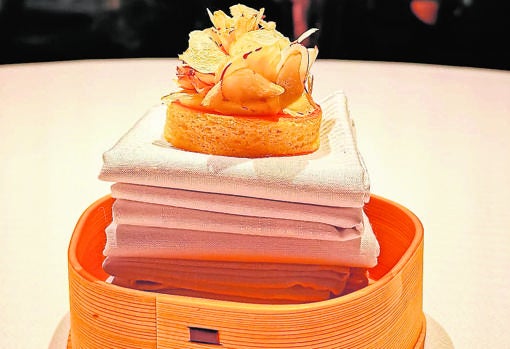 ADMO makes it clear on its first night that it is going to be the gastronomic, artistic and cultural event of the winter. There is no other creative field in which what happens is so relevant and profound, nor is there another dialogue between two stars that talks so much about what the world is like talking about how they are themselves. ADMO is the verification of the victory of Adrià's talented kitchen but it also confirms, and in a very relevant way, the victory of Ducasse and France to structure and project their good ideas into wonderful and successful businesses. Albert continued all night in the kitchen, working tirelessly, and since I know him, and also his humor when he is focused and distracted, I sent him a message to say goodbye and we agreed to talk Wednesday morning. Mr. Ducasse, perfectly assisted by his director of foreign relations, Emmnuelle Perrier, who with half a sentence places him so that he knows who he is talking to, says goodbye to us with his star bearing, knowing very well that he is being looked at and admired, and that he owes his audience a composure, also a certain tenderness, but never forgetting that there is only one Alain Ducasse and it is him.
Opulence and good taste
For both customers and chefs and the meritorious with their red jackets, this experience is going to be unforgettable. On Tuesday in ADMO the excitement of great eventsAnd while the 2008 Rosé Dom Perignon is a great champagne that I highly recommend to you, the bottles being opened on the tables next to it were outrageous. The Romanée Conti looked like water, and the Salon, Vichy water.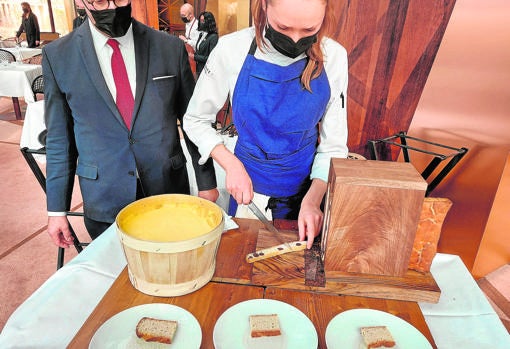 This euphoria, which can only be French, because only the French know how to mix opulence and good taste with class, is the one that floated yesterday in ADMO, confirming the best omens. Those who do not go, if for whatever reason the restaurant ends up being really ephemeral, they will have missed not the best restaurant in history -because this will always be El Bulli- but the armistice between the two most powerful and luminous armies that Humanity never knew. Talent and intelligence are two different virtues but there is no idea, however valuable and advanced it may be, that it can last over time if you do not give it the structure of the business and the company. So many things happen at ADMO, at the table, through the window, in their shared history and through your brain, that more than a restaurant it is an event that explains in detail everything you need to know to understand the dilemmas faced by people. men who are worth it and how in the end they find a way to solve it.

www.abc.es
George is Digismak's reported cum editor with 13 years of experience in Journalism