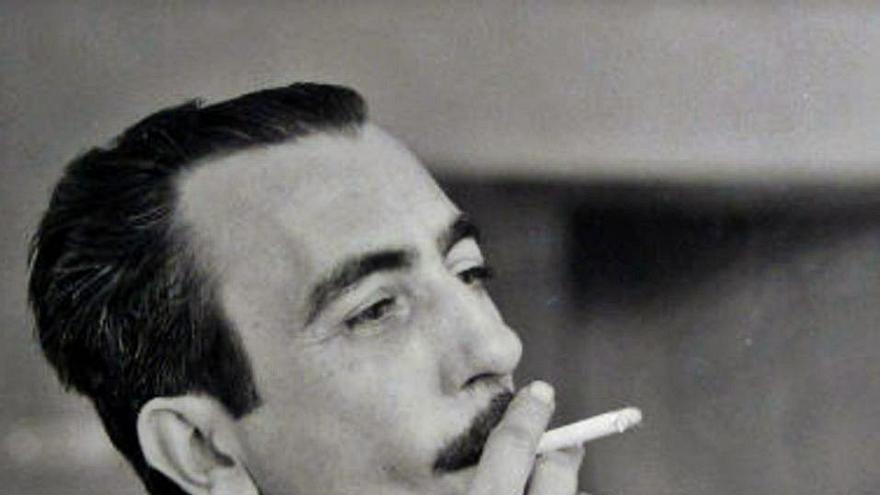 It is obvious that we are in a complex time for art, but has it ever been like this? What one experiences in the present is always too important because of how it influences us and we can hardly escape it. This moment is my moment, and that is why I constantly discuss with myself and with my references, living or dead, until I see clearly what the arguments are that seem to induce us to think that art, that art that at some point we have admired, no longer "it serves". This is a struggle that is repeated throughout history, all creation or dialogue or research, is against something or someone, destroying the foundations of a vision of art to impose a new one. But is that possible? How far can the aims and purposes of the art of the immediate past change? What is now bad, decadent, old, at other times was admired and praised in the forums dedicated to its study. Reviewing art magazines from just 20 years ago, I read positive reviews of works that today are ignored or criticized to the point of insult. Almost as a rule, what is admired in the past suffers its own deterioration as it passes the filter of history. Although not all works fulfill this cycle, some overcome it by becoming references that impose themselves on the dialogue of the present with sufficient force and independence.
It has always been like this? I think it seems obvious that it is. Each era is followed by another that surpasses it, forgets it, or does everything possible to lose sight of it.
Adrián Carrillo made much of his work with the stigma of not following the guidelines of the art of his city. A clear example of his artistic stance is found in the work he did for the Caja de Ahorros del Sureste de España, CASE, in his office on the Rambla. The relief that occupies one of the sides of the entrance was criticized for being modern and unrealistic. The reference to Henry Moore was evident, his strict sobriety of means and his almost abstract faces did not go unnoticed by the Alicante public, but because of the negative of the representation, not because of the modernity that it posed. Moore, since the 1930s, has taken Mayan art (its seated figures) as a reference of conciseness and abstraction, a way of constructing that would lead him, like black masks and Iberian art to Picasso, to make great part of his work under principles that were revealed against imposed art, reaching an increasingly notorious abstraction.
I met Adrián in 1965, when I returned from Seville where I was studying Architecture. My father advised me to work in his workshop to learn techniques that would help me introduce myself to the world of plastic art. The space of Adrián's studio was inhabited by the accumulation of junk, rubble, disposable materials such as porcelain, wood, cardboard, plaster, plaster, cement, iron … But within that apparent disorder there was a workshop logic. One thing for each place, something that had been part of a job and that remained as a sign of an end. Adrián was an intelligent person and, above all, educated and sensitive, so I contacted him quickly. We both agreed that I would go to his workshop every day at a certain time, around 9 in the morning. Thus, without missing a single day for more than two years, we met in a bar located on the corner of San Carlos and Sevilla street, where we stayed until ten o'clock or more, browsing the INFORMATION, which gave us reason to talk. of all kinds of things, politics, society and art. Adrián was very loved and respected by artists and especially by the foguerers, since he had built some bonfires in a certain period of his life. Something that the most emblematic artists of the city, such as Gastón Castelló, Varela …, did for the renewal of the party, contributing their knowledge and their way of interpreting a certain modernity in the forms, which then differentiated us from the Fallas of Valencia. I already met him when he had abandoned the construction of bonfires and was more focused on making murals, artistic works, within the limitation of the commission, mainly from architects who required them for the entrances of new buildings. There is an extensive record of his works in the Soto and Marvá promenades and in other places in the city. Thanks to these works, he was able to carry out his concerns about modernity in a continuous investigation of materials and techniques.
There, with Adrián, I found myself like a fish in water, next to an extraordinary creator and technician, who sought modernity in all his actions and decisions, within a development of forms where the human figure was the protagonist of his creations. The high reliefs made in concrete on ceramic backgrounds were the murals that marked an era in the art of Alicante, where, as I said, architecture sought dialogue with plastic art. These works, whose realization I experienced in the first person, bring me unforgettable memories about our discussions about art, techniques, materials, concepts, lived in their realization.
There, in his workshop, I began to experiment with modeling and ceramics. An experience that earned me, years later, the Castellblanch Scholarship, with which I was able to expand my ceramic studies in Faenza, Italy, where I stayed for four years, making use of myself. During this time I also have to remind the sculptor Margot that normally, in the afternoons, she came to the workshop to work and even to help. A woman who had a true passion for sculpture and whom Adrián helped and taught the mysteries of volume and form.
Over time I set up my own workshop, but I kept visiting Adrián in his studio in San Blas and in Los Angeles, there I would show him my work and we would talk about art and the problems of art, which of course were not those of today. His attitude, despite the age difference between the two, enabled him to dialogue and rethink his conception of art, when it brought him a greater understanding of his moment. I know that I was a great stimulus for him, in that confrontation with new concepts and artistic forms. Adrián was not satisfied with traditional art, nor with the dominant currents in the art schools of that time. His vision of volume and sculpture was refined over the years, arriving, in his last stage, to work the abstract form in a filiform way, with magnificent results that early death nipped in the bud. We have an example of this in the San Blas park where one of his stainless steel sculptures lives.
It is important to note that in those years there was no current debate on conceptual art, despite the fact that in Europe, especially in Germany, they were already very focused on investigating more about the concept of the work than on its plastic concretion. Research that was hardly relevant in the field of Spanish art, as we did not have the information to enter into this new development. There were some somewhat marginal experiences, of which evidently there was little or no talk.
The art schools, dominated by a majority of professors addicted to the regime, strictly abided by the rules and models that dictatorial regimes normally impose: academic discipline and an order in form. They agreed with a realism to use, with slight variations in terms of modifying the academic drawing. But this was the most advanced of that moment. Also the change of subject was structured from the perspective of the landscape, perhaps this was the genre where it was investigated the most. In this environment, Adrián sought in the cubist sculpture of Picasso and Henry Moore what was undoubtedly a way out of the realistic sculptures that dominated the provincial sphere of a city anchored in the past.
Today I like to think that Adrián's approach to the dominant concept of conceptual art that we live in the present would be to seek the means to enter into this knowledge of art, without losing its experimental sense but also claiming an art where the idea, the concept was contained in the form, or where the form was the one that led us to the idea, as a means to advance in the knowledge of art and of the moment in which we have lived.

www.informacion.es
Eddie is an Australian news reporter with over 9 years in the industry and has published on Forbes and tech crunch.