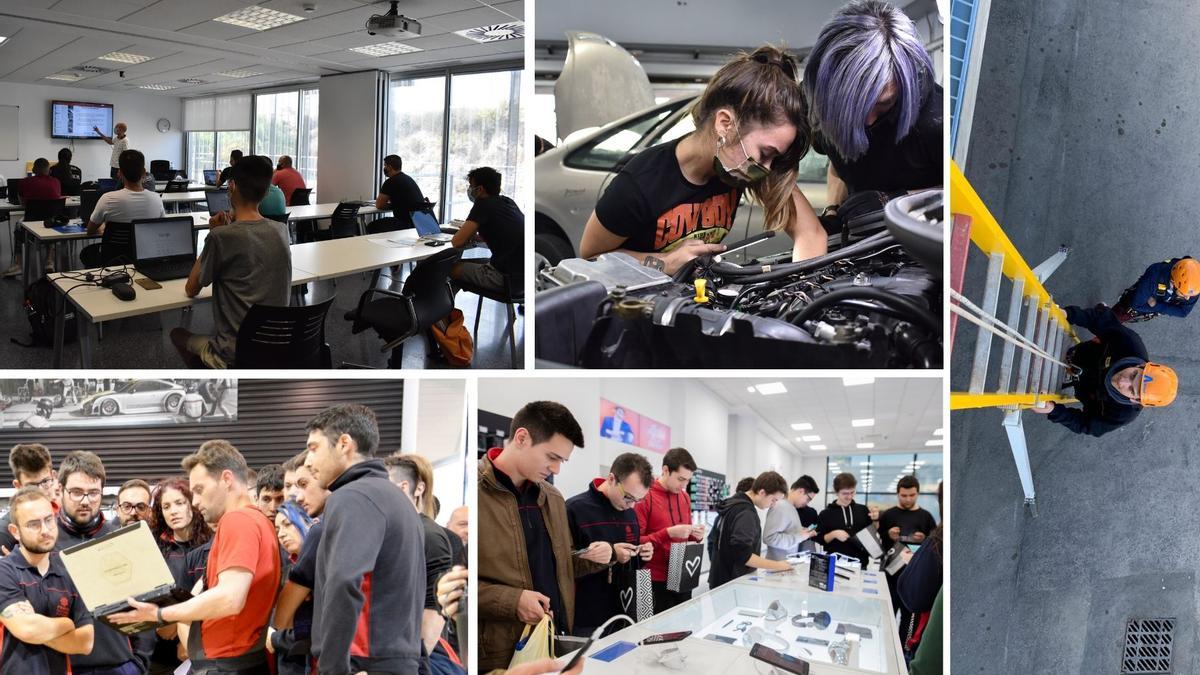 The Professional Training allows to obtain a preparation closer to reality, which means that at the end of their studies, a large number of companies take into account the professional skills that the student has obtained, increasing the chances of being hired in front of another candidate and becoming an alternative to university studies, that some of the students decide to continue from the FP with the validation of credits.
If you are thinking of doing a Middle or Higher Degree, the best option is the FEMPA VET School. Fempa's FP cycles are aimed at both young people who want to specialize in a profession, as well as experienced professionals who want to achieve an official degree that will boost their professional career. Nevertheless, if your ultimate goal is to go to university, A highly recommended option is to do it from an official FP such as Fempa, which also offers the FP Dual. We are going to explain the advantages:
Your direct access to the University
With a Higher Degree training cycle you can directly enter a university degree without the need to study Baccalaureate.
This means that It is not mandatory to do Selectivity either to access the university. However, you can also take the tests to have the possibility of adding four points to the average grade obtained in the Higher Grade.
Contact with the work environment
The Baccalaureate degree opens many doors for you, but a higher vocational training qualification allows you to learn a profession, something that is currently in high demand by companies and can help you to have a qualified job while you are training. The FEMPA VET School prioritizes practical teaching (learning by doing), to offer a modern educational method adapted to the needs of future professionals.
Variety of cycles to choose from
Within the Middle Degree training, FEMPA has the cycles of Technician in Electromechanics of Motor Vehicles; Technician in Electrical and Automatic Installations; Y Emergency and Civil Protection Technician.
Regarding the Higher Grades, the students of the school can choose between the cycles of Senior Technician in Administration and Finance; Technician in Sales Management and Commercial Spaces; Superior Automotive Technician; Superior Technician of Electrotechnical and Automated Systems; Senior Technician in Multiplatform Applications Development; Senior Technician in Web Application Development Y Senior Technician for Emergency Coordination and Civil Protection.
Scholarship and aid program
The Fempa Scholarship Program It facilitates access to its cycles for all those people who, regardless of their economic level, want to increase their level of professional qualification and improve their employability. Once the students' candidacies have been evaluated, the scholarships are authorized, which can be up to 50% of each student's tuition. Also, if you need it, you can finance the total amount of your tuition without interest. Nobody who wants to study in a quality school like the Escuela de FP de Fempa will be left out.
More information
If you have any questions, contact the Student Information Service. They will assess with you which modality best suits your needs and will inform you about the FEMPA FP Scholarship Program.
You can call or send a whatsapp to the Student Information Service: 680 555 192 or send an e-mail to [email protected]

www.informacion.es
Eddie is an Australian news reporter with over 9 years in the industry and has published on Forbes and tech crunch.