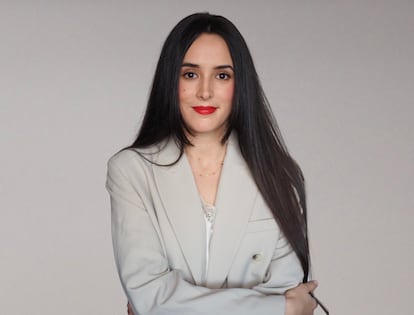 In less than a year of activity on social networks, Eva Porto (A Coruña, 1993) is on her way to one million followers: almost 400,000 on Instagram and close to half a million on TikTok. His first video in the latter had 800 views; one of the last close to six million views. In Spain, it is the creator of content related to the work environment and job search with the most followers on these platforms. This psychology graduate with a master's degree in Human Resources has created a community that awaits her daily 15-second pills of advice. If someone were to wonder if a 28-year-old is the right person to make recommendations, she herself would mention the countless job interviews she has conducted in recent years with candidates from different companies and foundations: " I saw profiles that had a lot of potential, but they didn't transmit it well. "
On September 1 he launched the first edition of your virtual course Create your definitive resume, in which 350 people from Spain and Latin America have participated so far. "We are two people with the phone number of the course and, as we want to offer customer service, when a number of places are filled, we close it, and little by little others are coming in", he explains. "I am young and surely I am not the person who knows the most about Human Resources, but I have experience, I have the knowledge and I know how to communicate it on social networks," he says.
Even so, he has also felt the insecurity typical of young people in their first work experiences (something known as the imposter syndrome), which has not stopped him from working on his goal: to provide all the resources someone needs to find a job. A few months ago he decided to dedicate himself fully to this task and left his position in a company. When he uploaded the first videos, his mother asked him if there was so much to say about the job search. Since then, Porto estimates that it has produced 400 different videos. "The only day I didn't upload anything to Instagram was the day it fell," she says proudly.
Among his most recent videos, Porto has included the gestures to avoid in a job interview: using the mobile phone during the conversation, not looking the interviewer in the eye or touching the hair, and also some trick questions that the candidate should know how to address . A paradigmatic example is that the person in charge of Human Resources asks the interviewee if he does not consider that he is overqualified for the position, to which the candidate should answer something like: " I consider that I am qualified for this position, which also motivates me " . And, to find out the salary that is offered (something that is often reluctant to raise), Porto recommends asking about "the conditions of the vacancy."
The Human Resources specialist warns that, if in an interview questions are received about nationality, religious beliefs, health condition, marital status or membership in political parties or unions, they are illegal demands that are not addressed. why answer. Of course, if it is about paternity or maternity plans, it is recommended to say that they are not contemplated, since, in addition, the candidate is not committing to anything to give that answer and, deep down, it is the only thing that the company you will consider suitable in many cases.
His recommendations are addressed to all audiences, although, as he explains, those who, after having worked for many years, now do not find a job tend to feel more insecure. Still, he insists that "the advice for a 25-year-old or a 50-year-old is the same." Among them, reinventing yourself, whether you have several in a sector, or if it is a question of working in a different area than the one you considered while doing your degree. It is about adapting to "jobs that are in demand, such as those in the IT sector or some lifelong trades" that are on the verge of disappearing, while "there are many job offers that are not being filled". "There are companies that have programs related to new technologies, for example, and you may have talent, but if you've never tried it, how do you know you're not good at it?" "People must open their minds so as not to feel that working on something else is a failure."
Even so, what this young woman from A Coruña considers fundamental to be selected for the position is to show herself in the interview with motivation and self-confidence: " If you want to, if you would hire yourself and go to the interview convinced that you can do the job " is the ideal situation. The problem is usually that the succession of refusals in the selection processes can undermine self-esteem and confidence. That is one of the reasons that led Eva Porto to create these videos: " When I started looking for work after graduating I felt insecure, but as a result of receiving so many messages I have realized that there are people who feel that way multiplied by 10 or by 20 ′.
Beyond the candidate skills that each one can work for, Porto insists that it is important to carry out self-candidacies. In one of his publications on TikTok, he explained that around 80% of job offers are not published, so it is the job seeker himself who must send his resume to the companies in which he is interested.
With almost half a million followers on each platform, Porto has received a multitude of offers to sponsor products. So far, he has only accepted two. One, from an English page that she herself has used, and another, from a training company. "The people of my community are in a vulnerable situation and I am not going to sell them anything," he confesses. A few months ago, she was asked by a university to advertise a master's program, but after doing some research on it, she did not feel comfortable recommending a program that she had not taken and did not know about.
" Advertising seems very delicate to me and I don't want to base this project on it either. If it can contribute something good to my community, okay, but always have it related to job search. " Saying these words, she recalls another offer from a food company that tried to convince her by assuring that "people looking for a job don't have time to cook," but Porto is clear about it: precisely, time to cook, they have, and on top of that. they need to save. "My Instagram account is to help people find work, it is not the telemarketing," he says.
In his goal of being useful to his followers or any user who visits his profiles, Uxío Marcos, another young man and friend, with experience in entrepreneurship, helps him, who has insisted on the need for him to develop a realistic plan that allows him to live of this in order to dedicate 100% of their time to it. "At first I wanted to do everything for free because, if not, I felt bad, but Uxío told me that if I really wanted to do something great that would help people, I had to think of a viable business model." The course online that they have developed It costs 40 euros, a price on the average of other online trainings such as those offered by Coursera or EdX and that allows its creator to live on that income and continue investing in the project, without having to resort to sponsorships that they distrust.
His work on the networks is not only focused on offering advice to prepare the CV or to make a good impression in an interview, but also aims to eliminate the clichés that undermine the confidence of anyone who is unemployed or looking for a job. alternative. One of those great evils that mainly haunts the youth is the concern about not having enough experience, which can prevent them from being selected for the position. However, Porto questions this approach: " Was someone who says they have no experience born yesterday? It is as if professional experience gave you a talent or potential, but you already have that, you just need to put it into practice with work. It does not mean that you have nothing to contribute. "
In fact, he believes that work experience at McDonald's, for example, can be enormously valuable for any other job. " How many clients can you serve in one day? Surely you have patience, creativity, the ability to solve problems and work as a team … If you really believe that this work has brought you all that and you realize it, you will know how to sell it, " he insists.
The curriculum itself is still "a kind of advertising brochure, not a biography in which everything has to be included." The objective is to "sell" and, depending on what job it is for, it will be necessary to include what can "convince the other person".
The person hunting for a job has the possibility to go a step beyond the formal – the resume, the interview or the scroll in Infojobs― and build a network of contacts that can bring you new opportunities. "If you contact companies through LinkedIn or join groups in your sector, go to events, talk to people and interact, one day someone in your network may see an offer and notify you. That is not the same, the networking, than plugging, " he explains.
The rise in social networks of this A Coruña psychologist has been meteoric if one takes into account that its content is of a very specific nature: everything revolves around the search for a job, unlike the channels that tend to be more popular, such as comedy, dare or beauty. Although precisely TikTok favors the viralization of content, this was not the first option that Porto had in mind to build its platform. He tried it on YouTube, where he got to upload four videos. " I realized that I had no real scope. In a situation like this you can think that you are not worth it, but I decided not to stay with the first and see what I could do differently, " he explains. The same could be said of job interviews: don't stop after the first disappointment.
You can follow EL PAÍS TECNOLOGÍA at Facebook and Twitter or sign up here to receive our newsletter semanal.



elpais.com
Eddie is an Australian news reporter with over 9 years in the industry and has published on Forbes and tech crunch.