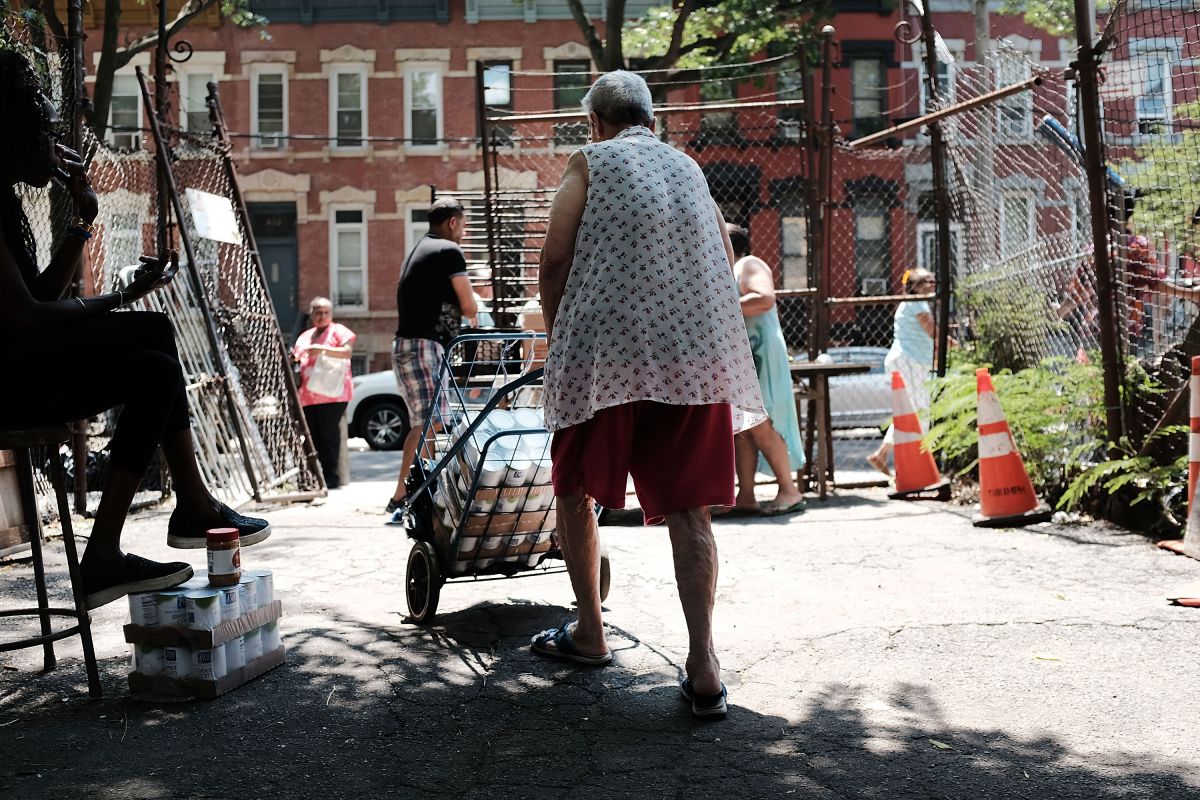 Just after the New Year, one of my neighbors approached me in great distress. He is in his 40s and has lived in our building for 15 years. He had received a letter saying that his lease will not be renewed and that he would have to leave the community that he has called home for decades. And she was not alone, many neighbors in our building received the same letter. Across the Bronx and upstate Manhattan, people were getting that letter, too.
This story was heartbreaking, but unfortunately not unique. Today, our ZIP code leads the City in number of evictions filed * during * the State's moratorium on evictions, with an estimated 2,500 families involved in an eviction case in the Northwest Bronx (estimated from this source). Here in the Bronx, 96% of our neighbors are renters. Before the pandemic, 70% of our households were just an income shock from being behind on rent (source) and therefore at risk of eviction. COVID-19 has made this precariousness even worse.
Our community is 74% Latinx and 20% Black. These housing trends are not a coincidence; They are by design.
Our solutions must also be designed. To truly treat our hard-hit communities of color with dignity in recovering from COVID-19, we must go beyond simply fighting evictions. While we must do everything in our power to keep tenants in their homes, the problem is broader and deeper than evictions, and our solution must solve it.
We must understand fair housing policy as a form of long-overdue repairs for our communities. We must treat housing and home ownership as something that protects the most economically vulnerable from displacement, opens opportunities for home ownership, creates social housing that is deeply and permanently affordable, promotes racial justice, and builds wealth in communities without investment for a long time.
Most of the mechanisms that we would need already exist. Over the past two decades, the City has built or preserved hundreds of thousands of affordable housing units. All we have to do is shift existing capital resources from rental preservation creation to property, with the clear goal of benefiting those who historically have no wealth creation opportunities.
To do this, the Tenant Purchase Opportunity Act (TOPA) and the Community Purchase Opportunity Act (COPA) of the state and city, respectively, must be passed with the resources provided to enable individual tenant associations and community organizations in neighborhoods like ours, with community land trusts and non-profit affordable housing developers, the right of first refusal when a property goes up for sale. In immediate cases of speculation-driven purchases now as in my building, leaders must come together to demand a voluntary implementation of TOPA / COPA now, where if tenants want to buy, they are provided with all the tools to do so. Additionally, the City could foreclose on properties with irresponsible and speculative owners who fail to provide basic services and allow buildings to deteriorate. Once owned by the City, these buildings could be converted to affordable home ownership and other forms of social housing, in partnership with neighborhood organizations.
In Washington, we must partner with members of our federal delegation to ensure that low-income housing tax credits are flexible enough to support homeownership and social housing projects.
Finally, as we strive to build equity through homeownership, we must also build equity in the very process of building and rehabilitating homes. All housing must be built accessible to people with disabilities and must be built and preserved in a way that produces good jobs with benefits.
Why a repairs framework? This country was built on the foundation of slave labor, and after emancipation, the oppression of communities of color was codified in different forms of government: the Jim Crow laws of the South and segregation that led to unequal access to wealth creation opportunities by the federal government and the private sector.
Red lines and unequal access to financing programs like those in the GI bill effectively blocked access to financing and excluded countless people of color from receiving mortgages and buying homes. Home ownership is one of the main ways that wealth is passed down generationally, and this has had a devastating impact on perpetuating the racial wealth gap in the United States.
Even when communities of color began to make home ownership gains in the early 2000s, many of the loans were obtained through predatory subprime lending practices. During the Great Recession, families of color saw huge transfers of wealth outside of our communities. Since then, real estate cycles have allowed the accumulation of great wealth by corporate owners, leaving tenants, often of color, increasingly vulnerable to speculative activity.
If we hope to undo a racist legacy of housing discrimination, we need solutions that are as specific as the racist policies that brought us here. As policy makers, we must implement policies now that protect residents from the many waves of speculation and threats of eviction ahead.
A housing as reparation framework helps to begin to address the past, but also looks to the future, as an important step in closing the racial wealth gap that protects families and communities from gentrification and displacement. Putting homeownership in a redress framework is critical to my African and Latinx community, and to communities like ours throughout New York.
This is possible. This is doable. Now is the time to pivot the City's housing resources to produce more homeownership opportunities for communities of color.
Pierina Sanchez, is a candidate for the City Council for District 14.

eldiariony.com
Eddie is an Australian news reporter with over 9 years in the industry and has published on Forbes and tech crunch.