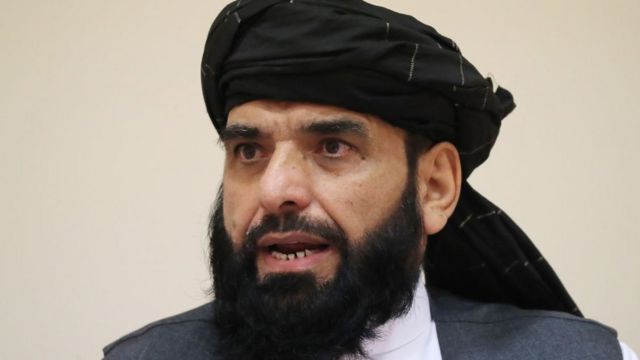 Suhail Shaheen, a spokesman for the Taliban, told the BBC in a live television interview that the militants want a "peaceful transfer of power" in Afghanistan in the next few days and that they will not seek revenge.
This Sunday the president of Afghanistan, Ashraf Ghani, left the country shortly after the advance of the Taliban on the capital, Kabul.
After hours of siege at the city gates, the Taliban announced the takeover of the country.
The offensive comes amid the withdrawal of US and foreign troops after 20 years of military operations that did not expect the rapid collapse of government forces.
The Taliban were ousted from power in 2001 after a US-led military incursion, but little by little the Islamist group has been regaining strength across Afghanistan.
The rebel spokesperson called BBC journalist Yalda Hakim when she was on the air on the BBC's international channel.
In a lengthy conversation, she pressed him on the Taliban's plans for the country amid concerns that fighters impose a strict interpretation of Islamic law, including corporal punishment and a ban on girls from going to school.
The following is an excerpt from that interview.
What planan do the Taliban do in the present and whatIt's follow after?
We assure the people in Afghanistan, particularly in the city of Kabul, that their property and their lives are safe, there will be no revenge against anyone.
We are the servants of the people and of this country. Our leaders have instructed our forces to stay at the gates of Kabul, not to enter the city.
We are waiting for a peaceful transfer of power.
When you speak of a "peaceful transfer of power," what do you mean and what is likely to happen?
It means that the city and the power should be handed over to the Islamic Emirate of Afghanistan and then we will have an inclusive Islamic government where all Afghans will have a stake.
When you talk about participation, do you mean one person, one vote?
Participation means that we will have other Afghans who will be part of the future government.
But will they all be part of the Taliban government? The Islamic Emirate as you described it?
Yes, there will be an inclusive Islamic government.
There is a lot of concern on the part of women in Kabul, in Afghanistan. Many They have written to me, they have sent me text messages, because IeIt is your job to reestablish the regime of the 90s, under which women could not attend schools, they could not work, what can you tell us about it?
We have taken over many parts of the country and in many parts of the country there are schools for girls. The girls continue to study.
But in Herat, for example, women tell me that when they arrived at the university gates yesterday, Taliban fighters told them to leave and that there would be instructions as to whether or not they can attend. That's what they are telling the women of Herat…
No, what they are saying is a fallacy. Women can have access to education and work. Of course they have to wear the hijab.
When you talk about the hijab, do you mean a veil on the head or a full veil that covers their faces? (burka)?
There are many types of hijab, burqas are just one of them.
It is said that there is a disconnect between lor what is happening in Doha, where the political center is of the Taliban, and what happens to the combatants on the ground. You tell me that the policy is that women can go to school, but in Herat we are seeing women displaced from schools. Are your fighters listening to you?
Yes, they are listening to us. If there are individual cases they will be investigated.
We are also hearing accounts that Taliban fighters are going house to house terrorizing people who worked for Western forces or who are in one way or another associated with Western institutions …
That is not true. We have already sent you our statement that reflects our positions. Those are the policies, but there are many rumors and false statements from our opponents with the aim of smearing us.
I would like to understand the difference between what the fighters are doing and what you are telling them to do. You have raised your concern that your group's reputation will be defamed, but there are images showing militia fighters who took on the Taliban being tortured and killed. We have seen public executions in some places. Will that kind of thing continue to happen in Afghanistan in the days and weeks to come?
No, there is no retaliation, there is no revenge. We have released statement after statement …
But I have been with you in Doha and we have talked about these things, the statements and the policies, but what is happening to people on the ground is different. They are telling us to fightnThey are terrorizing them. For example, a government worker was killed last week and the Taliban claimed responsibility. Will the targeted killings of people who disagree with the Taliban or who speak out against you continue?
Perhaps those reports you are receiving are exaggerated to mislead the world's opinion of us. Each specific case should be thoroughly investigated. What I'm talking about is our policies. Those are the policies that we are following and all of our members should be following them.
Anyone who does not follow our policies will be punished according to the law.
Looking to the future,dShould the people of Afghanistan expect to live under the law shasía Taliban-style?
Of course, we want a government, an inclusive Afghan government.
Will there be Taliban courts of justice? Or will there be judges? Can women be judges?
There will be judges in the courts, but what kind of positions will women have, that is a decision that the future government will make.
So the government will decide where people can work and where they can go?
That depends on the future government. But there will be schools and we have to work in the educational sector, in the economic sector. There will be a lot of work to do. But the policies are. The general framework is that people will have access to work and education.
And what will happen to the religious police? The last time we spoke, you referred to the imposition of a religious police in Afghanistan charged with monitoring people's behavior …
The religious police (inaudible) will be there to help the people, there will be mechanisms. If inappropriate things occur, that will be corrected and people will be removed.
Will they provide a safe exit for people who want to leave the country now?
No one should leave the country because we need all the talents and capabilities in the country. We will put an end to the chapter of war and we will enter a new chapter of reconstruction, peace, tolerance, peaceful existence, national unity. We need all Afghans to stay in the country and participate in its construction.
Will you be allowed a women who leave their homes alone?
But in the past they were not allowed to go out of their homes alone …
Not the case, they walked the streets.
The women we have spoken to say that if they left their homes without a man who was the father, brother or husband, they were beaten by the Taliban religious police …
No, that was not the case and it will not be.
Do you want to reimpose the type of government you had in the 19 years90?
First, it will be an Islamic government, we have fought for that. Second, if there is inappropriate behavior, it will be seen, revealed, and corrected so that there are no injustices.
We have heard accounts that in some places under the control of the Taliban, freedom of the press is not allowed, only news that follows Islamic law is allowed. a respect freedom of expression?
It is very important that in an Islamic government there are free media. People must have freedom of expression in light of Islamic law.
Can the media be critical of your regime?
Yes, of course, if there is any kind of fault, they should be critical, otherwise how would we correct ourselves?
What would you say to women who are scared by the restrictions you imposed on the 19 years90?
They shouldn't be scared. We are committed to your honor, your property, your right to education and work. They will be in a better position than in the past.
Regarding executions in public, stoning of women for adultery, amputations of hands and feet for robbery … I have spoken with Taliban commanders who have told me that this is the kind of law they want to impose. Is that your point of view?
On Islamic rules, since it is an Islamic government, that will depend on the government and Islamic laws. The law will define the punishments.
From your point of view, will they include executions, stoning and amputations?
I can't say right now. It will depend on the courts and judges.
Who will appoint the judges?
They will be appointed according to the law of the future government.
The government will appoint the judges it wants …
Of course. Each government has its procedure on how to appoint judges in any country.
Why have you asked your fighters not to enter Kabul? Is it because they want to avoid bloodshed?
Yes, we want to avoid bloodshed, destruction, looting. We have instructed our forces to stay at the gates of Kabul.
Now you can receive notifications from BBC Mundo. Download our app and activate them so you don't miss our best content.

www.bbc.com
Eddie is an Australian news reporter with over 9 years in the industry and has published on Forbes and tech crunch.