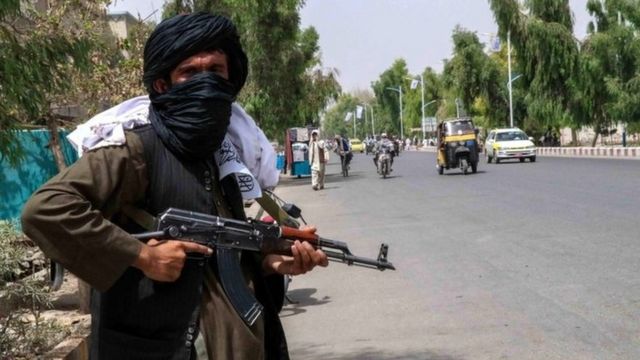 Afghans are waking up to a new normal without knowing what is normal.
As the Taliban have taken control of Afghanistan, people begin to occupy the streets again, fearful, with the uncertainty of what can happen under the new regime.
Especially women they live in anxiety. Under sharia, Islamic law, there are harsh consequences for things as simple as being seen in public with your head uncovered.
People feign normalcy on the street, says Nasim Javid (not his real name), an Afghan from Mazar-i-Sharif, one of Afghanistan's main commercial cities.
"But nothing is normal. I can feel the fear in my bones when I go out. The Taliban are everywhere, "he told the BBC.
The heavily armed militiamen are trying to talk to community leaders to reassure people.
But "fear can be felt everywhere," says Javid.
A surreal "new normal"
Secunder Kermani, the BBC's Afghanistan correspondent, says that beyond the Kabul airport – where there is "absolute chaos" due to the evacuations of foreigners – things seem to be calmer.
Businesses have started to reopen, giving Afghans in the capital a certain air of normalcy.
"There is more traffic on the streets and more people, although not as there usually is. In particular, there are fewer women. I have seen some who do not necessarily wear the burqa that covers them completely, "he says.
But life is occasionally interrupted by the constant patrol of heavily armed Taliban men, who say they are there to "prevent looting and riots."
"What is feared is that in the days and months that follow the Taliban will impose stricter restrictions on women," explains Kermani.
Local television stations have stopped broadcasting music or movies.
Erased female faces
The Taliban have said that women will have rights in Afghanistan under sharia.
But women say it's hard to interpret what that means given the past of the Taliban regime, which in the 1990s imposed restrictions on the lives of Afghan women.
Zeb Hanifa (not his real name) has been making desperate calls to find a way out of the country.
"But so far there is no luck. I am begging foreign countries to take us out," Hanifa, who is a communications professional, tells the BBC.
"We all keep imagining horrible scenarios like not being able to work, being married to Taliban fighters and being reduced to giving birth to children", regrets.
She came to Kabul from another province because she believes that "the capital is the best of horrible options" for women to live in Afghanistan under Taliban control.
Staying home is no guarantee
A young student from Kabul says she prefers to stay home.
"[Los talibanes] They have asked everyone to go back to work, but people are afraid to leave home. We all try to stay inside, "explains the young woman, who asks not to be identified for her safety.
Being at home is no guarantee of being safe.
"House searches continue despite the amnesty announcement. There is so much disorder and uncertainty that that statement still does not match his actions", Explain.
A Taliban official tells Reuters that the group "cannot be blamed" for the chaos and violence in Kabul, as they are working to maintain law and order.
It is the "Maximum priority" of the group, he assures.
Despite the fact that the militia has said that they will guarantee women's rights, their religious interpretation of the secondary place they must occupy in the Islamic Emirate of Afghanistan that they intend to create is already beginning to be seen.
Journalist Masih Alinejad posted an example of the new rules on Twitter.
"Yesterday, the Taliban spokesman, Zabihullah Mujahid, made headlines by stating that they respect women's rights. But today this is the reality in Kabul: first they delete photographs of women and then they will remove women from the public sphere." wrote.
The faces of women in a beauty salon were being hidden with paint.
And as time goes by, reports emerge that in some regions women have been rejected from their jobs and others received punishments for breaches of sharia.
This is while the United States calls on the Taliban to "guarantee the protection of women and girls and their rights."
"We will closely monitor how any future government guarantees their rights and freedoms," said the secretary of state, Antony Blink.
"You have to cover yourself completely"
Journalist Sakina Amiri, from the Etilaat Roz daily in Kabul, had a first-hand experience of what might happen in the near future.
He had an interview with members of the Taliban on Tuesday.
"They said, 'First, we don't approve of what you're wearing, you have to cover yourself completely'. Even my face should not be seen, "Amiri explains to the BBC.
Afghanistan has a young population and many do not remember the last time the Taliban were in power before 2001.
But Amiri says the "new normal" is part of what they have lived through for a long time.
"You have to remember that after decades of war, worrying about life and what might happen the next day it is part of daily life of all Afghans, "he says.
Now you can receive notifications from BBC Mundo. Download the new version of our app and activate them so you don't miss out on our best content.

www.bbc.com
Eddie is an Australian news reporter with over 9 years in the industry and has published on Forbes and tech crunch.