Shadab Rahimi, Khatera Safi and Subot Kohi left Afghanistan to escape the islamic fundamentalism imposed by the Taliban. Refugees in Spain, they remember and recount the path that led them to leave everything behind to preserve their lives.
Shadab Rahimi decided to leave Kabul when he saw a man hanged from a crane near his home. Now live as a refugee in Leganés, where he takes Spanish classes. He likes to "keep his beard clean shaven" and walk at night in a park near his house, while he thanks God for the fact that he is still alive, because he feels that "nobody is going to kill him" here.
Before the arrival of the Taliban, he worked as a computer scientist in an American company and taught English to children in the community. He lived in a house near the airport with his parents, his wife and one of his four sisters. He says that, although the protection over them had to be constant, since Afghanistan was never a totally safe country – he himself was victim of an attack terrorist-, «all were able to study at the University». Today this would not be possible.
He sensed that the signing of the Doha Agreement in 2020, which meant the de facto withdrawal of US troops from the country, would return terror to its streets. When it became effective, he followed on television how the Taliban, starting with Kandahar, subdued province after province until taking the Kabul Presidential Palace on August 15, 2021.
That day Shadab saw some of his friends running to the airport. They shouted at him: "Come with us, escape and save your life." Without imagining all that awaited him, he laughed and returned home. It was the next morning that he started to get nervous. None of his acquaintances answered the phone, people were fleeing in military planes and he began to listen gunshots and explosions outside your house. His mother did not allow him to go outside, "you are our only son. If you die, what are we going to do without you?
The situation in the Afghan capital was already untenable. "The Taliban patrolled all the streets, beating children and women and shooting people. when i saw that man hanging from a craneI went back home and told my parents that we should hide and pack to run away," says Shadab. Following the instructions of journalist Antonio Pampliega and Mustafa, a translator for the Spanish Army, they had to go to the airport with a red garment so that the Spanish military could identify them.
With great difficulty, as Shadab's mother was in a wheelchair and his sister was pregnant, they drove to the airport. A hundred meters from the main gate, people were crowding the sides of the road. "I had never seen anything like it, it looked like a zombie movie." The Taliban had blocked the main entrance: "They started shooting in the air, everyone started running."
chaos at the airport

At that moment, Shadab, who was behind the wheel, turned around and fled to find another way, leaving behind the taliban militias. When they managed to reach the area from where the military planes were taking off, they entered the crowd. "There were more than a thousand people packed together, sleeping on the ground and collapsing the access. We couldn't get to the gate, we couldn't go back to where the Taliban were, and if we stood still we were crushed by people coming from behind," he says.
After waiting several hours, people began to move forward. "It was the first time we were near the gate," says Shadab. Once there, a Bulgarian or Portuguese soldier, she doesn't remember exactly, fired into the air so that her mother and her sister could pass through the crowd. "There were people who handed over their children to the military. They were very hard moments. My wife left her entire family behind," he says. Finally, Shadab and his family managed to get on the plane: «We had managed to leave cruelty behind. It was the first time I relaxed. I felt like a bird escaping from a cage."
On August 23, 2021, after making a stop in Dubai, they arrived in Spain. Shadab tells, with glassy eyes, that he will never forget the first people who welcomed him: «Now I think like a person who is alive. There, when I went to sleep, I just wish I could wake up». He lives with sadness the situation in which his country finds itself, «there is hunger, violence… if you are against the Taliban, your neighbors denounce you and kill you at night. Before religion is Humanity». Before walking home, he comments on the war in Ukraine: "It's a European country, Afghanistan is in Asia. I am aware, first you help your neighbor, but we cannot forget who is there.
KHATERA SAFI (27 years old)
"The Taliban want to expel Afghan women from society"
A woman, prosecutor and player on the national Paralympic basketball team, Khatera Safi was under threat from the first moment the Taliban returned to power. "The day they arrived in Kabul was one of the worst of my life. I was fighting for women's rights in afghanistan. Now the Taliban want to expel us from society », he says. He tried to escape the country as soon as the capital fell, with the first operation of the Spanish Army, Antígona I, but he did not succeed: "I waited three days at the airport, it was collapsed, the Taliban were beating everyone. There was an explosion and since I can't run I fell to the ground hurting my knees. people crushed me. So I went back home to hide."
She and her family had to change their location, as many neighbors ratted out dissidents to curry favor with the new regime. During two months they lived hidden, fearing that someone might kill them for Khatera's work as a jurist, contrary to Islamic law. "I felt like a prisoner. My father sometimes went out for food, but he didn't want the Taliban to kill him because of me", he says.
There's no hope

In October 2021, with the help of the organization 'Too young to wed', he fled to Pakistan with one of his brothers, where they spent five months before flying to Spain. However, she had to leave behind the rest of her family, who still remains in Afghanistan: «When I was finally able to come to Spain, she was excited and sad at the same time. I'm not entirely happy here. I am worried about my family, they are still in danger. They live in hiding, cannot work and have no money to buy food. I hope that the Government of Spain can help them escape.
Khatera is pessimistic about the future of Afghanistan and Afghans. Due to his specialization, he knows well the practices of the Taliban, as well as the 'Sharia' that has governed the country for a year. "There is no hope for Afghans, especially women. They are not allowed to study, they cannot work, they are mistreated. They live in fear of expressing themselves, they cannot be independent. They need help », she affirms.
Now, his main concern is to find a job to pay for the needs of his relatives. train every day in the gym near the refugee center where he lives. She takes Spanish classes, although she complains that "it's much more difficult than English." He hopes to be able to move to another Spanish city soon, continue studying and play basketball: «I want to have an active life in Spain. Find a job as soon as possible, play basketball again, which is my passion, continue studying Law and, if possible, one day become a prosecutor.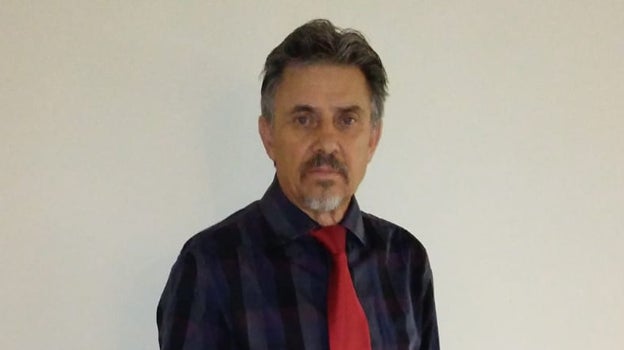 SUBOT KOHI (67 years old)
"The international community has sold out the Afghans"
Subot Kohi did not leave Afghanistan with the last arrival of the Taliban, but four years before. He was a journalist in Kabul, which, like his atheism, put him in the point of view of fundamentalist groups Islamic. "The Koran has paradoxes that do not conform to the present. It was written 1,400 years ago… », he affirms. He lost 14 colleagues in a terrorist attack near the US embassy. After that he arrived in Madrid, where he runs a restaurant with his wife.
"During my life I have left and returned many times to Afghanistan. Now I don't think I can. The future of the country is dramatic, radical Islamism has prevailed». Subot says that before there was work, business, women could study, elections were held, there was the press… «Now people struggle to put a piece of bread in their mouths. The intellectuals, the progressives, the people who are simply not fundamentalists live in hiding. Children and women live in poverty and insecurity."
He followed the fall of the Afghan regime into the hands of the Taliban on television. He was also in contact with friends and relatives who had not managed to flee the country. In fact, he is currently trying to get the Home Office rescue two families who live in fear, since they collaborated with the Spanish Army.
"The international community has sold out the Afghans. The United States has left the population with no way out », she affirms. He is not against the withdrawal of Western troops, but blames the collapse of the Afghan Army on what was agreed in Doha: "The Afghan government was deceived, they told senior officials not to fight against the Taliban. They could have resisted and the situation in the country today would be different.
Subot says he has lived calmly and happily since his arrival in Spain. "I want to thank the treatment I have received. You have an excellent country with a strong culture. I don't feel out of placeI don't feel like a foreigner here," he says. He does complain, however, about the neglect suffered by the Afghan cause: «When the war in Ukraine started, everyone focused on that. It is normal, it is an important question for the European economies, but we have to think about the people who need to eat in Afghanistan».

www.abc.es
George is Digismak's reported cum editor with 13 years of experience in Journalism