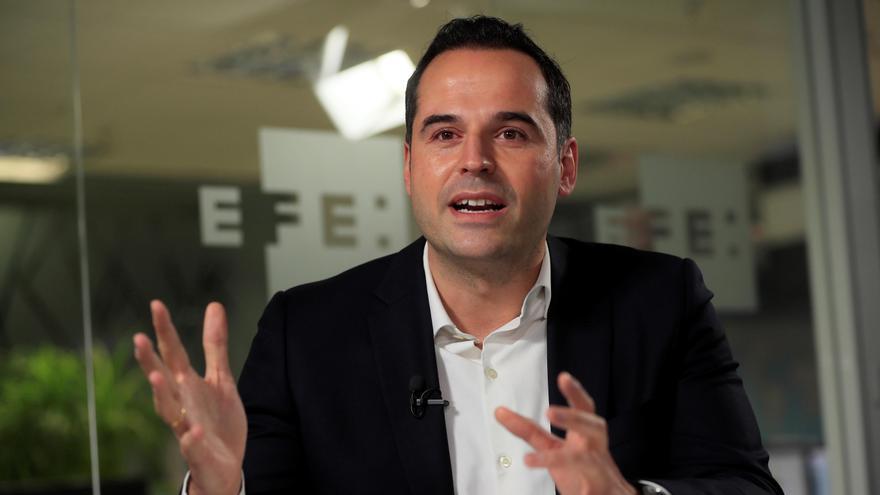 The former vice president of Madrid Ignacio Aguado (Cs) has accused this Friday the Madrid president, Isabel Díaz Ayuso (PP), to "betray" the Government agreement with Citizens: "It's as if you come home and see your partner in bed with someone else and, when you ask him for an explanation, he tells you that he did it just in case you were in the office with someone else."
"I was in the office working. And what are you doing with someone else in bed?" Aguado has added in an interview with Efe following this simile.
In his opinion, Ayuso, which is "an expert in turning the tables", is trying to "deceive" public opinion and make him believe that he has called early elections because there was a motion of censure in the making by Cs and PSOE against the PP, as in Murcia, to evict it from the regional government, when this, according to Aguado, "is deeply false."
Aguado, what ensures that Citizens had not had "any conversation" with him PSOE in Madrid, argues that Ayuso wanted to call early elections for "more than a year" and has found the "excuse" with what happened in Murcia, where finally three Citizens deputies have frustrated the motion by agreeing with the PP.
"He was looking forward to fulfilling his whim of summoning elections and trying to become I do not know very well if the new empress of Madrid, because she has said that she wants to govern alone, "something that" says little about her, "she added." She lives on another planet, "she explained.
In your opinion, Ayuso has been "deeply" wrong and his decision "will be paid by thousands of self-employed people, thousands of businessmen, thousands of families, that they will not receive the 250 million euros of direct aid for the hospitality industry, there will be no youth subscription at a reduced price for those under 30 years of age and there will be no purse card for vulnerable families ", aspects collected in the 2021 budgets that were in negotiation with Vox and that will not go ahead.
"He has betrayed the pact"
The PP and Ciudadanos signed a Government agreement in the Community of Madrid for four years, and "Mrs. Ayuso has unilaterally broken it and betrayed" the pact when "the people of Madrid wanted a government like the one that existed and that worked," Aguado stressed.
The former vice president has indicated that Ayuso informed him of the dissolution of the Assembly and the calling of early elections last Wednesday at the meeting of the Governing Council and that he later learned of the dismissal of all Citizens councilors, including his own, "through the media."
On the possibility of supporting the motions of censure against Ayuso presented by the PSOE and Más Madrid, he said that "Right now we are in a political and judicial paralysis caused by Ayuso's decision to call elections", since the Bureau of the Permanent Deputation of the Madrid Assembly has appealed the decree of the president before the Superior Court of Justice of Madrid.
"Until there is an answer in the courts and they tell us which way we should go, we will not make any decision," said Aguado, who does not know if the appeal will succeed.
In addition, he regretted that "due to Ayuso's whim, the situation is bogged down, and what 48 hours ago was a region with certainty and stability has become a region mired in uncertainty and where there is no clear horizon for the people of Madrid ".
Asked if he would agree with Ayuso again if there are finally elections, he has not ruled it out, since he has indicated that "always" has put the general interest above personal or electoral.
Nevertheless, considers that the PP and Vox have been "dynamiting" in recent months that the budget agreement came before because "deep down they want to govern together" and, therefore, "today it is more important than ever that there are Citizens, that we can lead a government in the Community of Madrid and that Ayuso's natural desire to surrender to the arms of Vox does not is fulfilled ".

www.informacion.es
Eddie is an Australian news reporter with over 9 years in the industry and has published on Forbes and tech crunch.