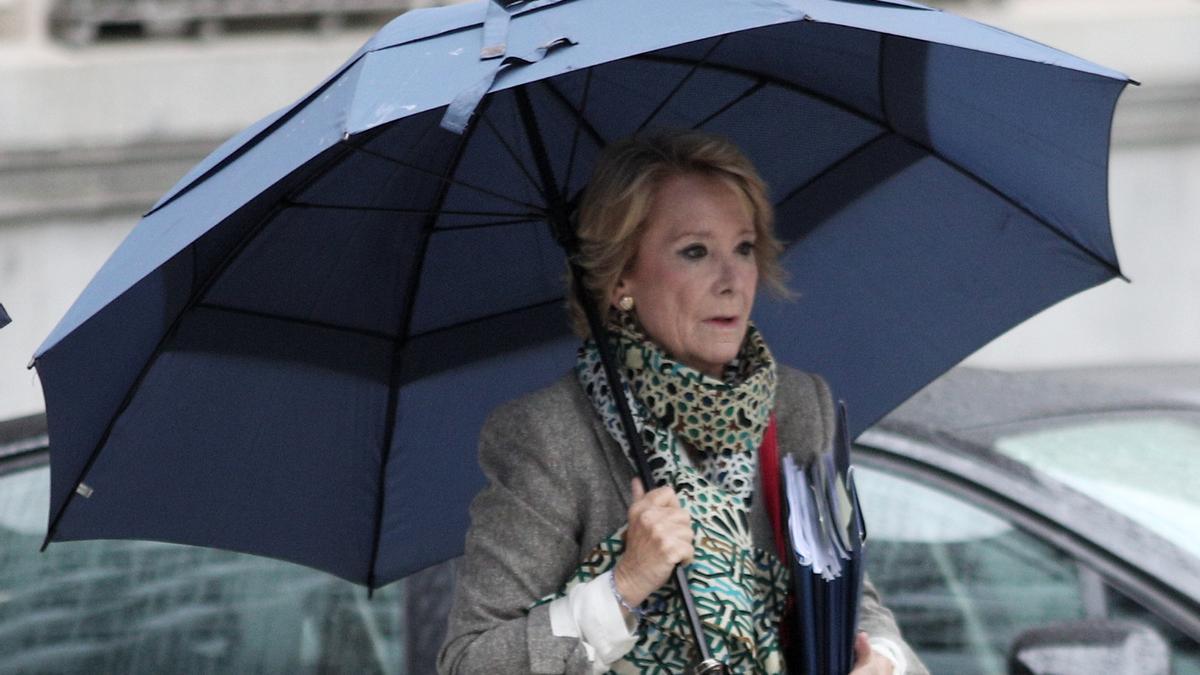 Former Madrid president Esperanza Aguirre has accused former PP treasurer Luis Bárcenas of "muddying" the Púnica case with lies about him. alleged payment of 60,000 euros by a businessman to incriminate her and he has stressed that, even if it were true, there would be no criminal reproach, because "it would be prescribed."
His defense has presented a brief before the court of the National High Court investigating this case, in which he is accused by the alleged irregular financing of the PP of Madrid, where he accuses Bárcenas of lying "consciously, seriously and especially rudely" out of "pure desire for revenge" or in search of prison benefits.
He does it a week after the former treasurer, in prison by Gürtel, incriminated her in that alleged irregular financing with statements that Aguirre echoes in his writing, where he recalls that he will be sued for false testimony.
Bárcenas declared that a builder handed over to his predecessor in office, Álvaro Lapuerta -now deceased-, a "small brown envelope" like the ones used in "the party's national treasury", with 60,000 euros, "which should have been in 500 bills because it was not very bulky", for "Esperanza Aguirre's electoral campaign", although he did not know if it was in 2007 or 2008, in Madrid's Genova street.
Upon receiving it, he explained, They went down to the office and Lapuerta gave it to Aguirre in the presence of the former Madrid councilor Francisco Granados and the former manager of the PP of Madrid Beltrán Gutiérrez. According to Bárcenas, he told him "who is the donor" and "the amount" and asked him to call him to "thank him" and to make sure that "the requirement" that he had "imposed" was met: "that the amount he ended up financing the electoral campaign in Madrid. "
"Get the amount, give it to us, I take an envelope, with which we usually distributed the envelopes, I put the amount and in that envelope, which is a brown envelope, it is delivered hand-to-hand directly to Esperanza Aguirre", added Bárcenas, who specified that he did not count the money because it is never made" and less in front of the donor "as it was" a lack of delicacy. "
A version that, according to the former president, in addition to being false, would not have "virtuality", because, if the facts were true, they would have prescribed; and also underlines the contradictions of the former treasurer due to "the problems of the direct and improvisation", since at first he said that they received an envelope that "should" contain 500 euro bills, and then he pointed out that it was he who put the money in.
"It is false," Aguirre emphasizes, that in 2007, 2008 or "any other time" he received cash or they have informed him that a businessman had donated money "to finance any election of the PP of Madrid".
It provides a judicial statement from the businessman referred to by the former treasurer, Luis Gálvez, in which he denied knowing him or Lapuerta, having given money to the PP or having been at headquarters.
Aguirre's defense emphasizes that, in his opinion, the former treasurer and others convicted by Gürtel defended by the same lawyerThey are following a "perfectly coordinated strategy" to offer "their services" to the Prosecutor's Office and lie without evidence; the "objective fact," he says, is that they are obtaining "such remarkably kind prison treatment" that only equates to that enjoyed by the "procés" prisoners.

www.informacion.es
Eddie is an Australian news reporter with over 9 years in the industry and has published on Forbes and tech crunch.