Dalia Ventura
BBC News World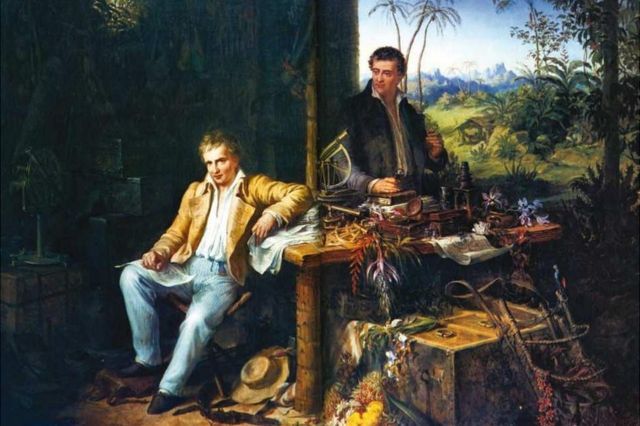 "Nonetheless"-wrote in a letter of 1848 Aimé Bonpland a decade before he died-"I am happy".
"Yes, my dear friend, I am a young and happy old man, living among flowers and loved ones. This wonderful America, full of contrasts, has bound me with strong ties. "
In that America he spent 47 of his 85 years of life, which began in La Rochelle, a coastal city in southwestern France, in 1773.
He studied medicine with the best of the time in Paris, and also with the most famous naturalists, a discipline in which he developed a deep interest that led him to the continent with which he would fall in love on one of the most colossal journeys in history.
For his exploits in the New World and for his great knowledge he became famous and received the highest honors in France and Prussia.
But over time, his name lost its shine, although his trace was never erased.
It is the name of a peak in the Andes of Venezuela, of a squid in the Mediterranean Sea, of a genus of plants and even of a crater on the Moon.
There are two specialized magazines, several streets in Latin America, a city and a market in Argentina named in his honor.
Yet often his life appears only as an appendix to that of his brilliant friend: the Prussian aristocrat Friedrich Wilhelm Heinrich Alexander, Freiherr (baron) von Humboldt.
Travel companions
The adventure began when he met Humboldt, the real Alexander the Great according to George Sarton -the founder of the history of science as an academic discipline-, since the one born in Macedonia in 356 BC "degenerated into a dictator."
With Humboldt, Bonpland made that trip to the equinoctial region of America in which, between 1799 and 1804, they covered some 15,000 kilometers, almost all through unexplored territory.
Despite many difficulties and tribulations, they returned with an immense amount of information that continues to bear fruit.
From longitude and latitude determinations to measurements of the components of the Earth's geomagnetic field; from daily observations of temperatures and barometric pressure to statistical data on social and economic conditions in Mexico.
Plus a vast collection of new plants.
Following his triumphant return to Paris, Humboldt ensured that credit was given to who, for bureaucratic reasons, had been described as his assistant, always underlining that Bonpland had been the one who had collected most of these plants and described 80% of what was found.
He obtained for him a pension from the French government and later found him a job with the Empress Josephine, the first wife of Napoleon I, as his chief gardener (and later intendant) at the Château de Malmaison.
The position was equivalent to being the chief scientist of a botanical garden.
The empress was an ambitious horticulturist who used the experts of the 18th century and the wealth and imperial reach of her husband to create a unique collection of exotic flora that grew to over 250 varieties of plants.
There, Bonpland was happyBesides collecting and classifying herbs and plants, he liked nothing more than planting them and watching them grow.
These practical activities absorbed him to the point of neglecting the pending task of writing about the trip, much to the frustration of Humboldt, the co-author of these indispensable and valuable accounts.
They had already published together, in 1805, "Essay on the geography of plants", and during the first year of their service with the empress, "Equinoctial plants", but it was not until 1814 that Humboldt and Bonpland were able to publish "Personal Narrative of trips to the equinoctial regions of the New Continent ".
And, as most scholars emphasize, Bonpland wrote a lot – in his numerous notebooks and letters – but published little. Writing down the minutiae of everything he observed made him passionate, but turning those annotations into a narrative for a book, not so much.
When Bonpland decided to leave France after the death of Empress Josephine, there were still issues in the pipeline.
Eventually Humboldt turned to another writer to convert his travel companion's writing into publishable text.
Return to your paradise
Bonpland dreamed of returning to America and for a time considered accepting the tempting offers made by his friend Simón Bolívar to go to Colombia.
However, in that boiling Latin America of the time, politics caused plans to change abruptly and he ended up accepting the invitation of Bernardino Rivadavia, the president of the United Provinces of Río de la Plata (later Argentina).
He set sail for Buenos Aires in November 1816, with his new wife and stepdaughter.
His first four years were not the happiest: Although he taught at the university, practiced medicine and, of course, collected plants, he had many financial and marital difficulties. Finally, He decided to leave the city and his family in pursuit of a life more akin to his interests … and he found it.
In an old Jesuit reduction in Santa Ana, near the Paraná River, he began to cultivate, among other things, yerba mate.
With their knowledge and a group of indigenous people, the plantation prospered.
But one day in December 1821 it was attacked and looted by 400 Paraguayans sent by José Gaspar García Rodríguez de Francia y Velasco, also known as Dr. Francia, who by then was already the Perpetual Dictator of the Republic of Paraguay.
The reason? He accused him of being a Buenos Aires spy in a conflict zone, as it was in dispute between the Argentine Confederation and Paraguay. However, many claim that it was because France wanted to have a monopoly on the yerba mate business.
The fact is that those who worked with Bonpland were wounded or killed, and he was chained and taken to Paraguay where he was taken prisoner, forbidding him to leave a small town, where he could only move freely within a radius of a few leagues.
For years, the efforts of the governments of France and the United Kingdom, or those of Humboldt or other personalities, were worthless, not even the threats of Simón Bolívar from going to overthrow the dictator and free his friend.
Finally, in 1829 France suddenly relented and gave Bonpland 5 days to leave the country.
Start over
Once again, because of the Perpetual Dictator of the Republic of Paraguay, he was left without what he had managed to create during the years deprived of freedom: "I had to leave an agricultural establishment in Paraguay in full prosperity"Bonpland said in a letter to a friend, detailing that he grew, among other things, sugar cane, cotton and yerba mate, as well as citrus and vineyards, and that he had cattle, horses and mules.
"I have also left a distillery, a sawmill, a smithy and a hospital composed of four rooms, where I had constantly sick".
He also left behind the friends he had made, particularly the natives whom he had cared for medically and with whom he had shared his life and knowledge. In addition, by order of France, he had to separate from his new family, which he had formed with the daughter of a chief of the Pañá family, with whom he had two children.
Faced with the offer to return to Europe, he reflects: "Accustomed to living in the open air, in the shade of the secular trees of America, to hearing the song of the birds that suspend their nests above my head, to sitting watching the pure waters of a stream run at my feet; What would I find in the most aristocratic and brilliant neighborhood of Paris?"
Answering himself that only one office decides: "I would lose what I love the most, (…), my plants that make my joy and my life. No no, this is where I must live and die".
Forests, fields and love
Bonpland first went to São Borja (today Brazil) and, when the war impoverished that land, he moved to Santa Ana (Argentina), on the banks of the Uruguay River, where he had forests to herb and fields to sow.
Not everything was peace: on both sides of the river there were warlike episodes, some very bloody, and on one occasion their stay was looted forcing him, again, to start over.
However, it was there that he had three other children with Victoriana Cristaldo, a widow from Corrientes who became his partner when she was 35 and he was 65.
Although he did not return to practice medicine as a profession, he always cared for those who needed it, which were many, and he made – and taught how to make – medicines with the plants that he identified as curative.
He never stopped the task that he had begun decades ago: to know, collect, describe and classify the American nature.
At 84 he was still excitedly writing letters to Humboldt about the flora of the continent that they had explored together..
A year later, he died, on May 11, 1858.
Their two deaths
The account of Bonpland's life has always been tinged with a tinge of magical realism, although over time, the boundaries between reality and fantasy have been marked.
It is said that he was the army doctor of the Argentine José María Paz during the Brazilian War (1825-1828), who participated in the Coalition of the Litoral against the Argentine military and politician Juan Manuel de Rosas, who was an agent for the French and the British during the Anglo-French Blockade of the Río de la Plata (1845-1850) and until it became involved in arms trafficking.
But perhaps the most picturesque thing is what they say happened after his death.
Apparently, Bonpland was taken in an agonizing oxcart from his home to the eastern city of Corrientes province that today is called Paso de los Libres.
The idea was to embalm his body there, watch it and take it to the provincial capital, to bury it with honors.
However, at some point someone stabbed the corpse.
One version says that it happened on the road to Paso de los Libres; another, which was while he was in the open air drying himself during the embalming process.
A third account that the one who perpetrated the strange (and redundant) crime was his brother-in-lawDiego Cristaldo, who arrived on horseback completely drunk during the burning chapel, greeted the deceased and, enraged because he did not have the decency to answer him, stabbed his embalmed body.
The fact is that the stabbing ruined the effect of the embalming, so his daughter had to bury him in the Paso de los Libres cemetery.
Later, he would inspire great writers, such as Gabriel García Márquez, in "El general en su laberinto", and Augusto Roa Bastos, in "Yo, el supremo".
Remember that you can receive notifications from BBC Mundo. Download the new version of our app and activate them so you don't miss out on our best content.

www.bbc.com
Eddie is an Australian news reporter with over 9 years in the industry and has published on Forbes and tech crunch.