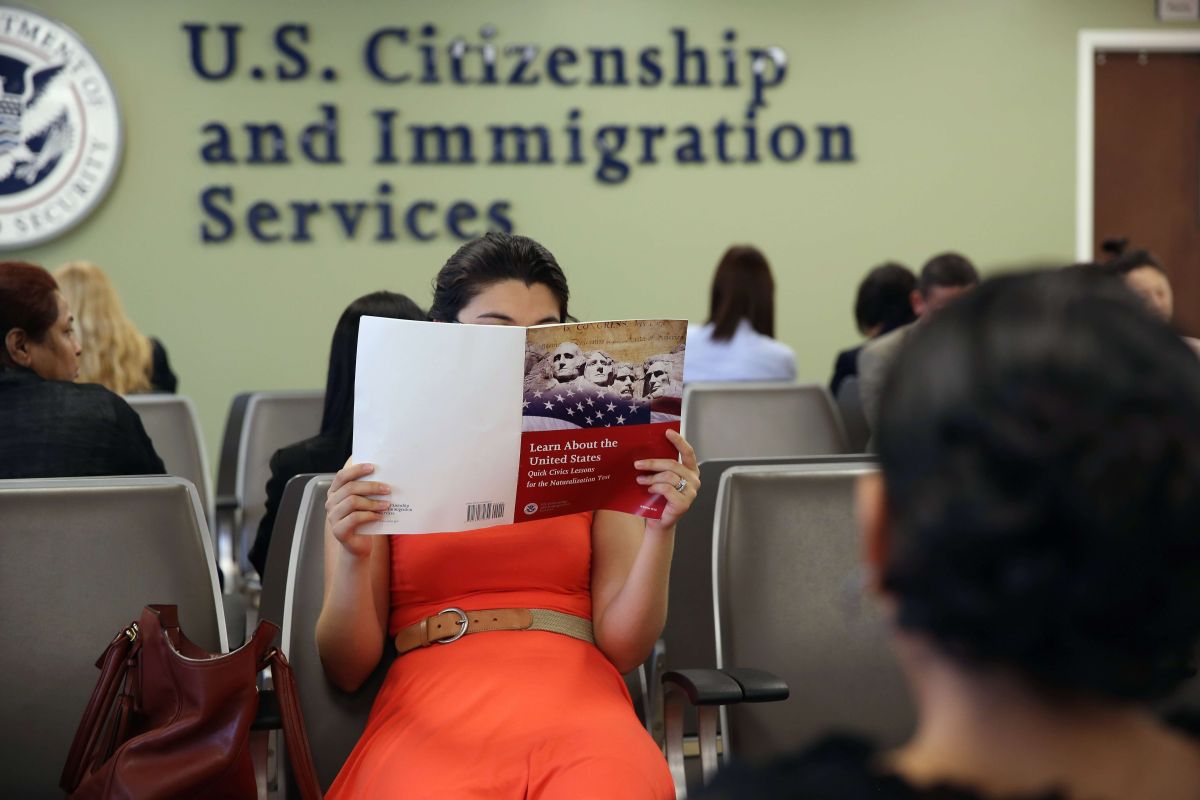 The new test would begin to apply on December 1.
Foto:
John Moore/Getty Images
After four months of review, last Friday the Office of Citizenship and Immigration Services (USCIS) released the new version of his test for naturalization, in addition to requiring 12 correct answers to at least 20 questions.
The new exam will begin to apply to those who submit their application for naturalization as of December 1 of this year, before that date the current version of the test will continue to be applied, which asks for 6 answers to 10 questions.
Immigrant advocacy activists believe the decision will make it difficult for permanent residents to obtaining citizenship, especially those who don't speak English well
The Educational Fund of the National Association of Latino Elected and Appointed Officials (NALEO) considered that this is an "unnecessary obstacle" for those who already have the "green card", in addition to considering that there is no solid foundation to implement the measure, announced in July this year.
The group adds that the decision announced by Joseph Edlow, Acting Director of Policy for USCIS, was one-sided, as it was not published in the Federal Register for comment.
"Without a solid foundation and without significant opportunity for public and stakeholder opinion or review, the Administration arbitrarily made the unilateral decision to make the examination more challenging for LPRs (permanent residents).", indicates NALEO. "In addition to more difficult writing and content, the test will now require applicants to answer twice as many questions correctly."
He adds that it is a modification "for a problem" that did not exist, considering that there are no studies that confirm that the current exam does not review the civic knowledge of new citizens.
"The agency states that the reviews are necessary to ensure that the test continues to serve as an accurate measure of an applicant's citizenship knowledge; however, there is no evidence that the current test does not adequately achieve this, "he said.
NALEO alerts that the immigration agency did not coordinate with naturalization service providers and experts in English language learning, in order to make recommendations on modifications.
He also accused the haste of implementation, which will force people with "green cards" to apply for naturalization before December 1 in order to avoid the new exam.
"This leaves community groups and educators who help prepare LPRs (permanent residents) for the test without enough time to educate the public and review educational and outreach materials.", he accused.
NALEO has been working with immigrants for more than 35 years for their naturalization, asked USCIS to stop the implementation of the measure, in order to make a more accurate evaluation with those who offer services to immigrants.
"We ask the Administration to stop the implementation of the new test until it has the opportunity to, at a minimum, obtain strong opinions from interested parties on the test," he said.

eldiariony.com
Digsmak is a news publisher with over 12 years of reporting experiance; and have published in many industry leading publications and news sites.