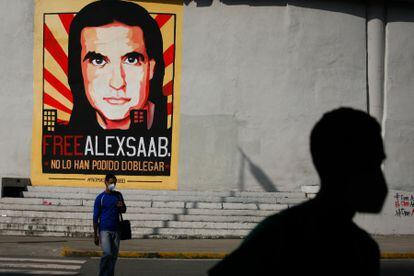 His silhouette in the form of graffiti, like that of the great characters of humanity, floods the streets of Caracas these days, but until recently, Álex Saab was a true stranger. The only time he was seen in public was on November 28, 2011, when diplomatic relations still existed between Colombia and Venezuela. That day, Juan Manuel Santos and a hairless Hugo Chávez subjected to the rigors of chemotherapy, signed a bilateral agreement to build social housing. Saab, stuffed into a baggy suit, his hair pulled back in a slightly overweight ponytail, entered the scene as the Colombian businessman who was going to receive $ 530 million to start the construction of the houses. His step was determined, energetic. He did not look like a beginner intimidated by searchlights. Santos later said that at that moment he whispered in the ear of the Colombian Foreign Minister: "Who is this man?"
That was the first contract with which Saab became an operator of the Bolivarian revolution, from which it has received hundreds of millions of dollars. An expert dodged Washington's economic embargoes who had been in charge of bringing gold bullion to Turkey, liaising with Ayatollah Ali Khamenei, and incidentally making a fortune by evading exchange control and selling fake milk to starving children. A businessman who arrived bankrupt in Caracas and left in a private jet. He acted in the shadows, but his power was immense. His opinion carried more weight than that of some ministers. The Treasury Department is convinced that he is the main front man of President Nicolás Maduro.
A miscalculation, however, ended his life as a cunning adviser a year ago, drawn from a treatise by Machiavelli. On the way to Iran he ran out of gas and stopped to refuel his plane on one of the Cape Verde islands, a volcanic archipelago off the coast of Africa. There he was detained and, this week, after more than a year of legal maneuvers, the highest court in that country has just authorized his extradition to the United States, where a money laundering trial awaits him. Saab seems to have no escape.
The story of his rise to Chávez's private room and, after Maduro, begins in the port city of Barranquilla. His father, a Lebanese who chose Colombia on the map convinced that it was a country to do, arrived there in the 1950s. He married a local Palestinian family with whom he set up a jeans factory, according to the book Alex Saab, the truth, of the researcher Gerardo Reyes. Later they opened a small towel factory that had 3,000 workers. The policy of economic opening of the liberal president César Gaviria (1990-1994), Reyes says, flooded the market with Chinese cloth and sent the business that until then had been one of the emblems of Barranquilla bankrupt.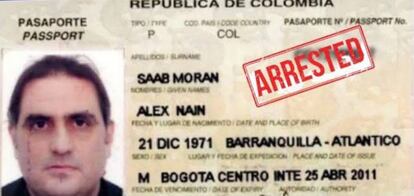 The golden dream of the young people of that city, in which the children of the petty bourgeoisie and those of the drug traffickers lived together in private schools, off the radar of the authorities who spent all their energies in persecuting Pablo Escobar, was to make their fortune in Miami Saab was no exception. In 1995, he created a company to expand his father's towel business there. However, in a confusing incident, in which a customs officer found cocaine in liquid solution sprinkled on one of his shipments, the adventure was over. Saab was unable to re-enter the United States.
Back in Barranquilla, he founded a company that sells advertising objects for supermarkets and gas stations. Business seemed to be doing well, until in 2009 banks and creditors began to haunt him. According to documentation from that time, at that time he was a bankrupt man. It is then, according to Reyes' story, when they introduce him to a certain Álvaro Pulido, a construction businessman based in Bogotá who was doing very well in Venezuela.
From here begins a story of shell companies, tax havens, officials who allowed themselves to be bribed. As partners, they took advantage of Cadivi, a Venezuelan system designed to control foreign exchange for companies that imported merchandise, which used in a bad way allowed businessmen to multiply by four or five the dollars on the black market. Saab bet 30 million dollars on this business scheme at a fateful moment: Chávez froze all Cadivi payments to Colombian companies due to his confrontation with the neighboring president, Álvaro Uribe.
The "shortcut" man
At that moment, Piedad Córdoba came into play, according to the Saab biography. Politics, key in the exchange of hostages and prisoners between the FARC and the Colombian government, was very close to Chávez. According to this testimony, it was she who put Saab in the commander's orbit. The businessman lived for months at the Meliá hotel in Caracas waiting for the transfer. That link was key to unblocking the payment that the State owed him and opening the doors of the Miraflores Palace, the presidential headquarters. Fate smiled at him. "Every time Maduro was at a dead end," Reyes writes, "(Saab) came up with a sketch of a shortcut."
The construction of houses was one of his first businesses. Names such as Walter Jacob Gavidia or Carlos Malpica Flores, linked to Maduro for being the son and nephew of his wife Cilia Flores, appear in the management of organizations that gave contracts to Saab companies. These are some of the traces that his network of opaque businesses with Chavismo has left, despite the fact that he always denied any link. Until his arrest, when he became, now, a special agent of the Maduro government and a diplomat. It was at that moment when his face began to be drawn on any corner of the streets of Caracas.
The journalists of the portal Armando Info they were key in exposing Saab's dirty business. Roberto Deniz, Ewald Sharfenberg, Joseph Poliszuk and Alfredo Meza were the first to reveal the corruption schemes and the presence of this businessman in almost everything that moved in Venezuela. He moved the importation of food, the construction of gym modules, the exploitation of coal, the tanker trucks to alleviate the water shortage and the triangulation of oil for Iranian gasoline, just what he was managing when he was arrested in Cape Verde. The businessman sued these reporters, who had to go into exile and still live outside of Venezuela today.
The martyr
Saab, who will soon turn 50, has become a Bolivarian martyr. Venezuela has launched an intense media and social media campaign in defense of her innocence. Almost all the government officials have declared in favor of the Colombian, whom they consider a political prisoner of the US The only one who never mentions him in public is Maduro. Although the close relationship between them is proven. At the time of greatest shortages produced by the price control policies, the years of long lines to buy rationed food, Saab became the main supplier of the CLAP (Local Supply and Production Committees) boxes, an assistance program created by Maduro in 2015 to alleviate the hunger that was beginning to skyrocket levels of malnutrition. This is how Venezuelans tasted Turkish spaghetti or salty Mexican milk with excess sodium. A poor quality food bought at a premium, as the Mexican prosecutor's office warned in 2018. The CLAPs have today become a structure of social control over which Chavismo now supports its electoral machinery.
Mimesis has been characteristic of its extensive network of ghostly companies incorporated in jurisdictions offshore, dodging bank surveillance. When the Abastos Bicentenario network of supermarkets, mounted on expropriated businesses, went into a tailspin by the crisis of the Chavismo economic model, Saab came to their aid and remodeled the premises and turned them into CLAP Stores. What was expropriated again passed into private hands. Then the same stores fell into decline again, renamed Salva Foods and took on the appearance of still lifes packed with imported products that have multiplied throughout the country. In addition to the CLAPs, it wove an opaque network that moved Venezuelan oil for food with the collaboration of businessmen, such as the young Mexican Joaquín Leal, as this newspaper revealed.
"I think it is like a jackal that arrives at a critical moment for the Venezuelan revolution, in which an astute operator is needed to help them avoid US economic sanctions and make millions of dollars," explains Gerardo Reyes. "All those businesses were hand-picked, without competition. He had carte blanche and, at the same time, he responded to a country in crisis. Two castaways were found, a broken man and a country adrift ".
His key in business has been Pulido – the businessman who was presented as an example when conquering Venezuela and whose real name is Germán Rubio. Both are listed in the Global Construction Fund, the company that gave him his first contract with Venezuela and that did business in Colombia and Ecuador. But its network of collaborators is much more extensive. It includes his son, Shadi Nain Saab Certain, who tried to be an actor in America. He has also captured opposition deputies who did a secret international lobby for Saab when the justice of several countries began to surround it. Parliamentarians Luis Parra and José Brito, former leaders of Primero Justicia, led the group that ultimately withdrew support from Juan Guaidó and became a loyal opposition to the government.
In July 2019 came the formal accusations in the US for laundering 350 million dollars between 2011 and 2015 from Venezuela. Later, the penalties of the Office of Control of Assets Abroad for him and his partners. And finally, the seizures of assets that he had in Colombia and Italy with his wife, the Italian model Camilla Fabbri. In Cape Verde, the adventures of any businessman were put to an end, without any remarkable quality beyond that of a certain cunning to sneak into the spheres of Chavista power. Venezuela was ruined in the decade in which it operated. He became a billionaire.
Subscribe here to the newsletter from EL PAÍS América and receive all the informative keys of the current situation of the region.

elpais.com
Eddie is an Australian news reporter with over 9 years in the industry and has published on Forbes and tech crunch.